· See the current injury list for all Premier League Teams
· All the Spurs Stats you could hope for here! THFC6061 Sports Stats

Full Record of Spurs -v- Brentford

Premier         Pl   W   D   L   For-Ag  Pts
Home             0   0   0   0     0-0    0
Away             0   0   0   0     0-0    0
============================================
Total (Prem)     0   0   0   0     0-0    0
============================================
Lge Div 1 
Home             0   0   0   0     0-0    0
Away             0   0   0   0     0-0    0
============================================
Total (Div 1)    0   0   0   0     0-0    0
============================================
Lge Div 2
Home             3   2   1   0     7-1    7
Away             3   1   1   1     5-4    3
============================================
Total (Div 2)    6   3   2   1    12-5   10
============================================
Total (Prem)     0   0   0   0     0-0    0
Total (Div 1)    0   0   0   0     0-0    0
Total (Div 2)    6   3   2   1    12-5   10
============================================
Grand Total      6   3   2   1    12-5   10
============================================

We have played Brentford in the FA Cup and FL Cup. The details are:

FA Cup  Rd   H/A  Result  Goalscorers
21-22    1    A   2-0     Cantrell, Seed
45-46   3/1   H   2-2     Burgess, A.E. Hall
        3/2   A   0-2

FL Cup
92-93   2/1   H   3-1     Sheringham, Watson, Durie
        2/2   A   4-2     Anderton, Sheringham 2 (1p)
                          Turner

98-99   2/1   A   3-2     Carr, Dominguez, Vega
        2/2   H   3-2     Nielsen, Campbell, Armstrong

00-01   2/1   A   0-0
00-01   2/2   H   2-0     Leonhardsen, Iversen

Don't take victory for granted
When Darren Bent made the brief Carabao Cup semi-final draw after we beat Stoke in the quarter-final (only two weeks ago) and gave us Brentford at home it was surely one of the best things Bent did for Tottenham Hotspur. Whilst we should not take victory and passage to a ninth League Cup Final for granted, this draw was clearly preferable to either of the Manchester teams who meet on Wednesday.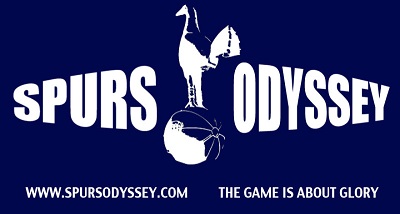 THFC would not allow me the fly the Spurs Odyssey flag in the stadium for these behind closed doors games but it will feature in my match report!
Brentford only ever played top tier football in 6 full seasons either side of World War Two. The last time we played "The Bees" in League football was in our 1949-50 promotion season. We had beaten the West London side 4-1 at Griffin park in August with goals by Len Duquemin, Les Bennett and two by Les Medley. The home game played in December was in front of 49,297 people at White Hart Lane. Eddie Baily scored our goal in a 1-1 draw.
Brentford only moved from Griffin Park at the start of this season. They now have the brand spanking new "Brentford Community Stadium". When I saw some of the game when they beat Newcastle 1-0, I thought their pitch looked somewhat threadbare, but the club does share the pitch with London Irish Rugby Club. We won't be playing on that surface anyway, as this season's semi-final has been restricted to just one game, due to Covid-19 compacting our season.
As you can see above, we have played Brentford in three League Cup ties over the last 29 years, which means we previously had a gap of over 40 years between competitive meetings. Each of our previous League Cup meetings have been in the second round. In September 1992 we won 3-1 with goals by Teddy Sheringham, Kevin Watson, and Gordon Durie. Jeff Minton made one of only three senior appearances in our colours, coming on as sub for Darren Anderton. Brentford were managed then by a former Spurs player Phil Holder, who had made his Spurs debut in the 9-0 home win against Keflavik in the UEFA Cup in 1971, when he replaced Martin Peters. Graeme Souness famously made his one Spurs appearance in the away leg of that tie.
Returning to that September 1992 tie, the Brentford side included former Spurs youngster Brian Statham and the legendary Chris Hughton, who was in his last season as a player. We won the away leg of the 1992 tie 4-2.
Our passage past "The Bees" in 1998 was unconvincing to say the least. We had won 3-2 away but at White Hart Lane striker Andy Scott gave us a nasty first minute shock before Nielsen, Campbell and Armstrong secured the tie. There was still time for another Brentford goal but substitute Lloyd Owusu. The rumours were rife of the imminent appointment of George Graham as our new manager, and so it proved. Graham would lead us to one of our only two trophies of the last 29 1/2 years in his first season.
For all our history and the great names which pass through our portals it is ironic that our last two trophies have been won by a man we hated and a man who in 2008 gave us "two points from 8 games".
I remember going to Griffin Park in September 2000. Brentford's old ground was known for having a pub on every corner. The first leg finished 0-0, partly thanks to goalkeeper Neil Sullivan hauling down Paul Evans who was making a bee-line for goal (pun intended). Sullivan was sent off, but Spurs' goal remained intact and we won the second (home) leg 2-0.
Brentford are in excellent form. They are unbeaten in 16 games, including their win over Newcastle. Their scheduled gaame at home to Bristol City on Saturday was postponed due to Covid issues with the Bristol City squad, so "The Bees" have an advantage over us there with an unexpected break. They lie fourth in the Championship, and having lost last year's play-off final to Fulham, clearly and realistically harbour hopes of playing Premier League football for the first time, and in their new stadium!
In recent seasons Brentford have lost good players to Premier League sides such as Benrahma (to West Ham), Ollie Watkins and Ezri Konsa( to Aston Villa) and Neal Maupay (to Brighton). Dean Smith was a former manager before his move to Villa. When Brentford last finished in the play-off zone in 2014-15, former Spur David Button was an ever=present in goal. 24-year-old Ivan Toney is Brentford's top scorer in the current campaign with 16 goals. Toney signed this season from Peterborough where he had banged in 40 league goals in 76 games for "The Posh". Brentford's manager is Thomas Frank, a 47-year-old Dane who previously managed Brondby.
Brentford's passage to this semi-final has been via Wycombe Wanderers (beaten on penalties) and then three Premier League teams - Southampton, West Brom and now Newcastle.
There are many examples of Spurs players also having played for Brentford. As well as Chris Hughton from the 1981 FA Cup Final team (and substitute), Steve Perryman, Paul Miller, and Gary Brooke also subsequently played for "The Bees". You can add 1984 UEFA Cup Final goalkeeping hero Tony Parks to that list. Steve Perryman was player/manager at Brentford, but his heart is of course with Tottenham.
Jose Mourinho has indicated that Erik Lamela is "not available" for this game, but did not elaborate on the reason. I assume his absence is related to the party he (and others) attended which was in breach of the Covid-19 rules. No new injury problems have been reported, although it is now thought that Giovani Lo Celso will miss the whole of January with his hamstring problem. Matt Doherty will serve his one-match suspension following his two yellow cards against Leeds on Saturday.
With our next game on Sunday against eighth tier Marine there is no reason why Spurs should not play their strongest available side tomorrow. I expect them to win by two or three goals.
Tomorrow's match referee is Mike Dean, taking charge of Spurs for the 72nd occasion and his second game in the middle with us this season. His first was our 2-0 win against Man City in November.