· Last season's game - Everton 1 Spurs 1, 03.11.19
· This season's home game - Spurs 0 Everton 1, 13.09.20
· Premier League Matchday 32 - last year
· See the current injury list for all Premier League Teams
· All the Spurs Stats you could hope for here! THFC6061 Sports Stats


Full Record of Spurs -v- Everton
 
Prem          Pl   W   D   L   For- Ag  Pts
Home          29  17   8   4   54 - 32  59
Away          28  10  13   5   34 - 24  43
==========================================
Total(Prem)   57  27  21   9   88 - 56 102  1.79 Pts per game
==========================================
Football Lge
Home(Div 1)   54  25  16  13  107 - 67  72
Away(Div 1)   54  10  17  27   60 - 88  38
==========================================
Total(Div 1) 108  35  33  40  167 -155 110
==========================================
Football Lge
Home(Div 2)    1   1   0   0    1 -  0   2
Away(Div 2)    1   0   0   1    2 -  4   0
==========================================
Total(Div 2)   2   1   0   1    3 -  4   2
==========================================
Total(Prem)   57  27  21   9   88 - 56 102
Total(Div 1) 108  35  33  40  167 -155 110
Total(Div 2)   2   1   0   1    3 -  4   2
==========================================
Grand Total  167  63  54  50  258 -215 214
==========================================

Last Six Premier League results:-

Everton    -    WWLLDD

Everton    1-0    S'hampton
West Brom  0-1    Everton
Chelsea    2-0    Everton
Everton    1-2    Burnley
Everton    1-1    C. Palace
Brighton   0-0    Everton

Spurs      -    WWLWDL
           
Fulham     0-1    Spurs
Spurs      4-1    C. Palace
Arsenal    2-1    Spurs
A. Villa   0-2    Spurs
Newcastle  2-2    Spurs
Spurs      1-3    Man Utd

Pos          P  W  D  L   F-A   GD  Pts
7. Spurs    31 14  7 10  52-35  17   49
8. Everton  30 14  6 10  41-38   3   48 

Battle for Europa?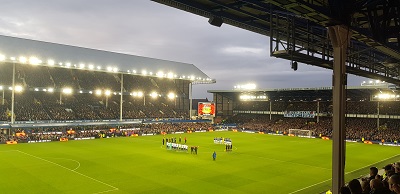 Spurs travel to Goodison Park tomorrow night (Sky Sports - 8pm) for the 29th time with regard to Premier League business. This will be our 84th league match at this old stadium where "The Toffees" have played since 1892. Everton were one of the 12 founding members of the Football League in 1888, and previously played at Stanley Park, Priory Road and Anfield Road. We won't be playing here for much longer as in March the club was granted final planning permission for their new Bramley-Moore Dock arena, with construction scheduled to begin this summer. Carlo Ancelotti has said he would like to earn a new contract as Everton manager to ensure he is in charge when the proposed new stadium opens.
Ancelotti's men surprised us in the opening game of the season when they beat us for the first time in 15 games since December 2012, and won at White Hart Lane for the first time in 12 years. The goal was scored by Dominic Calvert-Lewin, who, along with his club had a blistering start to the season. Calvert-Lewin scored 7 league goals in his first five games, plus 3 in the League Cup and one for England on his senior International debut. The club won their opening 6 games (including 3 league cup ties) for the first time since 1938/9.
Everton won their first four league games, and drew their fifth in a feisty Merseyside Derby in which Virgil van Dijk was injured. Everton's form dipped after that game with three consecutive defeats, and believe it or not their recent six-game form is worse that that of Spurs. They have failed to win any of their last four games (five including an FA Cup quarter-final defeat to Manchester City), but it is not so long since they beat Liverpool at Anfield for the first time since 1999. It is also not so long since "The Toffees" beat us 5-4 in the FA Cup Fifth Round.
Our last Friday night game was our first post-lockdown match in June last year when we hosted Manchester United. We drew then, which was better than we did last week. Prior to that, we played on a Friday night at Tranmere and won an FA Cup Third Round game 7-0. Something in between these two results would be great thank you!
As you can see above Everton have only beaten us 5 times in 28 home games in The Premier League, although we did lose in our last game at Goodison Park in that nine-goal FA Cup thriller. Our last league defeat here was in December 2012 when Clint Dempsey gave us a 76th minute lead, but we failed to hold onto that (sound familiar?) with Pienaar and Jelavic scoring late, late goals. Steven Pienaar had returned to Goodison in January 2012 after an unsuccessful spell with Tottenham.
Another one of those five away league defeats against Everton came on a Good Friday night in April 2004. David Moyes was Everton's "Mr Motivator" while we were enduring almost a full season of David Pleat's caretaker leadership. Stephen Carr scored Spurs' 75th minute goal after Unsworth, Naysmith and Yobo had scored goals in the first half. Everton had been three points below us before the game and overtook us on goal difference. Both teams were in the bottom half of the table.
Now we are playing for supremacy in the race for a Europa League qualifying place. Spurs would go above Liverpool overnight on goal difference with a win. Jose Mourinho has said this afternoon that Matt Doherty and Ben Davies are still out, although I spotted Doherty in the training pictures today. Mourinho also made reference to Dane Scarlett, who he regards as part of the first team squad. Scarlett was injured in Tuesday night's Youth Cup defeat against West Bromwich Albion.
Everton had a disappointing 0-0 draw at Brighton on Monday night, but they were missing top scorer Dominic Calvert-Lewin, Andre Gomes, and Allan. Calvert-Lewin has been comfirmed by Ancelotti as an absentee for tomorrow's game, but goalkeeper Jordan Pickford, Gomes, Allan and Josh King will be available. Yerry Mina and Abdoulaye Doucoure are definitely out. We can probably look forward to an Everton attack featuring Richarlison, Rodriguez and former Spur Gylfi Sigurdsson. After our September meeting Everton signed defender Ben Godrey from Norwich for a reported £25 million. Godfrey started in midfield on Monday night, but soon had to cover for the injured Yerry Mina and has been utilised across the back four this season.
Every game is a "must-win" for Spurs now, and of course Everton have the same ambitions as us. They also have a game in hand. Whether Spurs can win this game to maintain their usual winning form over "The Toffees" is another question, and one which I do not feel confident enough to answer. I'll predict a draw, hoping that (as usual these days) I will be wrong and that we can take all three points. We'll see!
This will be referee Michael Oliver's fourth game in charge of Spurs this season. All have been away games at Burnley, Marine, and Arsenal. We need to do better than we did in his last game of this sequence!
Did you know? - Former Spurs goalkeeper Espen Baardsen made his one and only Everton appearance against Spurs in January 2003 when Spurs won 4-3.