· See the current injury list for all Premier League Teams
· All the Spurs Stats you could hope for here! THFC6061 Sports Stats


Spurs' record in Europe:-

U.E.F.A Champions League
 
 P  W   D   L   F - A
45 19   9  17  82 - 68

(Finalists 2019)
 
European Cup
P   W   D   L   F - A
8   4   1   3  21 - 13
 
(Semi-Finalists 1962)
 
European Cup Winners Cup
 
P   W   D   L   F - A
33  20  5   8  65 - 34
 
(Winners 1963)
 
UEFA Cup/Europa League
 P    W   D   L   F - A
142  80  36  26  281-123 
 
(Winners 1972, 1984
 Finalists 1974)

Total
 P   W   D   L   F - A
228 123 51  54  449-238


We've come this far. Let's go further!
After the Covid-19 lockdown between March and June, Spurs went into their last 9 games in eighth place, facing a tough ask to even qualify for a European place of any type. After a very disappointing 3-1 defeat at Bramall Lane, we were unbeaten in our last 6 games and gained 14 points, climbing to 6th place and a guaranteed Europa League spot. Sadly, because of Arsenal's FA Cup win, we were faced with two qualifying games and now have a play-off game tomorrow. We've had to play 6 games in less than three weeks. That would have been seven if it were not for the bye awarded in our League Cup tie with Leyton Orient. We've come this far. Let's go further!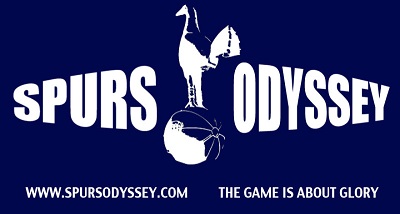 THFC would not allow me the fly the Spurs Odyssey flag in the stadium for these behind closed doors games but it will feature in my match report!
We've played and beaten "The Railwaymen" (Lokomotiv Plovdiv), and "The Red and Blacks" (Shkendija). Now meet "The Greens" - Maccabi Haifa - a team from the coastal town of Haifa in Northern Israel. Maccabi are also known as "The Green Locomotive" or "The Green Apes" so they have something in common with Plovidv with their railway-themed nickname. Let's hope that we conquer them as we did Plovdiv and Shkendija to finally make to the Europa League Group Stage. The draw for that takes place on Friday, and we can at least have a two week break from club football after the weekend.
As with our previous two qualifying round opponents Spurs have never previously played Maccabi, but we did play a team from Israel - Hapoel Tel Aviv - in the UEFA Cup in 2007. This was one of the later years of the UEFA Cup when there were five teams in the group phase (Round 2) , and you only played each of the other teams once - either at home or away. Spurs travelled to Tel Aviv and won 2-0 with goals by Robbie Keane and Dimitar Berbatov. We won our group with 7 points from the four games, but were ultimately knocked out by PSV Eindhoven the following March in Round Four.
One of the teams in that group was Getafe, who beat Spurs at The Lane on the night Martin Jol was sacked. Juande Ramos had taken over by the time we travelled to Israel.
Maccabi Haifa qualified for the Europa Leagaue by virtue of a second place finish in their league last season, which was completed after lockdown. Haifia finished second - 14 points behind Maccabi Tel Aviv. The Ligat ha'Al was completed On July 7th, and started again on 30th August. Haifa had to negotiate the first qualifying round and had to beat Zeljeznicar of Bosnia 3-1 at home before they won 2-1 at home to Kairat of Kazakhstan. Last week our opponents travelled to Russia and beat Rostov 1-0. They haven't had a game since, whereas we have played two games!
Haifa top their league after two games and have won all five of the matches they have played so far. Their top scorer is a 33-year-old Australian International (born in Ukraine) - Nikita Rukavytsya. Rukavytsya is in his fifth season with Maccabi Haifa, having previously played for Beitar Jerusalem along with Perth Glory, FC Twente, Hertha Berlin and FSV Mainz before them. He last played for Australia over two years ago and only ever scored one goal for his country. That was in 2012 in a friendly against Heung-min Son's South Korea. "Sonny" had begun his senior International career, but did not play in that game. Rukavytsya won the Israeli version of the Golden Boot last season with 22 league goals, 9 ahead of his nearest rival.
Maccabi Haifa last won their league in 2010/11 and seem to be enjoying a surge in form over the last two or three years. They have an American goalkeeper - Josh Cohen - who is ever present so far this season, and played 30 league games last season. He is clearly the number one keeper. Yanic Wildschut is a 28-year-old Dutch U-21 International who played in England for Middlesbrough, Wigan and Norwich between 2015 and 2019, although not at Premier League level.
Rami Gershon (aged 32) has yet to appear this season. He is a left-side defender who played against Spurs for AA Gent in our ill-fated Europa League Round of 32 game in February 2017.
Last year Maccabi Haifa were eliminated at the second qualifying round stage by Strasbourg, who beat Locomotiv Plovdiv in the next round. In turn, Strasbourg were beaten in the play-off round by Eintracht Frankfurt.
Jose Mourinho reports that there is an outside chance "Sonny" could be back on Sunday, but he definitely will not feature tomorrow. The only other issue he has is with fatigue. I think Eric Dier will be ruled out on this basis after what Jose has described as a heroic 120 minutes in 48 hours (against Newcastle and Chelsea), which surely means Sanchez and Alderweireld inside (probably) Matt Doherty and Ben Davies. In front of them I expect to see Hojbjerg, Winks, Lo Celso, Lucas Moura, Kane and one other. Could Ryan Sessegnon get an outing? Whilst in his press conference Jose was praising Dele Alli's professonalism, it is hard to forsee a start for him tomorrow.
This competition is so important to Jose and to Spurs. I expect us to win by two clear goals and to qualify for the Group Stages, the draw for which takes place on Friday. A win would give us Thursday-Sunday football until December, barring the first games after International breaks and the possibility of selection for "Monday Night Football".
Match referee Ruddy Buquet and his team are from France. Monsieur Buquet is another new official for Spurs, but he has experience at both European and International level. He was in London last November for Arsenal's Europa League home defeat against Eintracht Frankfurt.