· Last week's game - Wolfsberger 1 Spurs 4
· Last week's preview - Wolfsberger v Spurs
· See the current injury list for all Premier League Teams
· All the Spurs Stats you could hope for here! THFC6061 Sports Stats


Spurs' record in Europe:-

U.E.F.A Champions League
 
 P  W   D   L   F - A
45 19   9  17  82 - 68

(Finalists 2019)
 
European Cup
P   W   D   L   F - A
8   4   1   3  21 - 13
 
(Semi-Finalists 1962)
 
European Cup Winners Cup
 
P   W   D   L   F - A
33  20  5   8  65 - 34
 
(Winners 1963)
 
UEFA Cup/Europa League
 P    W   D   L   F - A
150  86  37  27  307-131 
 
(Winners 1972, 1984
 Finalists 1974)

Total
 P   W   D   L   F - A
236 129 52  55  475-246

Can we call this game a formality?
Spurs make a welcome return to home territory tomorrow after four consecutive away games. The only one of those games in which we had success was last Thursday's first leg of this Round of 32 tie which we won 4-1. On our current form, is that enough for us to regard this game as a formality? I am not so sure, especially if the Austrian side scores an early goal. On Sunday, Wolfsberger beat Sturm Graz 2-1 away from home to climb into fifth place and draw within four points of their opponents in their Bundesliga. Wolfsberger's goals were scored by 24-year-old defender Dominik Baumgartner and striker Dario Vizinger, both of whom started last week's game.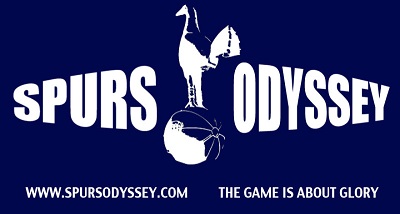 THFC would not allow me the fly the Spurs Odyssey flag in the stadium for these behind closed doors games but it will feature in my match report!
Last week's 4-1 in Hungary against our Austrian opponents was our first away win in a Europa League knock-out phase. This was only our seventh year of playing in the Europa League, one of which was after dropping out of the 2016-17 Champions League. We have won away games in the Champions League and the fore-runner of the Europa League – The UEFA Cup.
Spurs are playing in their eleventh consecutive European campaign, five of which began in the Champions League. 6 of those campaigns therefore started in the Europa League, formerly known as the UEFA Cup. The competition was renamed in 2009, which was our one year of absence from European competition in the last fifteen years. We played our 50th Europa league game on Matchday two this season against Royal Antwerp. It's a shame we lost that game.
The UEFA Cup format also included a Round of 32 when we participated between 2006 and 2009 (Three seasons). I thought it would be of interest to look back at some previous "Round of 32" encounters. All match reports and previews can be accessed via the Spurs Odyssey Archives page. 2007 is easy to cover, as we were awarded a bye that season because our intended opponents Feyenoord had been banned because of crowd disturbances. Shades of 1974 there then! We reached the quarter-final stage but were eliminated by Sevilla.
In 2008, we played Slavia Prague, having met in the first round of the 2006-07 competition. The away game in 2008 was played on Valentine's Day, and we won that 2-1 with goals by Berbatov and Keane. The home game was drawn 1-1 with Jamie O'Hara scoring our goal. That match was played just three days before the League Cup Final win against Chelsea, which was our last trophy win (SIGH)
By the time we played Shakhtar Donetsk at the same stage the following year Juande Ramos had gone and Harry Redknapp arrived. Again, we had a League Cup Final to look forward to (which we lost on penalties to Manchester United). We were still climbing up the table, but perhaps the European competition was the least of Harry Redknapp's priorities. We lost 2-0 away and drew the home match 1-1. Shakhtar went on to win the competition. Their team included Fernandinho, who is still playing at Manchester City at the age of 35. Fernandinho scored Shakhtar' s late equaliser in the home game, after Giovani Dos Santos had opened the scoring with his first club goal. Dean Parrett made his club debut in the away leg, and also played in the home match, but those were Dean's only senior appearances. Dean is currently on Barnet's books, but hasn't played since 2nd January. Giovani Dos Santos is now 31 and made a total of 107 senior appearances for Mexico, for whom he scored 19 goals. His last cap was in a World Cup game against South Korea in June 2018 for whom our own Heung-min Son played and scored a 90th minute winner.
Our next European venture would be the 2010-11 Champions League, and the following year we did not make it past the Europa League group stage. Harry Kane did score his first Spurs goal though in a 4-0 away win against Shamrock Rovers.
In 2013 we played Olympique Lyonnais at the Round of 32 stage of the Europa League. Gareth Bale scored both our goals in a 2-1 home win. The goals came in the last minute of each half. The Lyon team included Liverpool's Dejan Lovren, former Spur Steed Malbranque and Samuel Umtiti, who is still with Barcelona. In the second leg, it looked as if we would go out on away goals as Lyon led 1-0 until Mousa Dembele scored a rare goal in the last minute. It was a memorable European moment for this travelling fan! We got as far as the quarter-final when we were knocked out in a penalty shoot-out by Basel.
In 2014 our opponents were another Ukrainian team Dnipro Dnipropetrovsk to whom we lost 1-0 away before winning the home leg 3-1. We had a 100% record in that season's competition until the away defeat. Dnipro were managed at the time by our former manager (and last trophy winner) Juande Ramos. Adebayor scored two of our goals in the home match, with Christian Eriksen the other scorer. We were knocked out by Benfica in the Round of 16.
Our last two Round of 32 games were in successive years (2015 and 2016) against Fiorentina. In 2015 we drew at home with Roberto Soldado our scorer, but we lost the away leg 2-0. A certain Mo Salah played in both games (he was on loan from Chelsea) and scored one of Fiorentina's goals in the 2-0 defeat. Soldado is still playing, at the age of 35, and has scored 4 goals in his last 6 games for Granada. There remain fond mutual feelings between Soldado and Spurs fans, and he still follows the fortunes of the club.
In 2016 we played the Italian club away in the first leg and drew. Nacer Chadli scored our goal, enabling us to become the first English club to score in the Fiorentina stadium. Nacer is currently playing in Turkey for Istanbul Basaksehir and did make a substitute appearance in their Champions League game at old Trafford in November. He is still winning International caps with Belgium too. We won that 2016 home leg 3-0 with goals by Ryan Mason, Erik Lamela, and an own goal. Unfortunately, we were knocked out in the Round of 16 by Borussia Dortmund, who we have since met in two Champions League competitions, winning all four games.
We are now unbeaten in all seven meetings we have had with Austrian opponents. We have also won our three previous home games without conceding a goal. This game is being played tomorrow because of the UEFA rule that does not allow two games in the same city on the same night. I suspect that is for policing and public order reasons, although in the current lockdown situation that issue does not arise. Nonetheless the game kicks off at 5pm tomorrow and will be televised by BT SPORT.
Jose has said "Our starting line-up will be very similar to the one that started the game in Hungary. We want to go strong." I do feel that we will win by two goals and we will therefore be able to look forward to the next round. The Round of 16 draw takes place on Friday at 12 noon. There will be no seeding or country protection.
Referee Matej Jug and his officials (except the Italian VAR) are from Slovenia. Mr Jug has not refereed a Spurs game before, but he has had some high profile games this season, such as Manchester United v Leipzig in the Champions League and Russia v Turkey in the Nations League.