R.I.P Ray Lo – Spurs Odyssey Obituary
On Thursday 24th June, 2021 I learned of the passing of Raymond Lo on 6th June this year. Ray turned 70 last year having been born on 14th September, 1950. Ray was my very good friend and Spurs Odyssey colleague.
This obituary can only serve as one related to my friendship with Ray and will hopefully illustrate to his family the degree of Ray's involvement with the game and team he loved. Indeed, it seems that such was Ray's modesty that his family were largely unaware of the depth of his commitment.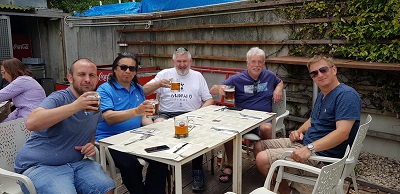 On our way back from The Champions League Final in June 2019. On this occasion Ray seems to be having more than his customary half-pint! (Left to right, my son Greg, Ray, me, Andy Park, Curtis Harman)
I first met Ray in the late 1990s when Spurs Reserves played at Clarence Park, St. Albans. With the advent of the Internet, Ray initially prepared match reports for the "Spurs-List", and since 2001 I have featured Ray's reports on Youth and Development squad team games on the Spurs Odyssey website. Even the Tottenham Hotspur official site has limited archives, and I know for a fact the club has used Spurs Odyssey archives for their research regarding youth games in particular. The first report by Ray carried on the Spurs Odyssey site is in fact for an away first team friendly in July 1999 against Hearts. Since then Spurs Odyssey has published countless reports by Ray, primarily from the various levels of youth and development football.
Such is the extent of Ray's contribution to Spurs Odyssey that I am proud to describe Ray's work as integral to the site. You can access Ray's reports via the Spurs Odyssey Archives page.
Ray's self-written profile for the Spurs Odyssey contributors' page read as follows:-

"I have been supporting Spurs for well over 50 years. They were the first team I saw on the box(one live match a year back then). Found where they played some five years later. Did not attend first match until 67 pre-season game v Glasgow Rangers(3-2 with Greaves getting 2). I am a season ticket holder in the new West stand as well as a shareholder. My first euro trip was the Feyenoord 74 final. Away trips reduced now to mainly grounds I have not been to before due to domestic constraints. I try to give an idea of what we have in the U-23 side and at youth level for those around the world who, would only get biased and sparse reports from the club which can give the wrong impression." (Most of Ray's words were written 20 years ago, since when official site reports have reached a highly professional standard)
Ray had been a season ticket holder for many years- I would suggest at least 30 – probably more. He was also a shareholder and maintained a keen interest in the financial workings of Tottenham Hotspur, often offering enlightening detail to those who were mystified by the club's business processes.
Ray had great enthusiasm for the game, especially at Youth level, and maintained a keen interest in the progress of our young players who forged a professional career. One former youth player is a member on our message board and wrote:- "I said this before but when we were in the youth team, we ALWAYS read Ray's reports." In the early years of Ray's reporting days, his reports were often online before those of the official site. Ray met and built friendly relationships with parents of many players. To a lesser extent, I knew some of those parents, and I was always very proud of those links.
Ray's wife Penny suffered from Muscular Sclerosis and died some 15 years ago. Ray was a dedicated, loving, and diligent carer throughout Penny's increasingly debilitating illness. Since then, and even just before he became hospitalised Ray offered his time voluntarily to his local MS group.
Ray followed the youth teams home and away, up and down the country, across Europe, and even in the USA. Much as I worked upon his reports, there are no doubt surviving editions that carry quirky misspellings. Ray wasn't the best organiser, sometimes arriving late for games, perhaps due to his navigational or timing error. Kick-off times were often moved at late notice, and Ray might travel a long distance, only to be refused entry by sensitive security surrounding games at this level. I recall that Arsenal's training ground and that of Southampton were difficult to access. I've known Ray to travel south, only to be denied access. I could probably find you an example or two of Ray being in the far North-East of the country one day, and in the furthest South the next day.
The most extreme example of a "Ray Lo misadventure" would be his attendance at a Youth Tournament in the USA where he needed to hire a car and therefore needed to have his UK driving licence with him. Sadly, Ray had left that at home, and I still don't know how he travelled to and from the games!
In recent years, the club has kindly granted Ray (and me occasionally) a degree of press accreditation for such games. Despite that, there have been many occasions where Ray has had to manage without a team list, particularly of opposition players. He usually knew our players by sight anyway! Ray's "shorthand" was incredibly brief and cryptic, but somehow, he managed to compose accurate reports with astute observations regarding tactics. Ray was very rarely judgemental and after all, he was observing games where the objective was individual development of the players involved.
Ray and I had some great times, which included forging friendship with former club historian Andy Porter (who died in 2014), and excellent working relationships with current club reporters Paul Miles and Billy Shaw. Billy wrote to me:- "I'm very sad to hear about Ray and my colleagues who knew him feel the same….. I've even received messages from members of the media who sometimes covered our U23 matches and knew of Ray's work and dedication. He's already been missed at the Academy games over the last 18 months or so, and even more so now of course."
Some of my personal experiences as a result of working with Ray are bartering with Archie Gemmill on the touchline at Leicester's training ground as the (then) Scotland U-19 coach did have a team sheet. We managed without, declining Mr. Gemmill's offer to sell! I sat next to Glenn Hoddle in the White Hart Lane press box when he was working for TV, covering a Youth Cup game, and I've held open a door at Old Trafford for Sir Bobby Charlton.
Ray did travel to many first team away games, especially those in Liverpool where he had family. He also enjoyed travelling to most European away games in recent years, especially those where a Youth match preceded the "main event". Despite the result, I have very fond memories of our trip to Madrid for the 2019 Champions League Final, and other iconic trips to places such as Athens and Rome. I climbed to the very top of The Vatican with Ray.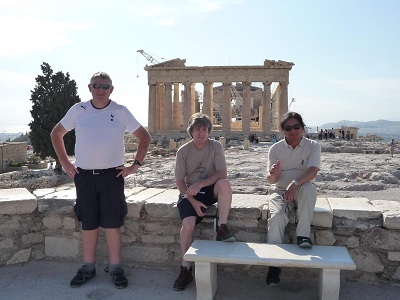 The caption offered by fellow Spurs pal Stuart Gibson (between the webmaster and Ray Lo in this picture) was "Four relics". This shot was taken on a trip to Athens in September 2012.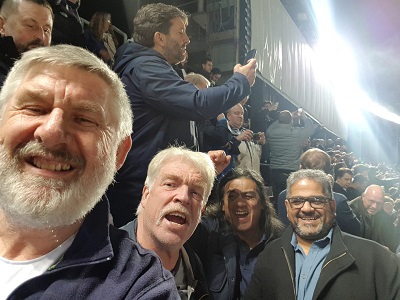 A very happy shot of Ray after we equalised in December 2018 at the Camp Nou, Barcelona to ensure our path to the knock-out phase of the Champions League. Also in the shot with the webmaster are Andy Park and Cassim Patel.
As he mentioned in his profile Ray was always keen to visit new grounds, but was never able to visit the Vitality Stadium, Bournemouth due to the very limited availability for away fans. He would have relished next season's game at Brentford's new stadium.
Since posting the sad news of Ray's passing there have been numerous fond, affectionate, and generous tributes to Ray. These include this tweet by Tottenham Hotspur who said:- "Incredibly sad news. Our thoughts are with Ray's family and friends." I have also received a personal e-mail from club director Donna-Maria Cullen, who assures me the club will formally pay tribute to Ray in an early season match programme.
Fellow contributors to this site offered the following comments:-
Declan Mulcahy
"Ray was a lovely person and I feel privileged to have known him. There was a unique component to his support for Spurs. Not only was he a season ticket holder. He followed the youth teams home and away and provided a valuable service to the club and supporters by writing good match reports on the youth team games which often contained endearing misspellings. His support wasn't confined to the UK. He also attended youth tournaments in Europe and USA. I don't know at this point how many youth team games he attended and reported on. It could be 500+ matches."
Ivan Cohen
"Like you I first met Ray at Clarence Park, back in the late 1990s. At that time, it had become a custom for some of us on the original Spurs-List to meet up at reserve matches in St Albans. I also have strong recollections of Ray attending the occasional Spurs-List dinner, which I organised almost monthly at Paparazzi in Potters Bar. As many have already noted, Ray was a gentle man, although firm in his beliefs, with a subtle and lovely sense of humour. His attachment to Spurs was an unbreakable bond, more than illustrated by his attendance at matches at every level: from first team to youth. His match reports soon became a staple of the original Spurs-List, as well as your own website, Spurs Odyssey, and provided us all with a glimpse into Spurs' possible future. His presence will be sorely missed both online and in person. May his memory be for a blessing to those who knew him and cherished his friendship. My sincere condolences to his family."
On January 30th 2020, Ray posted the following update on his Facebook page:- "Have the results of the biopsy. I have lymphoma of the bone marrow that can be treated if not cured. It is called Waldenstrom's macroglobulinaemia for the technically minded. Starting treatment today so soon on the mend."
Before that, on 18th January, 2020, Ray posted his final Spurs Odyssey match report on a 3-0 win over Swansea. On February 1st 2020, Ray tweeted this message:- "A full weekend ahead with U-18 at Norwich on Saturday. Man City on Sunday and U-23 at Stevenage on Monday evening playing Brighton." Ray never got to any of those games and was hospitalised before the weekend was concluded. I happen to know that he intended to meet a fellow Youth team enthusiast at Cockfosters Station and give him a lift to Norwich. Ray's personalised number plate R 4 YLO will be missed by many.
Ray must have spent 90% of the last 16 months of his life hospitalised due to various issues, which did include cancer. Ironically, the official cause of death was a haematoma to the brain. He spent a lot of that time under the care of The Royal College of London Hospital for whom he once worked. Like Ray, most of us had been unable to attend virtually all the games played since he became incapacitated. I am grateful to have been able to visit him a couple of times in hospital prior to the first Covid lockdown and once at home last September, during one of his brief escapes from hospital. I also spoke to Ray just three days before he passed away. Ray had renewed his season ticket and had also planned eye operations in the hope he could regain his driving licence. Such was his optimism and insistent positivity, despite his overwhelming ailments.
Ray's last personal tweet (apart from very few replies and comments to others) was sent on November 22nd, 2020, when he wrote:- "Congrats to Dane Scarlett on scoring four goals yesterday against Southampton in the U-18 league game that Spurs won 7-0." Those words sum up Ray's never-ending interest in our young players. He leaves a fine legacy, and a gap on this website that cannot be adequately filled.
When I first met Ray, before Spurs Odyssey was created, never did I dream I would one day be writing his obituary. Ray was a gentle man, whose presence was a blessing to this world.
Rest in Peace Ray.
Ray's funeral took place on Friday 16th July, 2021 and numbers were limited due to Covid regulations. The family have kindly granted me permission to publish this photograph of a beautiful tribute made by Ray's sister:-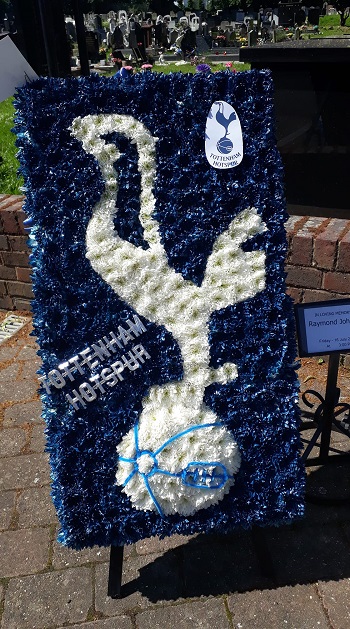 Finally, Tottenham Hotspur F.C. have paid the following tribute in the matchday programme for the Manchester City game on Sunday August 15th, 2021:-
"The Club was saddened to hear of the passing of Raymond Lo, a long-time Season Ticket Holder who passed away on 6 June, aged 70. Ray was an ardent supporter of the Club at all levels and was particularly renowned for his dedication to following our Academy sides, travelling across the UK and abroad on a regular basis to compile Development Squad and Under-18 match reports for the 'Spurs Odyssey' website.
A kind and unassuming man, Ray was a voluntary community ambulance driver whenever he wasn't following Spurs. He was hospitalised in February, 2020, but continued to support our various teams from afar. He will be sorely missed by his family, friends and everyone at the Tottenham Hotspur Academy."