What's the future of these Spurs loanees?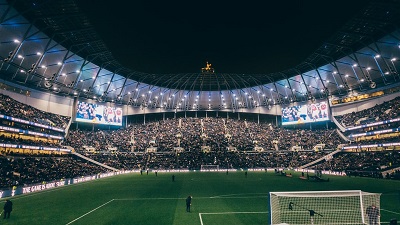 "Tottenham Hotspur Stadium" (CC BY 2.0) by p.a.h
Like many of the top Premier League clubs, Tottenham has several players out on loan at the moment. Most of these are playing in the lower levels of the EFL against seasoned professionals. There's a big difference between their current environments and the quality of the football they are used to.
With so many changes at the club in recent times, you'd have to wonder how many of our current loanees have a long-term future at the Tottenham Hotspur Stadium. Could an impressive spell away from the club force Antonio Conte to take notice? Let's look at three players who could all have a very different future at the club.
Troy Parrott - Milton Keynes Dons
Parrott is highly regarded by many and has already made a few appearances for the first team. With more opportunities hard to come by, a loan move away was always on the cards. The Dublin-born striker moved to MK Dons at the start of the season and has performed okay, so far. It will, however, be useful for the club to see how he copes with the pressure of a promotion push. Despite the latest online sports betting odds suggesting they are a relative outsider to be playing in the Championship next season, with odds reflecting this as they're currently priced at 5/1 to be promoted.
It will be interesting to see what happens next for Parrott. Next year, he could play a part in a season impacted by fatigue brought on by a mid-season World Cup.
Cameron Carter-Vickers - Celtic
Since making his debut for The Lilywhites in the 2016/2017 season, Carter-Vickers has spent time playing on loan for several clubs across the English Football League. This has led to many suggesting he doesn't have a future at the club. His recent move has been to Celtic. Despite not featuring in every game, he has already picked up a winners medal. His form has led to many pundits and fans calling for him to stay permanently in Scotland. Whatever happens at the end of this season, his long-term future probably won't be in North London.
Jamie Bowden - Oldham Athletic
The pressure of playing for a club fighting to just stay in the Football League would be a daunting experience for many. Oldham Atheltic are currently battling away at the bottom of League Two and face an uncertain future. This is miles away from the glitz and glamour of the Premier League but the experience could prove to be pivotal. Note that Tottenham Hotspur yesterday (10th January) announced they had recalled Bowden from this loan.
Many anticipate Bowden going out on loan again in the summer. A move further up the English pyramid will be important if he wants to make Spurs hierarchy take notice.
Notable former loanees
Harry Kane is the obvious one that comes to mind. Before his breakthrough campaign in 2014/2015, Kane had loan spells at Leyton Orient, Millwall, Norwich City and Leicester City. Kyle Walker was in a similar situation to Kane. He had seven seasons at Tottenham before moving to Manchester City in 2017. Walker's career at Tottenham started slow, and he needed to impress during loan spells at QPR and Aston Villa. He eventually became a key part of an improving Spurs side.
Maybe one of these up-and-coming Spurs players mentioned above has what it takes to become a Spurs legend like Kane. It could very well be that a loan move away will actually prove to be the spark that ignites a fantastic Spurs career.