EUROPA CONFERENCE LEAGUE – GROUP G
MATCHDAY FIVE
THURSDAY 25TH NOVEMBER, 2021
(5.45pm GMT)
(Played at Stadion Ljudski Maribor)
NS MURA 2(1) TOTTENHAM HOTSPUR 1(0)
Mura scorers:-
Horvat, 11
Marosa, 90 (+4)
Spurs scorer:-
Kane, 72
Attendance:- 6,100
Referee:- Antonio Emanuel Carvalho Nobre
Assistants:- Pedro Ribeiro & Nelson Filipe Vila Pereira
Fourth official:- Fábio Oliveira Melo
(All officials from Portugal)
Teams:-
NS Mura (3-4-3):- Obradovic; Karnicnik, Gorenc, Karamarko; Kous, Lorbek, Kozar (Capt.) (sub Ouro, 62), Sturm (sub Lotric, 78); Horvat (sub K. Cipot, 87), Mulahusejnovic (sub Marosa, 62), Pucko
(Armband to Kous)
Subs not used:- Erjavec, Zalokar (GKs); Mahimic; Bucek, T. Cipot, Mandic; Bobicanec, Klepac
Booked:- Gorenc (foul on Kane), Mulahusejnovic (foul on Sanchez), Kozar (foul on Skipp), Karamarko (unsporting conduct), Sturm (foul on Lucas Moura), Lorbek (foul on Lucas Moura), Marosa (foul on Skipp)
Spurs (3-4-3):- Gollini; Tanganga, Rodon (sub Dier, 54), Sanchez; Doherty (sub Davies, 53), Ndombele (sub Hojbjerg, 76), Skipp, Sessegnon; Gil (sub Lucas Moura, 54), Kane (Capt.), Dele (sub Son, 54)
Subs not used:- Lloris, Austin (GKs); Reguilon; Emerson Royal, Winks
Booked:- Sessegnon (foul on Karnicnik), Dele (unsporting conduct)
Sent off:- Sessegnon (second yellow for foul on Kous, 31)
Was this our most embarrassing defeat ever in Europe?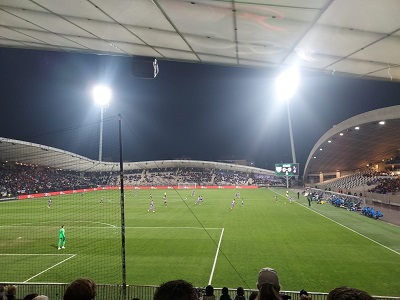 If you discount the ill-fated 1995 Inter-Toto cup in which a Spurs side lost 8-0 to Cologne (some record books insist it is our worst ever defeat in Europe), this was surely our most embarrassing defeat in Europe. Yes, there have been greater losing margins, but against better teams than this mid-table Slovenian side that had managed just one win in their previous eleven games at home and in Europe. Mura will still finish bottom of Group G, but at least they have what for them was a historic win against Spurs, who two and a half years ago were in the Champions League final. There might be extenuating circumstances, such as the fact Ryan Sessegnon got himself sent off after only half an hour, and the winning goal came with almost the last kick of the game. The record books will have no sympathy for a Spurs team which featured 9 changes from that which started Sunday's win against Leeds.
Like his predecessor Nuno, who fielded a weak team away to Vitesse and lost, Antonio Conte said he wanted to see more of certain players, who needed "more minutes". I could have told him that Davinson Sanchez is not comfortable playing either on the left side of central defence, or on the left side of a back three. Why he did not take up the central role instead of Joe Rodon, I do not know. At the end of the day, Davinson was literally the fall guy for Spurs. He lost his footing to allow Horvat to give his side an 11th minute lead, and in his desperation to try and block Marosa, ended up deflecting the shot over the helpless Pierluigi Gollini. As for Sessegnon, he only has himself to blame for two quite needless tackles, which drew yellow cards from a referee who showed seven of our opponents yellow and was then probably too lenient in the face of a potential second yellow or two for the uncompromising Mura side. Spurs could have done with some of the determination of the home side, who weren't even playing at home, as UEFA dictates they have to use Maribor's Stadium.
Rennes drew 3-3 with Vitesse, and the French club are assured of winning the group, thus advancing directly to the Round of 16. Spurs will firstly have to beat Rennes at home in two weeks' time to finish second in the group, and then play an extra round against a side dropping from the Europa League. It's all a shambles really. To be precise, Spurs need to match Vitesse's result against Mura. If both sides win, then Spurs can only afford to win by one goal less than Vitesse
Tanganga and Kane were the two survivors from Sunday's starting team. Japhet played on the right of the back three with Doherty in front of him. Doherty's ability to cross or pass with accuracy was generally poor. Ndombele was next to Skipp and did not make the impact his manager would have hoped for. Bryan Gil played to the right of Kane and had some bright moments. On the other side Dele made one or two runs ahead of Kane, but again lacked impact.
Mura's game at the weekend had been postponed because of Covid in the other team's camp, so they hadn't played for 18 days and were clearly fresh and raring to go. There were some 200 spurs fans in the stadium, and they could be heard loud and clear in the early stages, particularly. Once upon a time we used to play in white wherever we went in Europe, but this was our third mauve kit, which resembled Maribor's strip. We were favourites to win the tournament pre-match. That surely cannot be the case now.
Spurs kicked off and after 6 minutes, Kane did feed the ball to Doherty to his right. His cross reached Gil who tried a shot, but that went straight to the keeper. Spurs were falling back when Horvat tried a long distance right-footed shot which was well over the target. Within minutes the Mura number 10 hit the net to the right of Gollini, who stood no chance after Sanchez had stumbled and Horvat came inside before hitting a powerful left foot shot.
Gil did well to pick up Ndombele's long ball over his shoulder, hitting a right foot volley over the target. After Sessegnon's first booking Gollini found himself having to come out of his area to head the ball clear. I thought the advancing Mura player might have been offside, but there is no VAR at this stage of the competition, so Gollini's intervention was necessary.
Gorenc was shown the first of Mura's yellow cards for bringing a Harry Kane advance to a halt. Midway through the first half, Gil tried to slip a ball into the box into the path of Kane, who seemed to ha e been impeded, but got no foul. Spurs had still not managed a shot on target. Skipp sent a pass to Dele who had got ahead of Kane, passing it back to his captain who in turn teed up Sessegnon, whose shot was poor. Ndombele made progress centrally and passed outside to Doherty, but his cross was poor.
Spurs were generally too slow, too predictable, and too often moving the ball backwards. That was not the way to score a goal.
After Sessegnon's departure, Spurs adjusted to a back four reading right to left Doherty, Rodon, Sanchez and Tanganga. After a ball from Gil, Harry Kane advanced deep inside the right of the area and hit a ,ow cross which was parried by goalkeeper Obradovic. Kane hit a left foot shot just wide after receiving a pass from Skipp. Both Gil and Ndombele tried to reach Kane with passes, but Mura's defence cleared. Before halftime they managed a shot by Lorbek, and a corner from the right which Gollini had to slap away from danger. Kozar also hit a shot wide.
There were no changes at the start of the second half. Gil advanced towards and perhaps just into the Mura area where he was blocked off and when Dele challenged the goalkeeper for the loose ball there was a melee after which he and Karamarko were booked.
Now Conte did make radical changes, inserting Davies, Son, Lucas Moura and Dier at a stroke. Tanganga moved to right back and Davies played on the left, but both got forward when they could. The ten men were now looking the better team. If only the first half side had played with the same levels of effort. Clearly the four who came on had more skill than those they replaced. We played in a 4-2-3 formation.
Davis intercepted a ball near the halfway line and passed to Son who went on a blistering run to the area, hitting a shot which was saved. Son took the corner and Kane' header bounced down and up into Obradovic's hands. Kane tried to find room for a shot on the edge of the area after 62 minutes, but passed the ball to Tanganga, whose cross was cleared.
Gorenc, who had already been booked, fouled Kane cynically, but no cad was shown. Kane took the free kick from distance but was well over the target. Kane did at last sore our equaliser after Lucas Moura passed centrally to the edge of the box where Kane timed his run well and skilfully dinked the ball over the keeper from an angle on the right. It was a goal that belonged in a game with a better result.
Tanganga blocked and picked up a ball near Mura's right corner flag, and the move developed with a pass inside to Son, whose shot seemed to be deflected or took a slight touch form the keeper, but a decision had been given against Spurs.
Conte's final change (five are allowed in this competition) was to bring on Hojbjerg for Ndombele. Conte was shown a yellow card for his reaction to a throw-in decision going against Spurs.
Sanchez fell over again inside the area on the left, but his team-mates managed to clear this threat. Ben Davies sent a good ball to Kane, who got inside the box on the left and cut inside before hitting a right foot shot which won a corner. The corner was taken by Son and headed across the area by Dier, before Kane headed over. After a poor clearance by Mura's keeper, Skipp tried an audacious shot from 35 yards which passed wide of the left post. Lucas had an exciting run to the edge of the area before unleashing a shot which went just over the bar. Tanganga headed over a free kick by Son.
The ten men had looked more likely winners of the game, but their hearts were broken in the last minute of added time when a challenge failed in midfield and substitute Marosa advanced towards the box. Sanchez struggled to keep up with him, and then made that unfortunate interception which beat Gollini when Marosa hit his shot.
After the game, Antonio Conte said:-
"I did not like what happened tonight. I must be honest and tell you that after three-and-a-half weeks, I am starting to understand the situation.
"I am happy to stay here but at the same time I must be honest and tell you we need to work a lot to improve the quality of the squad. We are Tottenham and in this moment, there is an important gap [to the top teams in England].
"If someone thinks that a new coach arrives, and Conte won in the past and then I am a magician... But the only magic I can do is to work. To bring work and work to improve, to bring my methods, my ideas of football. But we have to understand that we need time.
"It is not simple because, in this moment for sure, the level of Tottenham is not so high.
"The situation now is starting to be very clear in my mind. I like to win, and I play to win in every competition. This must be the same for my players.
"This road could be one metre or 100m. I am not scared; I am ready to go and do this path. But at the same time, I want to be very honest - we have to work a lot and improve in many, many aspects.
"The club is outstanding outside - to create a stadium - but now we start from behind. I have found players that want to work and have great commitment, but sometimes it is not enough.
"We need time, but we have to do better in everything, everything, everything."

Europa Conference League Group G

               P  W  D  L   F-A   GD   Pts

 1. Rennes     5  3  2  0  10-7    3   11 
 2. Spurs      5  2  1  2  11-8    3    7
 3. Vitesse    5  2  1  2   9-8    1    7
 4. NS Mura    5  1  0  4   4-11  -7    3   

· See the exclusive "Spursometer" and have your say regarding the performances of the team, individual players, manager and officials.
· Squad numbers,appearances,bookings & goalscorers
· Read the preview for this game.
· All the Spurs Stats you could hope for here! THFC6061 Sports Stats