· See the current injury list for all Premier League Teams
· All the Spurs Stats you could hope for here! THFC6061 Sports Stats

Spurs Full Cup Record against Wolves


FA Cup

SEASON   RD   H/A   Score SCORERS

20-21    F     N     1-0  Dimmock
68-69    4     H     2-1  Johnson, Greaves
80-81   SF     N     2-2  Archibald, Hoddle
80-81   SF(R)  N     3-0  Crooks (2), Villa
95-96    4     H     1-1  Wilson
95-96    4(R)  A     2-0  Rosenthal, Sheringham

League Cup

69-70    2     A     0-1  
72-73   SF(1)  A     2-1  Peters, Pratt
72-73   SF(2)  H     2-2  Peters, Chivers
                   (a.e.t)

UEFA Cup

71-72    F(1)  A     2-1  Chivers (2)
71-72    F(2)  H     1-1  Mullery
                    agg. score 3-2


Off to Molineux again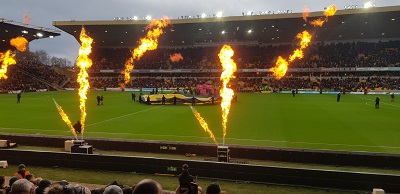 Spurs travel to Molineux again, just one month to the day since their last visit which became the second of our three opening 1-0 league wins this season. Our goal came from a penalty, won and converted by Dele Alli. We haven't scored a league goal in open play since then, bearing in mind Son's goal against Watford came from a free kick. We have since suffered two consecutive 3-0 defeats in London Derby matches.
After losing against us, Wolves had to play a second round Carabao Cup game and beat Chris Hughton's Nottingham Forest 4-0. (Chris Hughton has since parted company with lowly Forest) The only other game in which Wolves have even managed a goal was at Watford when they gained their only three points of the league programme so far. Even then Wolves needed a rather embarrassing own goal by Watford's Sierralta for their lead, which was doubled by loan signing Hee-Chan Hwang (from Leipzig), who scored from very close range. Hwang was signed after our last meeting, two days before the transfer window closed. He is a South Korean International, as is our own Heung-min Son.
I have often wondered about and never answered the question about the origin of the name of Wolves' Molineux Stadium. Wikipedia tells me the source of the name is Benjamin Molineux. He was a successful merchant who purchased Molineux House on land where the stadium would later be built. Bear in mind the fact that Wolves were one of the 12 founding members of The Football League in 1888, the club is naturally proud of the fact Molineux was the first stadium built for a Football League club (1889); one of the first British grounds to have floodlights installed, and hosted some of the earliest European club games in the 1950s.
Wolverhampton Wanderers are also naturally proud of three league championship wins in the 50s, FA Cups in 1893, 1908, 1949 and finally 1960 - the year before our famous double success. Their last major trophies have been the League Cup in 1974 and 1980. Wolves have also enjoyed 8 European campaigns, starting in the 50s and culminating in the 2019-20 Europa League when they were beaten in the quarter-final by a Sevilla team which included our own Sergio Reguilon.
Nuno Espirito Santo led Wolves to that last European success of course, and I remember being very impressed with Wolves' first two Premier League seasons of this run. Bear in mind they qualified for Europe in the first, and only just missed out in their second, protracted, and Covid-affected season. Spurs fans were not convinced by the manner of those first three league wins this season, and some are losing faith already after those recent defeats. A cup win would help to calm the troubled waters, but not as much as would a win at The Emirates on Sunday. That match has to be our priority, as does Wolves' (now coached by Bruno Lage) league appointment away to Southampton. With that in mind, and particularly with regard to our injury problems, it is difficult to foretell our team for tomorrow.
The two clubs have previously shared a manager of course, and that was Glenn Hoddle. We thought that Glenn was the dream appointment at Spurs in March 2001, but a poor start to the 2003-04 season when we lost 4 of 6 opening games ended Glenn's short reign. Glenn took over at Molineux in December 2004 with the clear aim to win promotion, but Wolves let him go in July 2006 when he didn't quite succeed. Since then, Glenn has concentrated on his punditry career, and he was spotted working (not for BT) in the Tottenham Hotspur Stadium on Sunday when he was able to personally pay his respects to the magnificent Jimmy Greaves.
Probably the most famous of Wolves' legends was Billy Wright, who held the record for England caps until Bobby Moore came along. In Billy Wright's last season (58/59), Greaves put five goals past the Wolves defence in a 6-2 thrashing at Stamford Bridge.
Spurs have not played Wolves in any cup competition since 1996. That was an FA Cup 4th Rd match which required a replay and goals by Ronnie Rosenthal and Teddy Sheringham to be settled. Our last league cup meeting was in a 1972 two-leg semi-final. We went on to win the trophy! We've had other significant cup wins, of course, such as the 1981 FA Cup SF and the 1921 FA Cup Final, not forgetting the victorious 1972 UEFA Cup Final!
Jimmy Dimmock scored the winning goal in the 1921 FA Cup Final, played at Stamford Bridge. Ricky Villa scored a screamer from distance to make it 3-0 in that FA Cup semi-final played at Higbury, of all places.
The 1972 UEFA Cup Final was played over two legs, the first of which was at Molineux. This match was refereed by Tofik Bahramov, an Azerbaijani national after whom their National Stadium is named. Mr Bahramov was also "the Russian linesman" who signalled England's disputed third goal in the 1966 World Cup Final. Martin Chivers hit the post with a free kick after five minutes, but Spurs did not take the lead until the 57th minute when he headed home a free kick by Mike England. Chivers scored a second goal two minutes from time after Jim McCalliog had equalised. This was an unstoppable Chivers 25-yarder.
Alan Mullery gave us a 3-1 aggregate lead after 29 minutes of the second leg, and the trophy belonged to Spurs despite a goal by Dave Wagstaffe. "Mullers" had famously been recalled by manager Bill Nicholson from a loan at Fulham and took part in the semi-final win against AC Milan and then the final. The second leg was Alan's last Spurs game, and the goal offered a great swansong.
That last League Cup meeting with Wolves took place later in 1972. This again was a two-legged affair. Spurs won 2-1 at Molineux and drew 2-2 at home. Martin Peters scored in both games.
There is no return date as yet for either Lucas Moura or Steven Bergwijn. Matt Doherty could feature against his old club, but I'd prefer Japhet Tanganga's pace, assuming Emerson Royal will get a break. Perhaps Davinson Sanchez was being held back on Sunday for this game. Big misses for Wolves so far this season have been Jonny Otto and Pedro Neto. There will be a hot atmosphere for the game which kicks off at 7.45pm. There is no live TV coverage here in the UK. I will be there with a full contingent of Spurs fans. I'll take us to squeeze through.
Peter Bankes will take charge of a Spurs game for only the fourth time. He doesn't have a great record in the previous games with two draws and a defeat so far. Mr. Bankes refereed a couple of Europa Conference League qualifiers in July this year.
Did you know? - Wolves have become the first British football club to launch their own record label. Wolves Records will be a partnership between the West Midlands club and Warner Music UK's Alternative Distribution Alliance, with the label giving artists from the local area and beyond a platform to share their music, plus the chance of airplay at Molineux.