PREMIER LEAGUE
SATURDAY 15TH APRIL, 2023
(3.15 PM)
TOTTENHAM HOTSPUR 2(1) BOURNEMOUTH 3(1)
Spurs scorers:-
Son, 14
Danjuma, 88
Bournemouth scorers:-
Vina, 38
Solanke, 51
Ouattara, 90+5
Attendance:- 61,369
Referee:- Andy Madley
Assistants:- Harry Lennard, Nick Hopton
Fourth official:- Andy Davies
VAR:- Tony Harrington
Assistant VAR:- Marc Perry
Teams:-
Spurs (3-4-3):- Lloris (Capt.); Romero, Dier, Lenglet (sub Sanchez, 35) (sub Danjuma, 58); Pedro Porro, Hojbjerg, Skipp (sub Richarlison, 77), Perisic; Kulusevski, Kane, Son
Subs not used:- Forster, Austin; Tanganga, Abbott; Sarr, Devine
Booked:- Perisic (foul on Smith)
Bournemouth (3-4-3);- Neto (Capt.); Mepham, Stephens, Kelly; Tavernier (sub Ouattara, 79), Rothwell, Lerma, Vina (sub Smith, 49); Christie (sub Anthony, 66), Solanke, Billing (sub Senesi, 79)
Subs not used:- Travers; L. Cook, Zabarnyi; Semenyo; Moore
Booked:- Christie (Simulation), Stephens (foul on Kane)
Spurs let Cherries blossom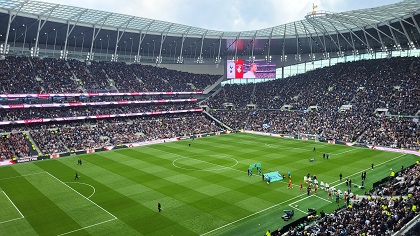 Many of the following words have been written before on Spurs Odyssey, but not necessarily in the same order. In the pubs before the game, Spurs fans were cheering as Aston Villa beat our fellow Champions League chasers 3-0. The result meant that a win over relegation strugglers Bournemouth would have put us level with Newcastle, who we must visit next week. Experienced Spurs fans know that they can trust their team to let them down, and that you can trust Spurs to blow their chances away. That they did, in no uncertain terms and often in dismal fashion with shocking defending (more of which later) and a failure to test Bournemouth's goalkeeper/captain Neto, despite having more possession, more shots (on and off target) and more corners than "The Cherries", who were allowed to shine and blossom.
This was a first away win for Bournemouth against Tottenham (in only 6 such games) and having beaten Leicester away last week, it was the first time they had won two successive Premier league games since 2020. To be frank, the visitors were good value for their win and Spurs have now lost 13 league points in five recent games against teams fighting relegation, which says something about their desire, as opposed to the levels of Spurs.
Spurs included 17-year-old George Abbott on their bench today. He's a defensive midfielder but can play at the back too. Perhaps he, and not Davinson Sanchez should have replaced the injured Clement Lenglet after 35 minutes. Kick-off was delayed for fifteen minutes, as Bournemouth arrived late. You would have thought they, not Spurs would be unsettled by that. Bournemouth kicked off and played towards the South Stand, as per common practice at Tottenham.
After an early mistake by Romero, Tavernier was allowed a shot on goal but that was blocked and cleared. Bournemouth dominated possession over the opening minutes. Tavernier had scored a cracking goal recently against Fulham, and this was a warning of Bournemouth's potential.
Spurs attacked down their left flank primarily with Perisic having a cross cleared by Kelly. Ivan then displayed skill and determination to advance down his touchline, before passing inside to Son. Son's cross eventually fell to Kulusevski, but hiss shot was blocked by a determined Bournemouth defence. They were cheered by an away attendance that amounts to nearly a third of their home capacity. Kane played a long ball to Skipp, who had made a good run down the left, but Kelly saw the ball out for a goal-kick.
After a poor clearance by Neto, Perisic fed the ball to Kulusevski, but his shot was deflected out for a corner. Perisic took that from the right and Neto flapped at the ball. Another Kulusevski shot led to another corner. The signs were looking good for Spurs, and they took the lead after Lenglet found Perisic with an excellent long pass. Perisic passed into the box where Son scored with a slightly deflected shot hitting the net inside the left post.
Kane tried and failed with a shot from distance after a good ball by Romero. Christie had a chance at the other end but thankfully fired over the bar. It was a good open game, but Spurs were too open at the back. Perhaps Perisic was over-committing to attack, and Pedro Porro is not strong defensively.
Kane intercepted a poor clearance by Neto and Porro had a shot from an angle on the right, but that was always hitting the side netting. Neto made a very good save from Son after Skipp's pass. The goalkeeper managed to tip Son's left-footed shot over the bar. Apart from scoring Son played pretty well today and was perhaps inspired by the presence of his International coach Jurgen Klinsmann who was interviewed at half-time. After this corner, a shot by Kane was blocked. Kane had another shot, this time inside the area, after a good through ball by Son, but Neto was equal and made a good save. You may have read in my match preview that Spurs met Neto when he was playing for Fiorentina in 2015. Neto also plucked another Perisic cross from the air.
Lloris had to make a save as good as that of Neto from Son when Tavernier hit a left-footed curler from the edge of the box. Lenglet needed treatment in the middle of the park and was replaced by Davinson Sanchez who has played 644 minutes this season in the Premier League. Romero switched to play left of Dier. Dier made a great tackle to deprive Christie of the ball in a dangerous position. Eric hit a great long pass soon after that too, finding Son advanced on the left. He passed inside to Kane, but Harry fired over from 22 yards.
Spurs paid the penalty for poor play by both Sanchez, but especially Pedro Porro when Bournemouth's left back Vina was allowed a run. He scored across Lloris after taking a pass from Solanke. Soon afterwards, Bournemouth wanted a penalty, but Christie was booked for diving. Neto had been taking time out of the game when his team was losing, and Spurs fans became more and more frustrated as the goalkeeper took his time whenever the opportunity arose. We don't do that away from home, of course!
Spurs were on the back foot for a while, but in added time, after a free kick Neto saved and held a shot by Son at the second attempt.
Spurs kicked off the second half and they had a good move down the right as Pedro Porro advanced. The Bournemouth defence prevented Kane's shot from testing their keeper. Vina was replaced early by ex-Spur Adam Smith, who used to be Bournemouth's captain and had not started this game because of the risk of suspension if he had been booked. Smith played on the right while Tavernier switched to the left.
Bournemouth took the lead after a nice move from their perspective but a disastrous one for the right side of our defence. There were two slick passes inside the box in Sanchez's territory and he was booed after Solanke's left-footed strike – again across the Spurs keeper. Sanchez was then booed by his own fans at every touch, which quite frankly is a disgrace. That is not support, and neither is it support to chant the name of your ex-manager who was sacked three and a half years ago, and then to chant against the Chairman who could hardly be blamed for the team's poor defensive play. He forked out £42 million for Colombian International Sanchez when Pochettino was the manager 6 years ago.
Pedro Porro hit a poor cross. Son was becoming hesitant on the ball. Spurs' confidence was blown. Danjuma was seen getting ready and when he replaced Sanchez, the hapless defender was booed off the pitch, probably never to be seen again in our colours I would suggest.
For the first time in recent memory, Spurs switched to four at the back, and most of the play was in the direction of the Bournemouth goal, behind which the home crowd did urge their team on to success. Son found his passing boots again and fed Perisic whose cross was turned onto the top of the net for a corner. After the corner, taken by Pedro Porro, Perisic skied a shot towards row Z. Another Porro cross was held by Neto, who was now more confident with the ball.
Danjuma had his first chance after a pass from Kane, but Neto held the shot from a fairly sharp angle. Skipp tried a shot from distance, but this was held. Kane went down in the box after Stephens' challenge and there was a VAR review, but no foul was the result. Kane had a header after another Pedro Porro cross, but Harry couldn't find the net, although we did have a corner. After that, a diving header by Hojbjerg was wide. Bournemouth then broke forward with Dier penalised, but not carded, for a foul in midfield.
Bournemouth attacked following the free kick and Lloris saved from Anthony after Pedro Porro and Romero had messed up near the right corner flag. Kane had a header blocked and Danjuma was also thwarted as Spurs tried to level. Now Skipp was replaced by Richarlison and Harry drew back behind Danjuma, Richarlison and Son. You'll note little mention of Kulusevski at this stage of the game. He seems to have lost the sting seen earlier in his time with Spurs.
After a foul on Richarlison, Perisic's left-footed free kick passed wide. Pedro Porro hit a shot way off target, and this led to a few boos from the frustrated home crowd. Any dreams of Champions League football were slipping away. Spurs had the ball, in the net through Richarlison after Danjuma's pass, but another lengthy VAR review disallowed the goal for an offside by Danjuma. Poor old Richarlison hasn't played many more minutes than Sanchez, and any time he has had the ball in the net in the league, he has suffered at the eyes of VAR.
Lloris had to make a save from Lerma before Spurs finally managed an equaliser with little more than two minutes of normal time remaining. VAR was also involved after Richarlison and Kane challenged in the Bournemouth area before Danjuma fired home with a low left-footed shot. The question was whether Kane had interfered from an offside position when Danjuma hit his shot, but the goal stood. It was Danjuma's first Premier League goal in only 58 minutes of such football since his signature.
Many Spurs fans had left before the equaliser. There were six minutes of added time, but all we had to show for it despite pressure was a wide header by Richarlison from a corner. Spurs were stretched seeking a precious winner, but they left themselves exposed again at the back when Solanke fed the ball to substitute Ouattara who had the time and space inside the left of Spurs area to score low in front of the ecstatic travelling fans. Spurs had no answer.
Bournemouth have massively increased their chances of another Premier League season with a win that took them 6 points clear of the drop zone. As for Spurs, I feel that Champions League football is a hopeless dream. Even European football might be beyond us on this form with games against Newcastle, Manchester United, Liverpool and Aston Villa still to come.
The last 32 years' history warns us that Spurs will (almost) always let you down.
· Squad numbers,appearances,bookings & goalscorers
· Read the preview for this game.
· All the Spurs Stats you could hope for here! THFC6061 Sports Stats