This article follows yesterdayís summary of those who have joined THFC during the summer, and lists those who have left the club.
Giovani Lo Celso, Tanguy Ndombele, Sergio Reguilon and Harry Winks were all left at home whilst the rest of our available squad players travelled to South Korea. Officially the club said this was ďto continue their pre-season preparations at Hotspur WayĒ, but unofficially I understand they are being encouraged to find new clubs. Perhaps there will be updates in the weeks to come regarding these players. In the meantime they might be entertaining themselves at sites like these!
I mentioned in the previous article Pierluigi Gollini who was released after his season-long loan from Atalanta. Whilst still an Atalanta player, Gollini has now joined Fiorentina for a further loan period. Pierluigi never started a Premier League game (Hugo Lloris was ever-present) and his 10 games consisted of six Europa Conference League games and four cup games. He sat on the bench 40 times over the course of the season. Gollini never really excited Spurs fans and perhaps his highlight was playing in our League Cup penalty shoot-out win at Molineux in September 2021. Golliniís one penalty save was not a tough challenge and Wolves failed with two other kicks.
Golliniís departure was confirmed early in the summer, as was the release of a number of young players. These were J'Neil Bennett, Kacper Kurylowicz, Dermi Lusala, Thimothee Lo-Tutala (subsequently signed by Hull City) , Josh Oluwayemi, Tobi Omole and Isak Solberg of the Development squad following the conclusion of their contracts.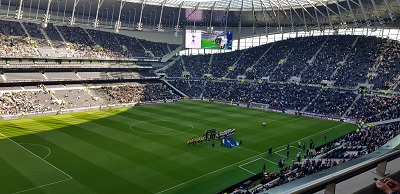 J'Neil Bennett scored the very first goal in the Tottenham Hotspur Stadium in a U-18 game v Southampton on 24th March,2019.
Under-18 players Jez Davies, Jordan Hackett, Khalon Haysman, Renaldo Torraj and Oliver Turner were also released.
USA International Cameron Carter-Vickers has finally left the club on a permanent basis, having been signed by Celtic where he was on loan last season. Although born in Southend, Cameron has claimed USA nationality and has 11 senior caps, the last two of which were this summer against Grenada and El Salvador.
Cameron, who will be 25 in December made 33 Scottish Premier League appearances last season after playing his last Spurs game in the ill-fated away game against Pacos Ferreira. Seen in our under-18 side as long ago as 2013, and making his first team debut in the 2016-17 season under Mauricio Pochettino, Cameron spent loan periods at Sheffield United, Ipswich, Swansea, Stoke, Luton and Bournemouth, before getting the call from Celtic. Whilst undisclosed, I believe a fee of some £10 million was involved.
The most notable departure was announced on 8th July when Steven Bergwijnís sale to Ajax was formally announced. The fee could amount to £30 million with add-ons. Steven arrived at Spurs in the January 2020 transfer window. He scored on his debut at home to Manchester City, and in fact scored in each of his first three home games, thus emulating Rafa van der Vaart. Bergwijn scored 7 goals in 60 Premier League appearances for Spurs, and will always be remembered for those two added time goals last season at Leicester . No team in Premier League history had been losing a match as late as Tottenham Hotspur (2-1 at 94:52) and still gone on to win the game. Manchester City previously held the record after winning a game that they were losing on 91:14. That was the famous Martin Tyler "Aguero!" moment when City beat QPR 3-2 to seize the title.
The last departure to date (15/07/22) has been that of Jack Clarke to Sunderland. Spurs had snapped up Jack from Leeds in the summer of 2019 and were reported to be paying a fee that might have reached £10 million for an 18-year-old who had excited Leeds fans, mostly with substitute appearances. Despite the initial excitement generated, Jack never made it at Spurs. He made three substitute appearances for Jose Mourinho in 20/21 and also came off the bench for Nuno in that defeat last season to Pacos Ferreira. Jack had loans at QPR, Stoke and finally Sunderland last season for whom he made 17 league appearances, including their successful League One play-off final.
On August 1st the club announced that Joe Rodon had joined Ligue 1 side Stade Rennais on loan for the 2022/23 season, with an option to make the move permanent. Troy Parrott and Dane Scarlett had previously been sent out on loan to Preston North End and Portsmouth respectively.
The sale of 20-year-old Kion Etete to Cardiff was confirmed on 4th August. Etete was signed from Notts County in July 2019 and featured in development squad games. Kion spent last season on loan at Northampton and Cheltenham.
On 14th August, the club announced that Giovani Lo Celso had joined La Liga side Villarreal on loan for the 2022/23 season. Tanguy Ndombele's loan to Napoli was announced on 19th August, with an option to make the deal permanent.
On 30th August, the club announced season-long loan deals for Sergio Reguilon and Harry Winks. Sergio has gone to Atletico Madrid, whilst Harry Winks will play for Sampdoria in Italy. Thus, the four players mentioned at the top of this page, who had been left at home for the pre-season tour, have been found clubs for this season.