NORMAN GILLER'S SPURS ODYSSEY BLOG No 407
Submitted by Norman Giller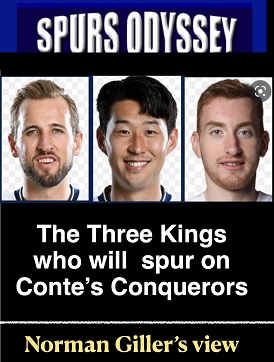 So, as I was saying before being interrupted by the lionesses' roar … Spurs go into the 2022-23 campaign with a bounce of confidence, despite Saturday's lethargic performance against Roma in Israel.
The 1-0 defeat was a crumb of consolation for Roma boss Jose Mourinho following his brutal dismissal by ruthless Daniel Levy, but that ego-massaging apart it was a meaningless match that went into the 'quickly forgotten' file as soon as the final whistle blew.
It astonished and angered me how the social media – the junk box jury – turned on Tottenham's players as if they had been severely spanked, but it was a game in which players from both sides lacked drive and motivation. Nothing to see here. Move on. I just felt sorry for those Israeli spectators – including last season's Spurs Odyssey Quiz League champion Peter Lawton – who paid good money to watch what was a substandard match.
It all begins to matter on Saturday when Southampton are the visitors to the Tottenham Stadium (that could have a new commercial name in the near future). This is when we will find out if our optimism is well placed following the Conte-inspired run last season that lifted Spurs into the Champions League.
With the arrival of Yves Bissouma, Richarlison, Ivan Perisic, Fraser Forster, on-loan Clement Lenglet and Djed Spence, the squad has real strength in depth, and there is possibly another major signing in the wings.
Bissouma seems to be the capture that has caused greatest excitement, but I have been appalled at some of the vitriol aimed on line at Richarlison. While he is wearing a Lilywhite shirt, he should get our full support.
For me, the best close-season signings are club legend Jermain Defoe and three-time Premier League winner, Yaya Toure, as coaches for the academy. Their experience, enthusiasm and expertise are sure to rub off on the current squad.
But despite the influx of newcomers I am backing the Three Kings of last season – Heung-min Son, Harry Kane and Dejan Kulusevski – to once again reign supreme as Conte sets out to end the silverware drought. We can look forward to them dismantling defences. If Harry doesn't get you, Sonny will … and then watch out for the Ginger Swede cutting in from the right wing with his lethal left foot.
We purred at the the way the Lionesses performed at Wembley yesterday, with spirit, skill and determination. Conte must encourage his players to follow that lead … but we have as much chance of seeing one of our players wearing a bra as Daniel Levy sporting a wig. Bravo, girls!
Let's try to enjoy the season, and brace ourselves for a long mid-winter break to take in the World Cup finals in that soccer nerve centre of Qatar.
Our website guru Paul H. Smith and I look forward to your company … lionesses as well as lions.
Let's hope we're cheering on Conte's Conquerors. COYS!
---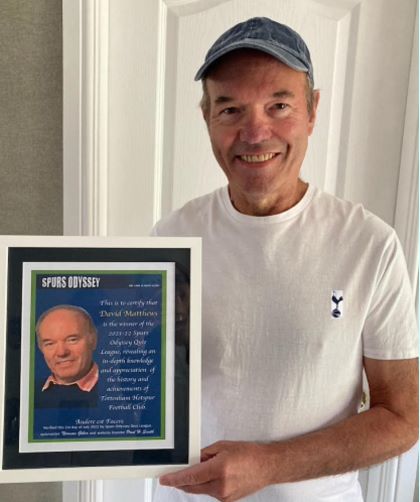 Here we go on season nine of the Spurs Odyssey Quiz League, and pictured above is our defending champion David Matthews, a Spurs disciple of more than 60 years who comes from the true Tottenham territory of Cheshunt in Hertfordshire.
David is holding his framed certificate naming him as the 2022 SOQL champion, and I hope you will be among those who challenge him during the coming nine months.
The rules are the same as in previous seasons. I ask a two-pronged question with three points at stake – two for identifying the player and one for the supplementary question. In the closing weeks of the competition I break the logjam of all-knowing Spurs-history experts with a tie-breaking poser that is based on opinion rather than fact. That's when I lose the few friends that I have. But, hey, it's fun. Please join in.
This year's prizes for the champion will be announced later in the season, but most important of all, they will include a framed certificate announcing the winner as 2023 SOQL champion.
Question 1: Who wore the No 4 shirt for Spurs in an FA Cup winning team, played for England in a World Cup quarter-final and against which side did he score the winning goal in the second leg of a European trophy final?
Please email your answer to me at soqleague@gmail.com with Quiz Week 1 as the subject heading. Deadline midnight this Friday. I will respond to all who take part.
See you back here same time, same place next week. COYS!