NORMAN GILLER'S SPURS ODYSSEY BLOG No 413
Submitted by Norman Giller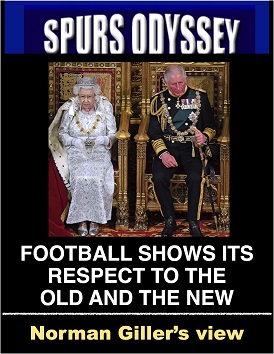 I have been kicked black and blue – more appropriately, red, white and blue – for supporting the Premier League in their decision to call off the weekend's football out of respect to the death and memory of Her Majesty, Queen Elizabeth II.
Call me old fashioned, but I am from a generation that believes in the dignity and decency of mourning, and having mobs of committed football fans screaming their obscenities within moments of a minute's silence is not my idea of respect.
You would honestly trust a capacity football crowd to sing the National Anthem without idiots wrecking it? Honestly? You have more faith than me, then.
Parallels have been drawn with allowing the Test cricket to go ahead. You don't hear thousands of spectators at Lord's (okay, the Oval) yelling in unison, 'The umpire's a ****!'
The football fan is a different creature, and I have been appalled at some of the chanting I hear in the modern game. For those who are making the case that there were no football postponements when George VI died and the NLD was staged, he was the 'accidental king' who took over when his brother abdicated. Elizabeth II served for a record 70 years. Repeat, 70 years.
Also, football fans back then were not foul mouthed and there was just rivalry not hatred in the NLD. The Premier League called it right. We must drink in momentous moments in our history and play our part by showing respect. I will be in that queue paying my respects when the Queen is Lying in State at Westminster Hall. Long live Charles III.
We are still awaiting confirmation of whether a full programme will take place next weekend, but everybody must show patience in these surreal times. Normal service - as it used to regularly say on our TV sets in the 50s - will be resumed as soon as possible.
Yes, the fixture list is heading for the jam of jams, but so be it. One day you will tell your grandchildren about these extraordinary times and, hopefully, the part YOU played in it by simply showing respect.
I hope you don't mind me sharing two Royal memories with you. If you're bored you can always move on, leaving me mumbling to myself. Nowt different there, then. Come with me to Wednesday, 6 February 1952. Assembly hall, Raine's Foundation Grammar School, Stepney in the real East End. There's Norm in his two sizes too big school blazer ('You'll grow into it and it will save forking out for a new one every year') and short trousers. Our Headmaster, the stern, stick-insect thin, 6ft 7in Dr Shutt, is at the lectern, complete with mortar board and gown. An intimidating sight to an 11 year old's eyes.
Tears are streaming down his narrow, sallow face as he informs us that George VI has passed away, (through sobs): 'The King is dead, Long Live the Queen'. We then all sing (me still a soprano and around me croaking, breaking voices of older boys), for the first time, 'God save our gracious Queen …'
Roll forward to July 30 1966, Wembley. I was on 'quotes duty' for the Daily Express and by tying myself to Wembley PR Len Went I evaded all the jobsworths and got down to the England dressing-room after their World Cup victory. Security was neurotically tight. Wembley's own security, FIFA minders looking after the Jules Rimet trophy that had been stolen the previous month, and the Queen's secret servicemen ready to kill at a moment's notice.
By a freak of timing I got down from the press box at the precise moment Her Majesty was approaching her Rolls Royce parked alongside the England coach. She was dressed in startling canary yellow and flashed me a smile that lit up Wembley (okay, the smile might have been for somebody behind me) and memory of that smile illuminates my sorrow now. Somebody has switched off the sun. Sorry to have bored you but I needed to say it. 'The Queen is dead, Long live the King.'
Please note that I will not be posting a blog next Monday, the day we say a final fond farewell to the Queen. See you here in two weeks' time when we will start getting back into a routine, all pulling together. That's the attitude the entire country must adopt. Pulling together. It is what the Queen would have encouraged. Peace and respect. COYS!
---

Week seven of our ninth year of Spurs Odyssey Quiz League challenges:
Who is the only Tottenham player to have received the FA Cup from Queen Elizabeth II and from which club did he join Spurs?
Please email your answer to me at soqleague@gmail.com with Quiz Week 7 as the subject head-ing. Deadline midnight this Friday. I will respond to all who take part.
The rules are the same as in previous seasons. I ask a two-pronged question with three points at stake – two for identifying the player and one for the supplementary question. In the closing weeks of the competition I break the logjam of all-knowing Spurs-history experts with a tie-breaking poser that is based on opinion rather than fact. That's when I lose the few friends that I have. But, hey, it's fun. Please join in.
This year's prizes for the champion will be announced later in the season, but most important of all, they will include a framed certificate announcing the winner as 2023 SOQL champion.
Last week … Question 6: Who scored just one goal in 591 games for Spurs and against which country did he make his last appearance in a World Cup finals match?
Of course, the one and only Pat Jennings, who was chaired and cheered off the field following his final match – a defeat by Brazil in the 1986 World Cup finals. What a goalkeeper, what a man.
See you back here on Monday, September 26. Long live the King. COYS!