Is the World Cup coming at a good time for Spurs?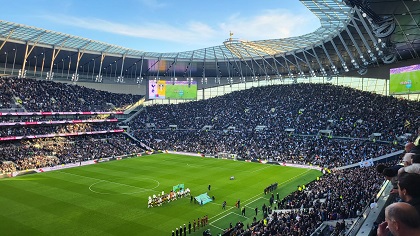 Weíve all watched football matches in which the first half turns into one-way traffic the longer it goes on. Chance after chance flashes by for one of the teams; maybe one of them goes in, maybe not. The goal of one of the sides will, in all likelihood, be described as ďleading a charmed lifeĒ. As the pressure builds, the clock ticks over 45 minutes and eventually, the whistle goes, at which point the co-commentator remarks "half timeís come at a good time for them" - meaning the side who have absorbed all that pressure. As we start to look at World Cup betting and read the tournament previews, it feels appropriate to ask: Is the World Cup coming at a good time for Spurs?
Betting on Harry Kane at Cloudbet?
For some Spurs fans, it wonít be the worst thing ever to happen if England are eliminated earlier than expected and players can rest. For others, especially if they back Harry Kane to win the Golden Boot at Cloudbet, the opposite will be true. With Cloudbet offering substantially higher limits than most bookmakers, betting on this World Cup with crypto could definitely be interesting. Not least because England are among the top four teams in betting to win the tournament overall.
Cloudbet are also the first crypto bookie to allow in-play betting. At a World Cup, where so much can change so quickly, thatís a feature thatís going to come in handy. Thereís going to be plenty of action to absorb once the Premier League takes a break and World Cup betting moves on to the horizon. And Cloudbet will have markets on just about anything you can think of betting on. Thereís going to be plenty of Tottenham involvement, so itís time to consider whether this World Cup is coming at the right time for Spurs fans.
Things have got a little bit out of control
Since the 2-0 win over Everton, Spursí autumn has not been what fans would have hoped. Wins, when they have come, have been secured late on against Marseille (uplifting) and Bournemouth (mystifying). Losses have come at the hands of teams fighting for those top four spots: Liverpool, Newcastle and (donít laugh) Manchester United. Under Conte, the term ďSpursyĒ was supposed to be retired, but its use has risen considerably in a month where the team has forgotten how to start games. Maybe a reset thanks to the World Cup is a good thing.
The transfer window is nearly here Ö sort of
With very few fixtures left in 2022, the chance to refresh the squad certainly comes at the right time, and every game in Qatar can be treated as a scouting opportunity. Son and Kane in particular could probably do with someone to take the pressure off them. On the flip side of thatÖ how much better can we expect the squad to get? This is probably the deepest Spurs squad since at least 2016, and you canít sign a consistent sense of concentration in the January window. Thatís what the team needs most so maybe, hopefully, some work can be done on that before the season takes up again.
Itís not just England matches we need to worry about
We all hope that Eric Dier and Harry Kane make it through the World Cup without a scratch, although frankly, Kane could do with a month off more than anything. This tournament is going to be filled with matches weíll have to wince through, and itís not just when England are playing that thatíll be the case. Son has just reported fit after a facial injury, and South Korea will depend heavily on him. In the same group, Uruguay will fancy a long stay in the competition, which puts Rodrigo Bentancur in the firing line. Then thereís Richarlison, Pape Matar Sarr, Perisic, HojbjergÖ Hmm. Maybe this isnít a good time to have a World Cup?