Grass Matters: Why Tottenham's Pitch Could be the Gamechanger for their Season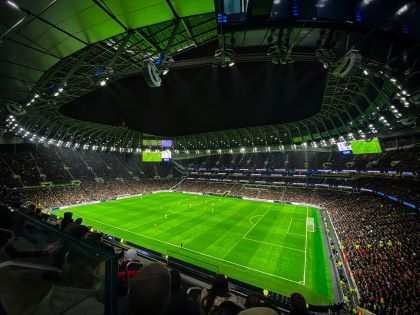 Image source - https://images.pexels.com/photos/3991976/pexels-photo-3991976.jpeg
As much as we love to focus on the fancy footwork and impressive goals, there's one crucial element of football that often goes overlooked - the pitch. And it just so happens that Tottenham Hotspur's pitch could be the key to unlocking their success in any season.
How Tottenham Hotspur have utilized the grass on their pitch
The Spurs' groundsmen work hard to keep the pitch in prime condition for every match. They use a GrassMaster machine to sow new seeds and replace damaged patches of grass. This ensures a smooth playing surface for better player performance. The club installed a modern drainage system to remove excess water from the pitch quickly. It maintains grass health, prevents disease, and avoids flooding.
In these kinds of circumstances, the grass needs to be meticulously maintained by being regularly trimmed, rolled, and lined. Lining may typically be accomplished with the help of a GPS line marking machine due to the accuracy and high quality of the results that line marking robots provide, as well as their ability to enhance productivity.
These measures made Tottenham's pitch one of the best in the country and contributed to their recent success.
Factors Contributing to Tottenham's Pitch Quality
Pitch quality affects team performance. Tottenham Hotspur has one of the best pitches in the Premier League in recent years. This is because of factors like turf quality, drainage, and pitch maintenance.
Turf quality is important for two reasons: it impacts the ball's speed, and a good turf prevents injuries. Tottenham's quick passing style suits a fast surface, and their pitch is well-maintained by dedicated groundskeepers. This ensures the surface is always consistent and fair for both teams.
The Impact of Maintenance on the Grass
Maintenance greatly affects the grass on the pitch. A healthy lawn can be achieved with proper care. If not maintained, the lawn can become patchy, weedy, and bare.
Grasses are usually 2–3 inches tall. Mowing too low can stress the grass and increase the risk of disease and pests. It can cause thatch formation - a layer of dead and living plant material on the soil surface. Lawns require regular fertilization to stay healthy and vibrant, in addition to mowing. During the growing season, one pound of nitrogen is applied per 1,000 square feet of turf every six to eight weeks.
Watering is important for lawn care. Grass needs 1-2 inches of water per week in the growing season to stay healthy. It is watered deeply and less often to promote deeper roots for stronger turf that can withstand drought.
Aeration promotes air exchange between soil and atmosphere, while dethatching removes thatch buildup that blocks water, air, and nutrients from reaching the ground.
Conclusion
In football, taking care of the things that seem unimportant for the game is essential. This is why keeping the surface of the pitch in good condition can help players perform their best when they play. Grass helps to cool the playing surface, keeping it from becoming too hot and making it easier for players to stay comfortable during long games or practices. For maintaining a top football pitch, we give Tottenham Hotspur the top score.