They say never go back, but…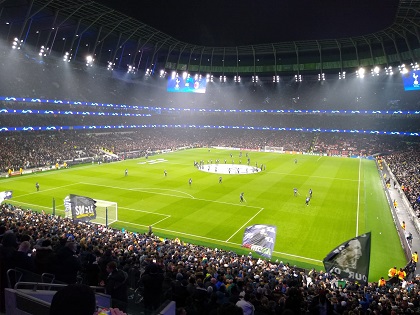 Thanks to Cassim Patel for this picture
They, who are forever full of wisdom, say – for whatever reason – that you should never go back. Once again given destination has been departed, be that in personal or professional circles, it is considered unwise to start slipping into reverse.
It can be difficult at times to avoid such thoughts, especially when events of the past conjure up happy memories that will forever hold a special place in any particular heart and mind. In situations such as that, what harm can be done in heading back to familiar surroundings?
That gamble is taken on a regular basis in the world of professional sport, with it common to see superstar players and coaches take in multiple spells with the same organisation. Tottenham slip seamlessly into that category on the footballing front, with the likes of Ossie Ardiles, Glenn Hoddle, Jurgen Klinsmann, Teddy Sheringham, Jermain Defoe and Robbie Keane having all returned to north London in the Premier League era after previously saying their goodbyes.
Reunion
Could another reunion be on the cards in 2023? Struggles for consistency suggest that it could.
Antonio Conte is a proven winner at the very highest level, as a player and manager, but even he has found it difficult to put the foundations in place on which tangible and sustained success can be built. Spurs remain tricky to predict, with big questions of the direction in which the club is heading seemingly never far away. Bids for top-four finishes and Champions League qualification have been maintained, with a touch of stability and continuity established there.
Tottenham are expected to challenge for such status on an annual basis, making them a favoured choice in pre-season predictions and among plenty of betting tipsters. With a collection of international superstars at their disposal, it comes as no surprise when a sports betting service that prides itself on nudging punters in the direction of reliable selections across free and subscription services treads a similar path to pundits and fans when attempting to pick the bones out of often congested markets.
Such support can quickly erode, though, if lofty standards are allowed to slip. There is nothing to suggest that Conte is about to throw in the towel and go through the motions of seeing out a contract that is due to expire in the summer, but there is also an easy argument for starting again with a fresh set of eyes – or a pair that have delivered in the most demanding of roles before.
Rekindled
There is no escaping the fact that Mauricio Pochettino – a man that delivered title tilts and a Champions League final appearance during a previous stint in the Spurs hot seat – remains out of work. He has never hidden the fact that, despite being unceremoniously dumped, a flame in north London could be rekindled.
The Argentine has said: "Deep in my chest, my soul, my heart - I am sure that we will cross again. From the day that I left the club, my dream is to be back and to try to finish the work that we didn't finish." While the fabled 'they' may frown upon such a decision, would it be impossible to pass up the opportunity to bring Pochettino back on board?