THE EMIRATES FA CUP
FOURTH ROUND
SATURDAY 28TH JANUARY, 2023
(6pm)
PRESTON NORTH END 0(0) TOTTENHAM HOTSPUR 3(0)
Scorers:-
Son, 50, 69
Danjuma, 87
Attendance:- 21,219
Referee:- Peter Bankes
Assistants:- Edward Smart & Nick Greenhalgh
Fourth Official:- John Busby
NO VAR
Teams:-
Preston (3-5-2):- Woodman; Storey, Lindsay, Hughes; Browne (Capt.), McCann (sub Johnson, 78), Ledson (sub Woodburn, 70), Whiteman, Brady (sub Fernandez, 78); Evans (sub Cross-Adair, 90), Cannon
Subs not used:- Cornell; Cunningham, Bauer, Diaby; Potts
Booked:- Cannon (simulation)
Spurs (3-4-3):- Forster; Tanganga, Sanchez (Capt.), Lenglet; Doherty (sub Emerson Royal,71), Bissouma, Bentancur (sub Skipp, 71), Sessegnon (sub Danjuma, 71); Kulusevski, Perisic, Son (sub Gil, 85)
Subs not used:- Austin; Dier, Davies; Hojbjerg; Kane
No bookings
Spurs win with three quality goals.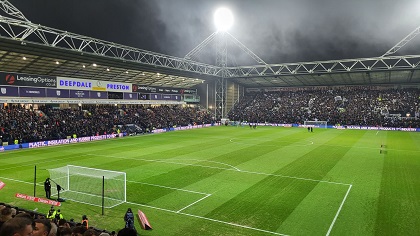 Spurs fans (and not a few Preston fans) had travelled to Deepdale in the hope of seeing Harry Kane secure that club goals record. Kane had travelled with the squad, despite illness, but didn't come off the bench as two quality goals by Heung-min Son and a neat debut goal for Arnaut Danjuma ensured a comfortable passage to the fifth round.
As we travelled into Preston we passed "The Anderton Arms", and many Spurs fans supped in "The White Hart". I parked in Churchill Road. These were all good winning omens!
Antonio Conte made seven changes to the side which had started at Craven Cottage on Monday night. Hugo Lloris was rested completely. Fraser Forster had a comfortable game and was hardly tested by a Preston side, who got forward, occasionally looking sharper than Spurs, but did not produce the scoring edge. Dier, Davies and Hojbjerg were not needed and stayed on the bench. Davinson Sanchez took the captain's armband. Super utility player Ivan Perisic played the "number nine" role tonight, but in the first half all three forwards were central at times.
Former Newcastle goalkeeper Freddie Woodman was not tested enough in the first half when Spurs tried to bore the opposition into submission, passing around the middle without impact for so much of the time. Son had a couple of good efforts, as did Kulusevski, but the non-partisan BBC viewers would have been turning over in droves I imagine in that first half.
The often persistent drizzle created a misty view which made it difficult to pick out the players too well from my position in the Bill Shankly Stand.
The home side kicked off, playing towards the away fans, who hadn't (or perhaps they had) read The Guardian article in which a notorious former centre-half complained about Spurs fans' "hurtful" abuse 22 years after he left Spurs. Those chants were regularly sung with gusto, and there were several airings of "We want Levy out" (Oh, why?). In my view Spurs fans should concentrate on positive chants towards their team, and in fairness they were in good voice throughout the game.
Spurs won a corner on the right-hand side after three minutes. This was taken short and ultimately came to nought. A Spurs free kick won another corner, this time on the left. Preston kept their shape with a midfield five in front of the back three, and Spurs were struggling to make any headway. On the occasions the home "Lilywhites" came forward they tested the Spurs defence, prompted by skipper Alan Browne with 20-year-old Tom Cannon determined to put his name on the map.
Spurs showed good passing touches and skill in their own half that I would have liked to have seen more in the final third. Bentancur in particular displayed some finesse at close quarters. Son was getting closed down and robbed of the ball too often. Kulusevski seemed to be playing inside leaving Matt Doherty to make the advances down the right wing.
Son had a good shot held low by Woodman after the ball had been worked to the Spurs man from the right. Preston had a free kick after a foul by Sanchez after which Hughes had a shot blocked inside the Spurs area. A right-footed shot by Son from 25 yards was pushed out for a corner by Woodman. Ledson had a shot go over the target at the other end.
Spurs had a couple of attacking free kicks and a corner, after which Kulusevski hit a trademark left-footed shot just over the bar. "Kulu" had another shot, hit with his right foot, blocked and cleared. Perhaps the first half had not been so dull, after all.
There were no half-time changes, and Spurs kicked off the second half, playing towards the Shankly Stand. The team played with more intent and Bentancur was showing more midfield invention. After a slow build-up, Kulusevski had a shot blocked with Bissouma having made the final pass. Lenglet got forward and hit a left-footed shot just over the goal.
Son and Kulusevski were playing wider and at one point, Perisic seemed to be pushing Kulusevski away from the central area, suggesting there had been some half-time instructions. It wasn't long before Spurs had the lead and it was thanks to a goal of great quality by Son. Kulusevski and Tanganga (who had a good game) advanced down the right flank and Tanganga made the final pass inside. "Sonny" picked his spot from a full 25 yards and watched it sail into the net inside Woodman's right post. Son stood to take the acclaim he was due. With his two goals today, he has climbed above George Hunt in the club scoring rankings to seventh place with 139 club goals. Jermain Defoe will be his next target.
Now the game opened up and Preston had to try to take the bull (ball) by the horns. That they did, but not always in the right way. Cannon was shown the only yellow card of the game for going down too easily close to the edge of the Spurs box. Whiteman hit a left-footed shot which did have Forster worried, but the ball passed wide of his right post.
Spurs had another chance when Bentancur pushed the ball out to the advancing Lenglet. His cross was headed goalward by Perisic but saved by Woodman. Spurs' second goal soon followed, and this was pure quality. Spurs had attacked down the left flank and some slick passing left Perisic with the ball inside the area towards the right, he so skilfully turned and slid the ball to the feet of Son, who did not fail with his left foot. The game was won.
On came Danjuma for Sessegnon, Skipp for Bentancur and Emerson for Doherty. Perisic reverted to left wing-back, although he and Emerson switched on one occasion. Danjuma took up the central attacking position. He nearly had an early pop at goal too as his new colleagues tried to tee him up. That goal did come in the 87th minute. Bryan Gil had replaced "Sonny" and had a useful cameo. He ran with the ball from the left across the area and fed it to Kulusevski who teed up the debut man for a nice comfortable finish in the middle. As mentioned in the preview, Danjuma is one of only two La Liga players - along with Vinicius Junior - to have scored 10 or more goals with both his left (10) and right foot (12) across all competitions. He's made a good start here!
By all accounts (well, the ever-reliable Fabrizio Romano on Twitter), Spurs have sealed the deal for the transfer of Pedro Porro from Sporting so maybe those "Levy out" merchants should pull their horns in?
Spurs are ball number one in the Fifth Round draw being made tomorrow (Monday) night. Let's hope it's a good one! That round is being played in midweek, on or about Wednesday 1st March.
· Squad numbers,appearances,bookings & goalscorers
· Read the preview for this game.
· All the Spurs Stats you could hope for here! THFC6061 Sports Stats