· Premier League Matchday 13 - last year
· See the current injury list for all Premier League Teams
· All the Spurs Stats you could hope for here! THFC6061 Sports Stats

Full league history - Spurs v Bournemouth:-

Premier     Pl   W   D   L   For-Ag  Pts
Home         5   5   0   0    16-2   15
Away         5   2   2   1     9-3    8
========================================
Total(Prem) 10   7   2   1    25-5   23   2.3 Pts per game
========================================
Grand Total 10   7   2   1    25-5   23
========================================

Last Six Premier League results:-

B'mouth    -    DDWDLL

Newcastle  1-1    B'mouth
B'mouth    0-0    Brentford
B'mouth    2-1    Leicester
Fulham     2-2    B'mouth
B'mouth    0-1    S'hampton
West Ham   2-0    B'mouth

Spurs      -    WLWWLL
           
Spurs      6-2    Leicester
Arsenal    3-1    Spurs
Brighton   0-1    Spurs
Spurs      2-0    Everton
Man Utd    2-0    Spurs
Spurs      1-2    Newcastle

Pos           P  W  D  L   F-A   GD  Pts
 3. Spurs    12  7  2  3  23-14   9   23
14. B'mouth  12  3  4  5  10-25 -15   13 

Time for a win, please Spurs!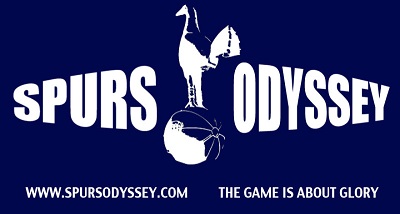 We have our best points per game record against Bournemouth compared to any other current Premier League side, having lost just one of the ten games played. That was an ill-fated day on May 4th 2019. Just as we are in third place now, we were in third place then. Bournemouth were managed then by Eddie Howe, whose side beat us last week. Spurs had a player sent off either side of the half-time interval. Son was uncharacteristically sent off for a push on Lerma before the break. Things soon got worse. Juan Foyth replaced Toby Alderweireld at half-time and spent only two minutes on the field before he was sent off for a dangerous foul. The nine men held on at 0-0, until Nathan Ake headed home a winner in added time. We did manage to finish fourth, and of course also reached the Champions League final that season. The never to be forgotten heroics in Amsterdam followed that rare defeat at The Vitality Stadium.
We also failed to score in The Vitality Stadium the last time we visited which was in July 2020.That, of course was a season delayed because of the first Covid lockdown. At least we got a point. Bournemouth were one place off the bottom and desperate for any point they could gain. On this occasion, Aaron Ramsdale was in goal, and the Bournemouth side included former Spurs Academy player Adam Smith and Nathan Ake, since sold to Manchester City. The game was not edifying, and I hope for more entertainment and a positive result for Spurs tomorrow, especially after three games without a win. In 2020 Bournemouth were relegated in 18th place, one point behind Aston Villa.
Bournemouth secured their promotion after two seasons in The Championship with a 1-0 win over fellow promotion rivals Nottingham Forest at The Vitality stadium on 3rd May 2022. Former Spur Scott Parker was at the helm, having left Fulham the year before. Scott had another ex-Spur (at Academy level) Matt Wells by his side. Wells is Cliff Jones' grandson. Adam Smith is now a Bournemouth veteran aged 31. He still plays at right back. Adam's one Premier League appearance for Spurs was in May 2012 as a 76th minute substitute against Fulham. I saw him score several quite spectacular goals as a young Spurs player. One at Leicester's training ground for the under 18s in a 4-3 win comes to mind.
In the summer transfer window, Bournemouth signed another former Spur, latterly of West Ham in Ryan Fredericks. He came on a free transfer upon the expiry of his contract with West Ham United. "The Cherries" also signed Middlesbrough midfielder Marcus Tavernier for a reported fee of £10 million. Tavernier played all 120 minutes of "Boro's" successful FA Cup 5th Round tie against Spurs in March and has played in all 12 of Bournemouth's league games to date.
33-year-old former Barcelona goalkeeper Neto also arrived on a free transfer. Neto made 12 league appearances for the Spanish club in the last three seasons. Neto has been first choice this season, but he will be missing tomorrow after suffering a thigh injury in Monday's 2-0 defeat at The London Stadium. Dominic Solanke also went off at half-time in that game, but Bournemouth hope to have him available for our game. It is likely that we will see goalkeeper Mark Travers (who played in that 1-0 defeat in May 2019) between the sticks tomorrow.
Bournemouth also sealed the signing of centre-back Marcos Senesi from Feyenoord for an undisclosed fee. The highly-rated 25-year-old has signed a four-year deal at Vitality Stadium. He became the Cherries' fifth signing of the summer and second capture from Europe, following goalkeeper Neto's arrival from Barcelona. A physical and technically gifted defender, Senesi made his international debut for Argentina in a friendly win over Estonia in June.
On 30th August, following their 9-0 defeat at Anfield, Bournemouth announced the departure of Scott Parker. The sacking followed their 9-0 defeat by Liverpool. Since then, Gary O'Neill has had charge of the team and they were unbeaten for his first 6 games in charge, keeping two clean sheets in those games. Bournemouth have however lost their last two games, firstly at home to Southampton, before Monday's defeat against West Ham.
Antonio Conte's press conference remarks suggested he may rest "Cuti" Romero tomorrow, and perhaps even Hojbjerg, as he says he took a little bit of a risk playing Romero especially against Sporting. Now, of course, he has to bear in mind Tuesday night's vital game in Marseille, so I suspect we are going to see Davinson Sanchez and perhaps Oliver Skipp start tomorrow. I personally would like to see Bryan Gil get a start (Kulusevski and Richarlison are still out).
The game kicks off at 3pm tomorrow (Saturday) and is our first away game with no live UK TV coverage. I have to go for a Spurs win, and it has to be a Spurs win, otherwise we will not be holding at top four place for long. I'll say 3-1 to Spurs. Fingers crossed!
Did you know? – Like Newcastle last week, Bournemouth are one of only nine Football League clubs (as at last season) who have not played a competitive game at the new Wembley Stadium, excluding games against Spurs when they played their league games at Wembley in recent years.
We have match referee Anthony Taylor in charge for his 41st Spurs game and already for the third time this season. Both his previous Spurs fixtures this season have been away games at Chelsea and Arsenal. Thus, we seek our first win of the season with this official in the middle. Bournemouth saw Mr. Taylor in August for their 0-0 home draw against Wolves.