∑ See the current injury list for all Premier League Teams
∑ All the Spurs Stats you could hope for here! THFC6061 Sports Stats


Spurs' record in Europe:-

U.E.F.A Champions League
 
 P  W   D   L   F - A
47 20   9  18  84 - 70

(Finalists 2019)
 
European Cup
P   W   D   L   F - A
8   4   1   3  21 - 13
 
(Semi-Finalists 1962)
 
European Cup Winners Cup
 
P   W   D   L   F - A
33  20  5   8  65 - 34
 
(Winners 1963)
 
UEFA Cup/Europa League
 P    W   D   L   F - A
153  88  37  28  313-134 

(Winners 1972, 1984
 Finalists 1974)

Europa Conference League
 P    W   D   L   F - A
 7    3   1   3  14 - 9  
+ Forfeited one game due to Covid - 09/12/21)

Total
 P   W   D   L   F - A
248 135 53  60  497-260

Champions League Group D

                        P  W  D  L  F-A  GD  Pts
1. Sporting             2  2  0  0  5-0   5   6  
2. Spurs                2  1  0  1  2-2   0   3   
3. Eintracht Frankfurt  2  1  0  1  1-3  -2   3        
4. Marseille            2  0  0  2  0-3  -3   0

Eintracht results to date:-

Eintracht Frankfurt 0-3 Sporting
Marseille 0-1 Eintracht Frankfurt

Looking ahead to Eintracht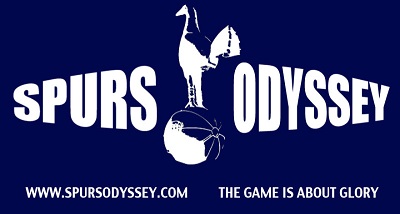 After our 2-0 away defeat to Sporting on September 13th in our second Group D games, home and away wins against Eintracht Frankfurt would surely be enough to see us through to the Round of 16. Thatís quite a big ask though and we must not make any assumptions about the form of a German side we have not met since March 1982. On that occasion we met in the European Cup-Winnersí Cup quarter-final. Goals by Paul Miller and Micky Hazard gave us a 2-0 home advantage, but Eintracht levelled the scores in the second leg with goals by Ronny Borchers and Bum-Kun Cha (there is no mis-spelling here). It took an 80th minute goal by Glenn Hoddle to give us a 3-2 aggregate win and a semi-final meeting with Barcelona.
That 1981-82 season was one when we tried to compete on four fronts. We lost to Liverpool in extra time in the League Cup Final; lost the Cup-Winnersí Cup to Barcelona (2-1 aggregate) and finished fourth in the league. Our fixture pile-up meant that we played 9 games in March and April, ending with 10 in May when we beat QPR in the FA Cup with a second successive replayed final. We won two, and drew and lost three league games in that exhausting run-in.
We have played a German side in each of our 6 Champions League campaigns and generally such away trips have been far more convivial than those in other European countries, particularly Italy and Spain. I refer here to the treatment of fans by local police in particular. In Germany, we have often not even been held in the ground after the final whistle.
Eintracht qualified for the Champions League (Pot 1) after their Europa League Final success over Rangers (on penalties) in May. That match was played in Seville, who have been winners of the tournament several times in recent years. The German side also put paid to West Hamís hopes in the semi-final with home and away wins.
Eintrachtís only other entry to European competition at its highest club level was in the 1959-60 season, when they reached the final (played in front of 127,621 spectators at Hampden Park but lost 7-3 to Real Madrid. They have previously won the UEFA Cup (against Borussia Monchengladbach) in 1980.
Last season Eintracht finished a moderate eleventh in the 18-team Bundesliga. Their top league scorer was Colombian International Rafael Borre, but he scored just 8 league goals. One of his other goals was in the Europa League final. Danish International Jesper Lindstrom chipped in with five league goals. Eintrachtís top scorer this season (6 in all competitions) is 26-year-old Japanese midfielder Daichi Kamada, in his sixth season with Eintracht.
One of Eintrachtís signings this season was 30-year-old seasoned German International Mario Gotze, who had eight seasons at Borussia Dortmund, either side of three with Bayern Munich. Gotze came to Frankfurt after two seasons with PSV. Gotze has scored two goals in twelve appearances this season.
Of necessity (the webmaster is away for a few days) this preview is being published early. Eintracht have won four and drawn and lost two games after eight matches played, which has put them in fifth place. This weekend they beat top of the table FC Union Berlin 2-0.They lost their first league game 6-1 at home to Bayern Munich, before also losing the European Super Cup Final 2-0 to Real Madrid. Their other league defeat was 1-0 at home to Wolfsburg. That followed Eintrachtís 3-0 home defeat to Sporting who top Group D, but I understand the home side had plenty of chances, but just could not score.
The Deutsche Bank Park Stadium holds 51,500 so Spurs will face a hot atmosphere on Tuesday. If Spurs can bring home three points it will be a great result! This will be the second of nine games we are scheduled to play this month.
Did you know? Kevin-Prince Boateng, who played for Eintracht in the 2017/18 season, came to Spurs in 2007 from Hertha Berlin, where he now plays, aged 35. Boateng made his Spurs debut exactly 15 years ago (on 4th October) in a 1-1 away UEFA Cup draw against Cyprus team Anorthosis Famagusta. We had already won the home leg 6-1.