· See the current injury list for all Premier League Teams
· All the Spurs Stats you could hope for here! THFC6061 Sports Stats

Full Cup Record - Spurs v Portsmouth

FA CUP

Season   Rd  H/A   Result   Scorers
1936-37  3    A     5-0     Morrison (3)
                            Duncan, Miller
1966-67  4    H     3-1     Greaves, Gilzean (2)
1990-91  5    A     2-1     Gascoigne (2)
2009-10  SF   N     0-2    -

LEAGUE CUP

1985-86  4    H     0-0
         4r   A     0-0
         4r2  A     0-1

Pompey up for the Cup!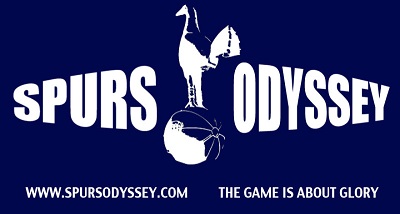 For two clubs with long histories, it is surprising that Spurs and Portsmouth have not met more often in cup matches. The last occasion was distinctly unhappy for Spurs, despite the fact that Harry Redknapp's men were challenging for a first entry to the Champions League. Redknapp had previously led Portsmouth to their 2008 FA Cup Final success. In 2010 Portsmouth were bottom of the Premier League and were doomed to relegation. Avram Grant, who had managed Chelsea and would (briefly) manage West Ham, was the successful Portsmouth manager on this occasion. That was the fifth of Spurs' current run of 8 FA Cup semi-final defeats since our last final, nearly 32 years ago. Our longest run between FA Cup Finals was from 1921 to the Double glory of 1961.
Spurs legend David Ginola was one of those making that semi-final draw and he drew Chelsea against Villa, giving Spurs what we thought would be an easy passage to the final. Spurs had beaten Portsmouth at home and away that season in their last Premier League meetings (a former Portsmouth player – Defoe and Crouch - had scored for Spurs in each game), and although we had lost our preceding game at Sunderland 3-1, our expectations had been high. However, our dreams of FA Cup success failed, but we would win four of our next five league games (including successive home wins against Arsenal and Chelsea, and finally the famous win at Manchester City) to win a place in the coveted Champions League for the first time.
Spurs have previously won the FA Cup 8 times, whilst Pompey have won it just twice. Most recently, of course, under Harry Redknapp's leadership, Portsmouth beat Cardiff in 2008, with a goal by Kanu, who was on the bench for the 2010 semi-final.
The two teams have rarely met in major cup competition, but (until 2010) Spurs had happy memories of every encounter in the FA Cup, winning the competition on the previous two occasions we beat Portsmouth.
In the 1936-37 season, Spurs were stuck in Division Two, whilst Portsmouth were a highly fancied Division One side. Portsmouth were in the top flight between 1927 and 1959, during which time they won the league in successive seasons in 1948-49 and 49-50, and the FA Cup in 1939. In the 1936-37 season, Pompey finished a creditable 9th in the league table, whilst Spurs were tenth in Division Two. The two sides met in the Third Round at Fratton Park, and Pompey were strong favourites to win. Julian Holland's History of Tottenham Hotspur (1956) tells how there was a bigger crowd than usual at White Hart Lane that day for a reserve game, who could hardly believe the regular score updates on the touchline. It was Pompey's biggest crowd of the season (32,665) and their side was 3-0 down at half-time. Centre-forward Johnny Morrison had a prolific goal scoring record for Spurs and that season scored 35 goals in 37 league and cup appearances. He got a hat-trick against Portsmouth. Andy Duncan and Les Miller scored the other two goals. Spurs made it to the quarter-finals that year when they lost to Preston North End. Nineteenth century double winners.
Preston were the first team pulled out in the draw for this year's third round, and will be playing Huddersfield, who with Herbert Chapman in charge, won the league in three successive seasons in the 1920s.
Spurs' scorers in our subsequent FA Cup meetings were also true Tottenham Legends. On these occasions the status of the teams was reversed, with Spurs the top dogs, and Portsmouth in Division Two. Jimmy Greaves and Alan Gilzean(2) scored in our 3-1 win on 18th February 1967 in a 4th Round game. Spurs went on to conquer Chelsea in the all-London Final of course. Chelsea were drawn against Aston Villa in the other 2010 semi-final and went on to beat "Pompey" in the final.
In 1991, Paul Gascoigne was of course the Spurs hero in our run all the way to the Final, scoring in 4 of our 6 games, two of which came at Fratton Park. The story of what happened to the lovable, and superbly skilful Gascoigne in the Final against Nottingham Forest does not need re-telling here!
Apart from Harry Redknapp, the two clubs share another manager – Frank Brettell – known as the first manager of both clubs. Brettell's full story is told in this Norman Giller piece for Spurs Odyssey. Suffice to say that Brettell left us for more money to look after Pompey's first season in the Southern League.
After their relegation, Portsmouth nose-dived all the way down to League Two, finishing as low as 16th in 2015, but they have been in League One for six seasons now, missing out in two promotion play-off semi-finals. Kenny Jackett who led Portsmouth to both play-off stages had previously managed clubs such as Watford, Millwall and Wolves, and spent a little time assisting the Spurs Academy before his Portsmouth appointment.
On Monday Portsmouth sacked head coach Danny Cowley and his brother (who was assistant coach) Nicky after a poor run of results. "Pompey" had failed to win in nine league games and have slipped down to mid-table in League One. Danny Cowley and his brother won acclaim when in charge of Lincoln, leading them back to the Football League and making a great FA Cup run to the quarter-final when still non-league. The Cowleys had less success in the 2019/20 season at Huddersfield. 46-year-old Simon Bassey, who is on the Portsmouth coaching staff, has been appointed as interim head coach following Danny Cowley's departure.
Spurs' Dane Scarlett (still only 18) is on loan at Fratton Park, and their squad includes another two players with Spurs Academy connections. 21-year-old goalkeeper Josh Oluwayemi was signed at the start of the season but has so far featured only in EFL Trophy matches, keeping two clean sheets. Connor Ogilvie, who plays either at left back or in the centre of defence, is now 26 and was on Spurs' books until 2019 when he was signed by Gillingham, where he had played on loan. Ogilvie was signed by Portsmouth in 2021 and is a regular member of the team, and has now made 54 league appearances. Ogilvie scored the Portsmouth goal in their New Year's Day defeat at home to Charlton.
Midfielder Marlon pack will be suspended as he was sent off against Charlton. Bassey has said there are a number of injuries and that he will include academy players in his squad with nine bench places to be filled. I am assuming that Scarlett will not play against his home side. Dane has scored three goals in 21 league appearances for the south coast side, and only one in his last 19 appearances for the club and the England under-20 side. Portsmouth's top scorer is 28-year-old Colby Bishop with 14 goals in all games this season. Bishop is the penalty-taker.
A fleet of coaches is bringing most of the (nearly) 9,000 Portsmouth fans to the game. That figure amounts to about half of the best attendances at Fratton Park this season. The game kicks off at 12.30pm tomorrow, and whilst not being shown on mainstream TV, I understand it can be viewed via the BBC I-Player or red button service in the UK.
Portsmouth's form and status suggests this should be a comfortable win for Spurs. I would expect the team to feature most of those in the 20 named players at Crystal Palace. Yves Bissouma should return after his suspension and perhaps Hojbjerg will get a rest. In the continued absence of Richarlison, Bentancur and (I assume) Kulusevski, I hope the same front three start, but I also hope that Kane and Son can be rested before the end of the game. Maybe Davinson Sanchez will take Romero's place and Forster will get another game. I'll go for a 4-0 Spurs win.
Match referee Thomas Bramall is in charge of Spurs for the first time. He has refereed three Premier League games this season, including Wednesday night's home defeat of Southampton by Nottingham Forest. Mr Bramall has mostly been seen at Championship level over the last year.