· Last season's game - Spurs 3 Leicester 1, 01.05.22
· Premier League Matchday 7 - last year
· See the current injury list for all Premier League Teams
· All the Spurs Stats you could hope for here! THFC6061 Sports Stats


Full Record of Spurs -v- Leicester City

Premier       Pl  W  D  L   For- Ag Pts
Home          16  8  3  5   33 -26  27
Away          16  7  2  7   29 -27  23
======================================
Total(Prem)   32 15  5 12   62 -53  50  1.56 Pts per game
======================================
Football Lge
Home(Div 1)   29 13  6 10   64 -46  34
Away(Div 1)   29 16  4  9   53 -54  40
======================================
Total(Div 1)  58 29 10 19  117 -100 74
======================================
Football Lge
Home(Div 2)    7  3  3  1   12 - 7   9
Away(Div 2)    7  4  1  2   14 -13   9
======================================
Total(Div 2)  14  7  4  3   26 -20  18
======================================
Total(Prem)   32 15  5 12   62 -53  50
Total(Div 1)  58 29 10 19  117 -100 74
Total(Div 2)  14  7  4  3   26 -20  18
=======================================
Grand Total  104 51 19 34  205 -173 140
=======================================

Last Six Premier League results:-

Spurs      -    WDWWDW
           
Spurs      4-1    S'hampton
Chelsea    2-2    Spurs
Spurs      1-0    Spurs
Nottm F'st 0-2    Spurs
West Ham   1-1    Spurs
Spurs      2-1    Fulham

Leicester  -    DLLLLL

Leicester  2-2    Brentford
Arsenal    4-2    Leicester
Leicester  1-2    S'hampton
Chelsea    2-1    Leicester
Leicester  0-1    Man Utd
Brighton   5-2    Leicester

Pos            P  W  D  L   F-A   GD  Pts
 3. Spurs      6  4  2  0  12-5    7   14
20. Leicester  6  0  1  5   8-16  -8    1  

A time for solemnity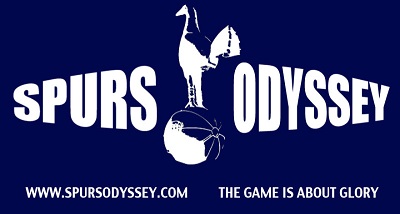 When we last played a Premier League game two weeks ago, Queen Elizabeth II was still on the throne, Boris Johnson was still Prime Minister and Thomas Tuchel was Chelsea manager. Queen Elizabeth, who had reigned for the whole of my 70-year lifetime, passed away on Thursday September 8th and the country is still in a state of national mourning. The Queen lies in state and her funeral is on Monday. This game and all Premier League games being played this weekend will be preceded by silence and The National Anthem. It is a time for solemnity.
25 years ago on 13th September, 1997 I mourned my father. The country was still mourning Diana, Princess of Wales. Here we are, playing Leicester again on Saturday, as we did on that occasion.
Some things have not changed in the last two weeks. Spurs are still one of the only two unbeaten teams in the Premier League and sit in third place. Leicester still seek their first win of the season (they beat League Two's Stockport on penalties in the League Cup) and lie bottom of the table. Leicester's lowly position is not easy to explain, and in view of their recent trophies and European qualifications more than a little surprising. I believe they were subject to FFP limitations on spending, on transfers or salaries. There was uncertainty about Kaspar Schmeichel's future before last season ended and having declared he wanted a new challenge, at the age of 35, he left for Nice. Perhaps the South of France climate attracted him. Nice's 22/23 campaign so far has been of a moderate standard.
Leicester signed 32-year-old Cardiff goalkeeper Alex Smithies on a free transfer. He presumably is back-up to Danny Ward, who had played only one Premier League game in the four seasons before this campaign. Ward and his team-mates did not have the best of times in their last game at Brighton where they lost 5-2, despite taking a very early lead. Ward was seen to have words with Ndidi, who probably wasn't happy at being a makeshift centre-back. Tielemans wasn't too happy about being replaced by Amartey after 72 minutes and Harvey Barnes was replaced at half-time.
Manager Brendan Rodgers has had two weeks unencumbered by European games, in which to get his squad working as one again. Their one (late) purchase was to sign defender Wout Faes from Reims with an undisclosed amount from the massive fee Leicester received from Chelsea for Wesley Fofana.
Despite their troubles, I did observe regarding their second goal at Brighton that it came from an old-style Leicester ball, except it was Daka and not Vardy who raced onto Tielemans' long ball to get the better of Dunk, then to beat Sanchez with a right-footed shot. We still have to be on our guard regarding a side that could feature two or more of Barnes, Daka, Iheanacho or 35-year-old Jamie Vardy in attack. Attacking defender Ricardo Pereira will not be available before February as he suffered a ruptured Achilles in the summer. A Leicester player I rate is 24-year-old Kiernan Dewsbury Hall, who did not start against Brighton, but did start Leicester's first five league games.
Ademola Lookman who was on loan to Leicester last season from Leipzig has now signed full terms with Atalanta.
Leicester's first Premier League season was 94/95 and they became our 25th Premier League opponent. Now we are up to number 50.
Harry Kane scored his first Premier League hat-trick on 21st March, 2015 against Leicester in a 4-3 win. It was the first Spurs League hat-trick since Gareth Bale on Boxing Day 2012, when we beat Aston Villa 4-0. Harry's only four-goal haul was also against Leicester in May 2017.
We all have great memories of Steven Bergwijn's late two-goal show in last season's away game, but our last match against "The Foxes" was at home in May when we won 3-1 with goals from Kane and Son (2). Son was on his way to a shared Golden Boot award but has yet to score this season.
Lucas Moura remains our only absentee. Antonio Conte is likely to make changes after Tuesday night's late two-goal defeat in Lisbon. I suspect Kulusevski will start, and that Son may get a rest on the bench. Hopefully, after the pre-match solemnity our home crowd and a decent team performance can carry us to a win ( I have predicted 3-0!) to maintain our unbeaten league record. We are guaranteed to remain in third place at worst because the games featuring the two teams below us and within reach (Brighton and Manchester United) have been postponed. Some games did not escape the effect of police resources being required for events surrounding Monday's State Funeral.
Referee Simon Hooper's very first Spurs game was our 1-0 home win against Wolves. Now, he becomes the first referee this season to be in charge of us for a second time. The game kicks off at 5.30pm on Saturday and will be televised live by SKY.