· See the current injury list for all Premier League Teams
· All the Spurs Stats you could hope for here! THFC6061 Sports Stats


Spurs' record in Europe:-

U.E.F.A Champions League
 
 P  W   D   L   F - A
45 19   9  17  82 - 68

(Finalists 2019)
 
European Cup
P   W   D   L   F - A
8   4   1   3  21 - 13
 
(Semi-Finalists 1962)
 
European Cup Winners Cup
 
P   W   D   L   F - A
33  20  5   8  65 - 34
 
(Winners 1963)
 
UEFA Cup/Europa League
 P    W   D   L   F - A
153  88  37  28  313-134 

(Winners 1972, 1984
 Finalists 1974)

Europa Conference League
 P    W   D   L   F - A
 7    3   1   3  14 - 9  
+ Forfeited one game due to Covid - 09/12/21)

Total
 P   W   D   L   F - A
246 134 53  59  495-258


A welcome return to the Champions League!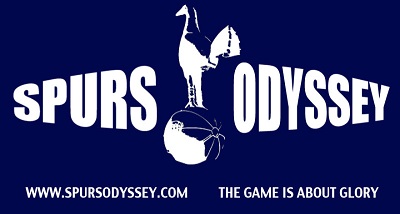 Here we are, playing again in the Champions League for the first time since March 2020 when we were emphatically knocked out of the Round of 16 by Leipzig, who then featured Timo Werner, although his transfer to Chelsea had already been agreed. Werner returned to Leipzig in the latest transfer window and Leipzig were thrashed last night at home (4-1) by Ukrainian Shakhtar Donetsk. How the wheel of fortune goes around!
When we were drawn in group D against Europa League winners Eintracht Frankfurt, Marseille and Sporting the immediate reaction was that we had a good draw, but our first opponents are second in the French Ligue, level on points, but 10 goals worse off than leaders PSG. Both teams are unbeaten and have won five and drawn one of their first six games. Marseille qualified by finishing second last season, when they were 15 points behind PSG. They won their last game of the season too, so are seven games unbeaten.
Spurs have never played a competitive game against Olympique de Marseille, to give them their full title. The first names that come to mind when I think of Marseille are Chris Waddle and former coach Andre Villas-Boas. Waddle's £4.5 million transfer to the south of France in the summer of '89 saddened Spurs fans, who had enjoyed Waddle for four seasons, during which we had one third place finish, a lost FA Cup Final and a sixth place in 88-89. Waddle had played in Spurs teams which included the magical Paul Gascoigne (also signed from Newcastle), Erik Thorstvedt, Chris Hughton and Gary Mabbutt, and of course Glenn Hoddle before he departed for Monaco.
Andre Villas-Boas who was our coach from July 2012 until December 2013, worked in Russia (Zenit St. Petersburg) and China ( Shanghai SIPG) before taking on the Marseille job where he worked between May 2019 and February 2021, resigning due to his dissatisfaction with the club's recruitment policy. Marseille announced they had suspended Villas-Boas and he is not coaching anywhere else as yet, as far as I can see.
Marseille's current coach is Croatian Igor Tudor who has both played for and coached Hajduk Split. Tudor is a former playing colleague of Antonio Conte at Juventus at the turn of this century. He has joined the French club this season from Verona.
There are some familiar names among the Marseille squad. Eric Bailly has just joined on loan from Manchester United (I hope he plays!), Sead Kolasinac, who was signed last season from Arsenal, and left back Tavares who is currently on loan from Arsenal. Tavares has played in all 6 of Marseille's games to date and scored three goals from his left-side position.
Turkish midfielder Cengiz Under was on loan from Roma at Leicester in the 2020/21 season but did not make many appearances. He joined Marseilles on loan last season and is now on full terms. There are two other former Arsenal men in the Marseilles squad. One is midfielder Matteo Guendouzi, renowned as a wind-up merchant. He and Pierre-Emile Hojbjerg should get on like a house on fire! The other is striker Alexis Sanchez, now 33, who was paid plenty of money by Manchester United after leaving Arsenal and latterly played for Inter. Antonio Conte will know all about one of his former players. Marseille have a Luis Suarez, but not THE Luis Suarez in attack, and one more familiar name is that of former West Ham man Dimitri Payet, who is now 35 and has been with Marseille since leaving London in January 2017.
Both Sanchez and Tavares have three goals and their Luis Suarez (a Colombian) scored two goals in their first game after coming off the bench. Marseilles put three goals past Kaspar Schmeichel's Nice side on 28th August, when Sanchez scored two goals.
Last season, Marseille began the season in the Europa League, but dropped down the Conference League where they were narrowly beaten in the semi-final by Feyenoord who lost to Jose Mourinho's Roma in that final.
Marseille play in the well-known Stade Velodrome and will host Spurs on Matchday 6 of this compacted Group D campaign in early November. Historically they have won the French League 9 times. They won four consecutive titles between 1988 and 1992, after which their only success was in 2009-10. They won the European Cup in 1993 against A.C. Milan, having been runners-up in 1991. Marseilles have been runners-up in the UEFA Cup/Europa League since their European Cup win. Their last final was 2018 against Atletico Madrid.
The only definite absentee from the Spurs squad will be Lucas Moura, but he will return to training today. Antonio Conte made five changes to his team for Saturday's game against Fulham and will quite probably make re-adjustments for tomorrow's game. It is difficult to assess Marseille's French League form against ours, but I do take Spurs to win by a two-goal margin. The club are urging the crowd to wear Lilywhite, and obviously seek a good house and a great atmosphere!
Eintracht Frankfurt will host Sporting, kicking off early this evening. Our game is being televised (as usual) by BT SPORT, and kicks off at 8pm.
Slovenian referee Slavko Vincic is an established Champions League referee and was in charge of last season's Europa League Final between Eintracht Frankfurt and Rangers. He has previously refereed Spurs in Europe. Firstly, he oversaw a December 2017 3-0 home win over Apoel. Secondly, he was in charge of our 2-2 away draw against PSV. Spurs Odyssey voters gave he and his team of officials only three out of ten for that game!
· Five players to feature for Spurs and Marseille. Tottenham Hotspur Official Site article.