· See the current injury list for all Premier League Teams
· All the Spurs Stats you could hope for here! THFC6061 Sports Stats


Spurs' record in Europe:-

U.E.F.A Champions League
 
 P  W   D   L   F - A
51 22  11  18  90 - 74

(Finalists 2019)
 
European Cup
P   W   D   L   F - A
8   4   1   3  21 - 13
 
(Semi-Finalists 1962)
 
European Cup Winners Cup
 
P   W   D   L   F - A
33  20  5   8  65 - 34
 
(Winners 1963)
 
UEFA Cup/Europa League
 P    W   D   L   F - A
153  88  37  28  313-134 

(Winners 1972, 1984
 Finalists 1974)

Europa Conference League
 P    W   D   L   F - A
 7    3   1   3  14 - 9  
+ Forfeited one game due to Covid - 09/12/21)

 
Total
 P   W   D   L   F - A
252 137 55  60  503-264

Champions League Group D

                        P  W  D  L  F-A  GD  Pts
1. Spurs                6  3  2  1  8-6   2  11  
2. Eintracht Frankfurt  6  3  1  2  7-8  -1  10 
3. Sporting             6  2  1  3  8-9  -1   7
4. Marseille            6  2  0  4  8-8   0   6

Champions League Group E

                        P  W  D  L  F-A  GD  Pts
1. Chelsea              6  4  1  1 10-4   6  13  
2. Milan                6  3  1  2 12-7   5  10 
3. Salzburg             6  1  3  2  5-9  -4   6
4. Dinamo Zagreb        6  1  1  4  4-11  0   4

Hoping for a repeat of 2011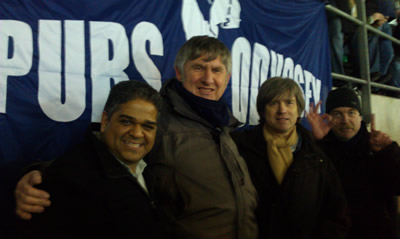 Who can forget the night of Tuesday 15th February, 2011? No-one who was there, that's for sure. Your webmaster and friends are pictured above celebrating a heroic win against a formidable team with great European pedigree (7 European Cups/Champions League wins, two Cup-Winners' Cups and a Club World Cup success in 2007) . I wrote then:- "Truly this will go down as one of the great nights in the history of our club, and I feel proud to have been up in "The Gods" of the San Siro to witness the event. The players, staff and fans will one day tell their grandchildren of the night they witnessed "The Heroes of Tottenham"."
Aaron Lennon, who was one of our heroes on that night has recently been interviewed by both "The Times" and at our stadium by Paul Coyte. For the 2011 game, Luka Modric had returned to action for Spurs two weeks after an appendix op, coming off the bench to take over from Rafa van der Vaart after 62 minutes. It was the little magician who released Lennon 10 minutes from the end for his winning goal-making run. In his own words recently, Aaron said of that moment, "There you go, space to attack. That's my dream!" Five thousand Spurs fans cheered on as Sandro broke up yet another attack, and offered the ball in the direction of Modric, who was being sandwiched by two Milanese. Under great pressure, Modric managed to slip the ball forward diagonally, seeing the run of Aaron Lennon who then made a bee line with the ball out of his own half and down the right channel, leaping over Yepes' attempted tackle, before squaring the ball to Crouch, who was perfectly placed to fire home just inside the post to the right of the goalkeeper. The celebrations by the players and the crowd were long and emotional.
Spurs were visiting the San Siro for the second time in the same season, having lost 4-3 to Inter in the Group stage when Gareth Bale scored a hat-trick before beating them at home in a memorable 3-1 win. Inter had been the reigning Serie A and Champions League winners. Milan had finished third but would be the Champions after Spurs knocked them out in their first Champions League knock-out game. That night of February 15th 2011 is also remembered for the incident involving the notorious Gattuso and our own coach Joe Jordan.
Spurs have played Inter more often in recent years, and we haven't met A.C. Milan since our home 0-0 draw in March 2011. My experience of 2010-11 was that the San Siro atmosphere was hotter with Milan in the house, as compared to Inter. The home fans will have 2011 etched into their minds for different reasons to us and will be urging their team onto success. This time, Spurs have to travel light without Lloris, Hojbjerg (suspended), Bentancur, Bissouma and Sessegnon. After a horrible 4-1 loss at Leicester on Saturday, those travelling to Milan this time cannot be confident and will simply hope for a draw, or perhaps a narrow defeat. The home leg will be played in three weeks' time.
It took eleven years for Milan to repeat their Serie A success, but they qualified for this season's Champions League tournament as their league winners, by a margin of two points from Inter. Their top scorers were a certain Olivier Giroud and the Portuguese Rafael Leao, both of whom scored 11 league goals. They lead the way with league goals this season too, with Rafael one ahead of Giroud (8 to 7). 41-year-old Zlatan Ibrahimovic is still on Milan's books with a contract till this summer but hasn't made any appearances this season. The Swedish International veteran of 8 top European clubs plus LA Galaxy did play against us in 2011, when he was on loan from Barcelona.
Milan are coached by 57-year old Stefano Pioli, whose coaching career goes back to 2003 with 13 clubs including in recent years Lazio, Inter and Fiorentina. This is his fourth season with A.C. Milan.
Another familiar name in the Milan squad is 25-year-old former Chelsea centre-back Fikayo Tomori, who went off midway (perhaps injured) through the first half of a recent 4-0 defeat away to Lazio. Divock Origi, who scored Liverpool's second goal in our 2019 Champions League Final defeat signed last summer, but he's not a regular starter and has just two goals to his name this season.
Milan's recent form is not good, as they have won only one of their last eight domestic games. This was a 1-0 win against Torino on Friday when Giroud scored. They've lost five of those games, including a run of four consecutive games before last weekend. Maybe Spurs are not meeting I Rossoneri at a bad time , after all. Milan are currently in fourth place, two points behind the team which shares their stadium, but eighteen behind leaders Napoli.
A.C Milan was, of course, the club where Jimmy Greaves had a brief sojourn in 1961 before returning to England to sign for Spurs. Jimmy didn't have the benefit of many European games for Spurs (14), scoring just 9 such goals, whereas Harry Kane now tops our list of appearances and goals in European competition with 45 goals in 74 appearances. Harry will be hoping to extend his record tomorrow. Spurs' possible team is Forster; Romero, Dier, Lenglet; Emerson Royal, Skipp, Sarr, Perisic; Kulusevski, Kane and Son.
Match referee Sandro Schärer and his on-field officials are from Switzerland. Mr. Schärer has never refereed a Spurs game before, but over the last year he has had charge of 13 European and International games.