∑ See the current injury list for all Premier League Teams
∑ All the Spurs Stats you could hope for here! THFC6061 Sports Stats


Spurs' record in Europe:-

U.E.F.A Champions League
 
 P  W   D   L   F - A
46 20   9  17  84 - 68

(Finalists 2019)
 
European Cup
P   W   D   L   F - A
8   4   1   3  21 - 13
 
(Semi-Finalists 1962)
 
European Cup Winners Cup
 
P   W   D   L   F - A
33  20  5   8  65 - 34
 
(Winners 1963)
 
UEFA Cup/Europa League
 P    W   D   L   F - A
153  88  37  28  313-134 

(Winners 1972, 1984
 Finalists 1974)

Europa Conference League
 P    W   D   L   F - A
 7    3   1   3  14 - 9  
+ Forfeited one game due to Covid - 09/12/21)

Total
 P   W   D   L   F - A
247 135 53  59  497-258

Champions League Group D

                        P  W  D  L  F-A  GD  Pts
1. Sporting             1  1  0  0  3-0   3   3  
2. Spurs                1  1  0  0  2-0   2   3           
3. Marseille            1  0  0  1  0-2  -2   0
4. Eintracht Frankfurt  1  0  0  1  0-3  -3   0


Lisbon beckons!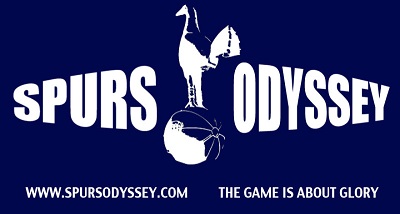 The passing of Queen Elizabeth II last Thursday led to the postponement of all Premier League and indeed all competitive football matches over the weekend. In my view, the opportunity to reflect and mourn the death of our longest-reigning Monarch was a correct decision.
Despite some confusion on the official Tottenham Hotspur website yesterday, which suggested our second Champions League game had also been postponed, the club has confirmed via its Twitter feed that our trip to Portugal goes ahead.
Many countries around the world have paid their respects to our late Queen. Visual tributes included images upon The Eiffel Tower in Paris, and The Brandenburg Gate in Berlin. I am sure full respect will be paid tomorrow evening (5.45pm BT) at the Josť Alvalade Stadium, which lies 6 kilometres north of Lisbon's city Centre.
Sporting's full title is "Sporting Clube de Portugal". Along with Porto and Benfica, Sporting is one of the big three Portuguese clubs, none of which have been relegated from the Primeira League since 1934. All three are in this year's Champions League. Sometimes referred to as "Sporting Lisbon" this is a title the club does not encourage.
Sporting's one European success was to win the European Cup-Winner's Cup in 1964, one year after Spurs. Their victims, in a replayed final, were MTK Budapest.
Despite the incredibly sad event that led to our tough fixture away to Manchester City being postponed, Antonio Conte will have appreciated the respite granted to his squad in a relentless period where we still face two games per week until the pause for the World Cup comes in mid-November.
Sporting's domestic form (W3 D1 L2) is not quite so good as that of Marseille. Sporting did play on Saturday and beat Portimonense 4-0. Two of their goals were scored by Trincao, who Sporting have signed on loan from Barcelona after the attacking player spent last season on loan at Wolves. Trincao is 22 and tended to play on the right side for Wolves last season. Trincao featured in both our league games against Wolves. He was substituted after 84 minutes when we beat them 1-0 last August, and came off the bench at the same time when Wolves inflicted a 2-0 defeat upon us at "New White Hart Lane" in February. He has started every game so far this season
Trincao also scored last Wednesday when Sporting beat Eintracht Frankfurt 3-0 in Germany. Another scorer in both these games was 27-year-old Nuno Santos, who has always been based in Portugal. Pedro Goncalves, aged 24, was also once on Wolves' books, but did not play any Premier League football. Pedro is Sporting's top scorer with four goals in their first 6 league games.
One Sporting player Spurs fans will be keen to see is Marcus Edwards, whose career began at Spurs, with whom he signed a professional contract at the age of 17 in 2016. Marcus travelled in the summerof 2016 with the senior squad to Melbourne and made a couple of substitute appearances in our pre-season matches including one against Inter played in Oslo when Ivan Perisic featured. Marcus made one competitive senior appearance for Spurs, coming off the bench for 15 minutes of a 5-0 win over Gillingham in the League Cup in September 2016. In my report, I wrote:- "Edwards played on the right, and excited the crowd with one good run soon after he came on." The late Ray Lo used to write a lot more about Edwards when he featured in our academy and Development squad games.
I think Marcus quickly became impatient with the lack of opportunity with Spurs. He spent the 2018/19 season on loan with Excelsior in The Netherlands and the following year was signed by Vitoria Guimaraes in Portugal, for whom he scored 17 goals in 77 league appearances before being signed by Sporting early this year. Marcus scored his first goal for Sporting against his previous club in March. He had already made a Champions League appearance against Manchester City (off the bench) in a creditable 0-0 draw at The Etihad in the Round of 16. Unfortunately, Sporting had already lost the home leg 5-0. Edwards has been ever-present for Sporting this season and has scored three goals already, one of which was against Eintracht Frankfurt.
There is, of course, a current Spurs player who is very familiar with Sporting and its country. That is Eric Dier, signed by Spurs from Sporting (where his football career began) in 2014. Eric played 27 league games and scored 1 goal during the 2012/13 and 2013/14 seasons before signing for Spurs. Now a Spurs veteran, but still just 28, Eric has made 243 Premier League appearances for the club and a total of 326 Spurs appearances, which include 49 European games. That figure includes 24 Champions League appearances, so Eric will be hoping to make it 50 and 25 respectively against his first club. Eric's club appearances are just 6 less than those of Heung-min Son. Eric has recently overtaken Eddie Baily, and sits 32nd in our all-time list of appearances.
Three of our former players Jose Dominguez, Helder Postiga, and Pedro Mendes have also worn the colours of Sporting. Perhaps I'll write more about these three when Sporting come to Tottenham.
I have now seen the team news and with the exception of Lucas Moura, Antonio Conte has a full squad available. We are not likely to see Lucas until after the International break. Saturday's Leicester game will go ahead and Antonio has suggested that every player has to be prepared for rotation. It is possible Son will not start tonight. In what will be a tough game in a fervent home atmosphere, I'll take Spurs to come back with a one-goal win.
Match referee Srdjan Jovanovic and his on-field officials are from Serbia. We have never encountered this referee before, but he is an experienced referee in European games. Last September he was in charge of Sporting's Champions League Group game away to Borussia Dortmund when they lost just 1-0. Mr. Jovanovic also refereed one of Sporting's games against Manchester City and twice oversaw Eintracht Frankfurt games.