How You Can Stay Warm and Dry while Enjoying a Football Match: Top Tips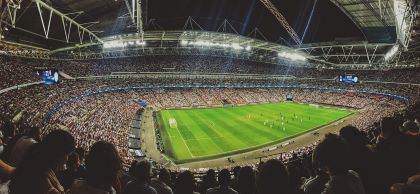 Image courtesy of Pixabay.com
We can all heartily agree that as true football enthusiasts, we eagerly cheer for our favourite teams – come rain or shine, we'll be there for every game! However, the unpredictable weather (especially in the good old UK) can be notorious, sometimes dampening our spirits and leaving us feeling cold and uncomfortable. But never fear – if you are lucky enough to watch a game live, you will be lucky enough to stay warm and dry! We'll share some top tips to help you stay warm and dry while enjoying a football match, ensuring that nothing can rain on your parade - from practical clothing choices to essential accessories, we've certainly got you covered. So without further ado, here's how you can stay warm and dry while enjoying a football match.
Dress in layers
Whenever you attend a football match, dress in layers to stay warm. You can start with a moisture-wicking base layer that keeps sweat away from your body, regulating your body temperature and preventing discomfort caused by wet clothes. On top of the base layer, wear an insulating or thermal layer for added warmth. Finally, opt for a waterproof and wind-resistant outer layer, such as a waterproof jacket, to shield yourself from rain and wind.
If you want a robe that does all three, why not utilise a Dry Robe? A Dry Robe is a game-changer when it comes to staying warm and dry during a football match, as it is designed with waterproof and windproof materials. Dry Robes offer excellent protection against the elements, and, more importantly, they are easy to slip on and off, ensuring convenience when you need to cover up or uncover quickly. What's more, the insulating lining of a Dry Robe helps trap body heat, keeping you cosy throughout the match. And Dry Robes in Ireland suppliers like The Edge Sports
Superstore can attest to its versatility because it can also be used for post-match warm-ups or as a changing robe.
Wear insulated bottoms
Alongside your layered top and Dry Robe, insulated bottoms are essential for keeping your lower body warm. Choose thermal trousers or leggings that provide insulation while allowing freedom of movement. Waterproof or water-resistant trousers are also advisable, as they protect against rain and wet stadium seats. Don't forget to wear warm socks to keep your feet cosy and toasty throughout the match.
Invest in quality footwear and protect your head
The right footwear is also crucial, so opt for waterproof or water-resistant boots that provide traction and keep your feet dry. In addition, you should look for boots with insulation or wear thermal socks for added warmth, and avoid wearing shoes with inadequate grip as they can make it difficult to navigate slippery stadium grounds.
In addition, your extremities are particularly susceptible to the cold, so keeping your hands and head protected is essential. Wear gloves or insulated and waterproof mittens to maintain warmth, and wear a beanie or a hat to retain heat.
With the right clothing choices and accessories, you can stay warm and dry while enjoying a football match, regardless of the weather conditions. So, grab your gear and cheer on your favourite team with confidence, knowing that you're well-prepared to tackle any weather challenge. Stay warm and dry, and most of all, enjoy the game!