NORMAN GILLER'S SPURS ODYSSEY BLOG No 458
Submitted by Norman Giller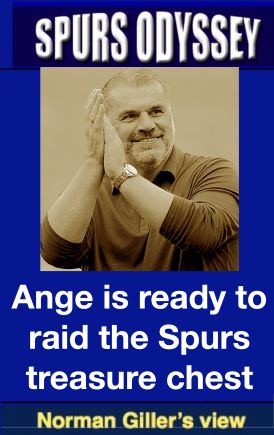 So, after the Lord Mayor's Show, Spurs were thrown to the Wolves, going down to two late-late goals at Molineux that suddenly ended Ange Postecoglou's honeymoon period. The savage way a minority turned on the Greek Aussie quickly evaporated his satisfaction at winning a third successive Manager of the Month award.
The keyboard warriors, who had been hiding in the undergrowth, made no allowances for the injuries and suspensions that prevented Ange selecting key players James Maddison, Micky Van de Ven and (to a lesser extent) Richarlison plus the recently red-carded Romero and Udogie.
Maddison, the man whose precise passes have brought a pattern and penetration to the Tottenham midfield, further depressed us by announcing that he will be out of action until the New Year.
Add to that a below-par performance from downcast-looking skipper Son Heung-min and you can understand why we're going into the international break with a glumness that has submerged the wild optimism of winning the Premier League title.
But before you become suicidal, let me point out that there is brighter news on the horizon. Spurs have a huge treasure chest from the sale of Harry Kane (who is proving a golden investment for Bayern Munich), and Postecoglou will be spending a lot of it in the January transfer window. He has identified the players he wants and has persuaded Daniel Levy to open his cheque-book.
There is a long list of players Tottenham are being linked with, but only Ange and a handful of confidants know the men he wants. So let's ignore the 'In the Know' gossipmongers and look forward to the new arrivals in January (Translated as, 'Norm has not got a clue who will be signed...').
Everything that Postegolou does is under the microscope in his homeland of Australia. The former Socceroos boss is analysed and probed on and off the pitch, and many of his on-line critics are making their withering judgements from Down Under.
Closer to home, our Spurs Odyssey guru Paul H. Smith gives his view of Tottenham's demise at Molineux HERE, and again it should come with a health warning. It was depressing enough for those of us who watched it live on the box, but even more crushing for those who made the trek to Wolverhampton. Even the usually cool, balanced Paul admits to 'seething' at the way Spurs conceded that killing, last-gasp Wolves goal.
Meantime, Ange will be hoping and praying that his cast of Tottenham players involved in the world-wide international circus do not pick up any more injuries. He needs them all to return fit for the next Premier League challenge, which is a home date with unpredictable Aston Villa on Sunday November 26.
Then, on the following Sunday, there is the little matter of a visit to the Etihad to take on all-conquering Manchester City.
Along with Tottenham, I will be taking a break and will see you back here on my Spurs Odyssey stage on Monday week. COYS!
---
Economic report (continued). Number of The G-Men books sold to Spurs Odyssey readers after my unashamed sales pitch last week: Uh, four more, which is nine altogether! It is a must-read for Spurs fans of a certain age who will tingle at memories of Jimmy Greaves and Alan Gilzean playing together. Please order direct from me at www.normangillerbooks.com. I am making a donation for every book sold through me to the Tottenham Tribute Trust to help our old heroes who missed the gravy train.
---

Week 15 of season nine of the Spurs Odyssey Quiz League challenge, and the question is:
Who scored on his Tottenham debut against Nottingham Forest, collected back to back FA Cup winners' medals, was awarded an OBE and with which club did he start his League career?
Please email your answer to me at soqleague@gmail.com and make the subject heading Quiz Week 15 Deadline: midnight this Friday. I will do my best to respond to all who take part.
The rules are the same as in the previous eight seasons. I ask a two-pronged question with three points at stake - two for identifying the player and one for the supplementary question. In the closing weeks of the competition I break the logjam of all-knowing Spurs-history experts with a tie-breaking poser that is based on opinion rather than fact. That's when I become as popular as Sol Campbell in an Arsenal shirt.
This year's main prize will be a framed certificate announcing the winner as SOQL champion 2024, plus three signed books to be revealed at a later date. We have retired the omniscient David Guthrie after his three victories.
Last week's question:
Who has won 16 caps for his country, was an African Nations Cup winner in 2021 and from which Ligue 1 side did he join Tottenham?
Answer: Pape Sarr/Metz.
See you back here... on Monday week. COYS!