FA CARLING PREMIERSHIP
SATURDAY 21ST AUGUST, 1999
SHEFFIELD WEDNESDAY 1 (1) TOTTENHAM HOTSPUR 2 (2)
Sheffield Wednesday Scorer:-
Carbone (pen) 24
Spurs Scorers:-
Ferdinand, 18
Leonhardsen, 42
Referee:- A D'Urso (this is not a misprint, and this was apparently his first premiership game)
Attendance:- 24,027
Teams:-
Sheffield Wednesday ( 4-4-2 ):- Pressman; Atherton ( capt ), Emerson Thome, Walker, Nolan; Alexandersson, Jonk ( sub Scott, 80 ), Rudi ( sub Booth, 56 ), Haslam; Carbone, De Bilde
Subs not used:- Srnicek; Newsome; Donnelly
Booked:- Atherton ( foul on Ferdinand )
Spurs ( 4-4-2 ):- Walker; Carr, Perry, Young, Taricco; Leonhardsen, Anderton, Sherwood ( capt ), Ginola ( sub Freund, 46 ); Ferdinand, Iversen
Subs not used:- Baardsen; King; Fox, Dominguez
Booked:- Ferdinand ( foul ); Iversen ( dissent ); Freund ( foul - referee mistook him for Perry! )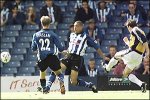 Say, we are top of the league, we are top of the league ! Yes, it's true, Spurs stand at the top of the Carling Premiership tonight for the first time, and according to club historian Andy Porter, we have not occupied that lofty height since about 1990. This will need to be confirmed, and it may be only for one night, but let's enjoy it, WE ARE TOP OF THE LEAGUE !!!
George Graham typically underplayed the position after the game, saying that he takes no notice of the table until the end of October, adding that being top has no significance whatsoever at this stage. He also added that we had not played too well today, but that it was pleasing to get a 2-1 win, despite not reaching the standards we have set ourselves in recent games
Graham installed Luke Young in place of Scales for this game, presumably to cope with the pace of Carbone and De Bilde. Whilst the play of Sheffield Wednesday consisted of plenty of pretty approach play; mainly from Carbone, they had little in the way of clear chances to show for their efforts, as Spurs got plenty of men behind the ball. Having said this, it seems weird to also be stating that the central defence did not look too convincing, and a fit Sol Campbell will of course be welcomed back. Young's pace was effective, but Perry seemed a little below par at times.
In the early stages both sides were putting feelers out, with Carbone and Rudi featuring in the home side's early efforts. Spurs were hitting the ball out high, and took a while to find a decent rhythm. When they did, it was the energetic Leonhardsen who had most attacking influence, with Sherwood battling away at the heart of midfield, but Anderton, and Ginola laying low ( relatively speaking ). It was Leonhardsen who fed the ball to Ferdinand outside the box. Les tried a 20 yard shot, but it was not properly hit, and was easy for Pressman back in the Wednesday goal. Most pundits ( Graham included ) seem to think that Ferdinand was back to his best, but although he scored a goal today, I thought his ball control was appalling at times, and so did those around me. He did win lots of free kicks, and plenty of ball in the air though.
Ferdinand was the first to go in the novice referee's book for a late shoulder charge off the ball. D'Urso did not win himself many fans today, with some strange decisions, at both ends. After 15 minutes, Spurs enjoyed some good pressure in the opponent's half, but failed to capitalise with a decent finish. Wednesday broke back, and Perry made one of his occasional lapses to allow Carbone to shoot just over the bar.
Shortly after, it was Leonhardsen who was making a saving tackle in the area. From this break, Ginola and Taricco exchanged passes from a throw, and Taricco it was who crossed for Les Ferdinand to send a looping header over Pressman to take the lead.
The lead was short lived, however, as five minutes later the referee awarded the home side a dubious penalty, when De Bilde fell at a slight tap of his ankles from behind. Carbone converted the penalty easily, and the number of penalties awarded against Spurs is a worrying early season statistic.
Spurs had a number of chances in the run up to the interval; a Taricco throw was headed on by Les for Leonhardsen to shoot; next Les was heading down a long ball for a Steffen Iversen shot that was comfortably held by Pressman; and then Ferdinand set up Anderton, whose shot failed. Ferdinand had a stronger case for a penalty than the home side, when he was hauled down by Pressman, but the ref ignored the appeals.
With three minutes to go before half time, Spurs took a deserved lead. Ginola had won a free kick about 40 yards out. He took the kick himself, very quickly, and sent a long ball over the defence to Steffen Iversen, who turned and passed to Leonhardsen. The little Norwegian received the ball with his back to goal; turned and sent a superb left foot shot curling into the top of the net !
Graham disappointed flair fans with the half time substitution of Freund for Ginola. Freund ( who still does not look fully fit ) was actually unlucky, in my view, to get booked when I think the ref meant to book Perry for a foul. Anderton nearly scored with a classy free kick that edged the post, but when Booth came on for Rudi, Danny Wilson played with three up front, and was desperate for at least a share of the spoils. Therefore, for much of this half, Spurs had their backs to the wall, but Wednesday did not get too close to goal.
After 61 minutes, Les was through on a break, and from the right edge of the area shot low across the goalie, but just wide. An Anderton corner broke to Perry, who hit a shot just over the bar, and Anderton and Sherwood tried to re-enact the old Sheringham style short corner move, to no avail.
Sherwood was forced into vital defensive action, when he had to head a Booth header off the line over the bar, with Walker beaten. Ian Nolan, returning from a long term injury caused by a crunching tackle by Edinburgh two seasons ago, had the last decent chance for Wednesday when he fired wide, after Carbone, and De Bilde had given him a scoring chance. There was one more effort from Spurs, as Iversen and Pressman were involved in a race for a ball outside the area. Iversen lobbed the advancing goalkeeper, but the ball went wide.
Danny Wilson said after the game that his side just couldn't break Tottenham down. His side now hold up the Premiership, and it has not been a good day for Sheffield as United lost 6-0 to Man City. But - WE ARE TOP OF THE LEAGUE - WE ARE TOP OF THE LEAGUE!!!
· Squad numbers,appearances,bookings & goalscorers
· Read the preview for this game.
· All the Spurs Stats you could hope for here! THFC6061 Sports Stats