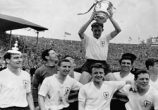 Bill Nicholson - An Appreciation
By kind permission of Steffan Chirazi - who wrote this item

I never grew up watching any of Bill Nicholson's Tottenham Hostpur sides...the last one fell just outside my generation. But his influence was stamped all over the team which captured my heart and imagination...Keith Burkinshaw's early '80s entertainers. I'm not referring necessarily to the style, though thanks to Nicholson, Tottenham simply weren't (and still aren't) allowed to play dull, drab football. No, this was much more about the figurehead established, the impression left, the decisions made and the pride possessed...there can be no doubt that the Northern working class roots both shared helped foster this uncanny sense that the two were like brothers in their approach to Tottenham Hotspur. It might have been why Burky understood that knowledge is priceless, why he demanded that Bill be an advisor, and why my Tottenham legends included such greats as Graham Roberts and Gary Mabbutt.
As I watched and watched Burky's great sides, I'd often hear older heads around me talk of White, Jones, Blanchflower and Mackay...I'd hear how those players, and Nicholson's teams, were the most beautiful ever seen on pitches home and away during the double year and for many after. And I'd hear that this man still lived a stone's throw from White Hart Lane, still made his way to games, couldn't get the club out of his system. And the club, thankfully, has never allowed itself to completely lose sight of what Bill established, however hard the likes of Sugar might have tried to evaporate history. There was always at least a Ginola to shed some light in the darkness, and why was he here in the first place? Because he was considered a 'Tottenham' player. And who laid the proper foundations for that ethos at this club? Bill Nicholson. Some would say it was Arthur Rowe, but few could argue that it was Nicholson who took the lessons of his then-manager to a whole other level for a hell of a lot longer.
Today many things are different in football.
It seems to this cynic that every second team in the country has a scandal involving too much money, too little brain and too many taking of liberties. Thankfully, Tottenham have been able to steer clear of such shennanigans. Thankfully, Tottenham won't accomodate players like Lee Bowyer. And thankfully, Tottenham supporters still insist on a certain level of class on and off the field. I'd like to think that the reason we have never suffered the disgraceful behaviour of so many other clubs in the last two decades, from them down the street to the booze'n'bird hounds of this season, is because Nicholson's no bull ethos continues to reverberate around the Lane.
His presence at every home match must leave some sort of indelible, intangible but vitally important impression on the club. For the mere fact he's still with us we should be grateful. After all, The Shankleys, Paisleys, Busbys and Steins have sadly passed on...Bill Nicholson's true contemporaries. And it's why in the last 15 years I stopped merely hearing about this name from the past, and started investing in some knowledge of the man and his work. It's why I now fully understand what this man gave to Tottenham Hostpur, what this man meant for Tottenham Hostpur, and what this man continues to mean for Tottenham Hotspur.
It's why I am sitting here, 6000 miles away from the Lane in the wee hours of the morning writing these few words.
It is also why I hope that somewhere in the midst of everything, the people who make up those honors lists finally get it right and knight the man.
Of course it will merely be academic, because to us all, Bill Nicholson is 'Sir Bill', a man who always tried to do the right thing, very often managed to do just that and who is as fitting a father figure of Tottenham Hotspur FC as you'll ever find.
Steffan
14.03.04