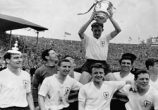 FIFTY YEARS AFTER
August 1960
The Double Series was written by the eminent Brian Judson
Spurs began their historic season on August 20th with a home fixture against Everton. The visitors had finished quite low in the table the previous season and had been uncomfortably close to the relegation zone, finishing three points above Leeds United, who were 21st, and eight points above Luton Town, who had finished bottom. Spurs, of course, had finished 3rd in the table, failing by two points to win the League.
Spurs took a while to settle and it was clear that Everton would do well in the League. Danny Blanchflower was declared to be the Man of the Match for Tottenham. Most of the chances in a fast moving game fell to Tottenham, who were foiled for most of the match by Everton's goalkeeper, Dunlop. Only five minutes of the game remained to be played when, with Jones limping in those distant pre-substitute days, Smith was brought down in the penalty area. The referee waved play on as Spurs were in a good position and Allen slipped the ball behind Dunlop to put Spurs ahead. Two minutes later, Spurs increased their lead when White centred the ball and Smith, sinking to his knees, headed the ball home. (Final score:- Spurs 2 Everton 0 - Attendance:- 50,393)
Elsewhere that afternoon, Burnley, the defending champions, beat Arsenal 3-2 at Turf Moor. Wolverhampton Wanderers, who had finished second, beat West Ham United 4-2, at Molineux. Nottingham Forest, who had avoided relegation by the skin of their teeth, drew 2-2 with Manchester City. Aston Villa and Cardiff City, the two promoted clubs, got off to a good start. Villa beat Chelsea 3-2 at Villa Park whilst Cardiff drew 2-2 at Fulham. The match of the day was undoubtedly the one between Sheffield Wednesday and West Bromwich Albion. Both had finished high in the table the previous season. The Owls beat the Baggies 1-0.
On the Monday night, Spurs made the long trip north to play Blackpool. Spurs dominated the proceedings and could have run up a cricket score. Dyson put Spurs ahead in the 9th minute and Medwin, replacing the injured Cliff Jones, added a second in the 37th minute. Dyson wrapped the game up with a second goal in the 56th minute. Blackpool had their chances to pull the game out of the fire but Kaye missed a penalty and their only consolation was a late Jackie Mudie goal.(Final score:- Blackpool 1 Spurs 3 - Attendance:- 27,656)
Elsewhere, West Ham beat Aston Villa the same night.
On the Tuesday evening, Arsenal beat Preston North End, 1-0, at Highbury.
The biggest score of the midweek matches was Newcastle's 7-2 thumping of Fulham at St James' Park on the Wednesday evening. Manchester United crashed again, this time at Everton, who thumped them 4-0. Manchester United were one of four clubs to lose their first two games, the others being Preston North End, Chelsea and West omwich Albion.
The following Saturday saw Spurs travel to Ewood Park and thrash Blackburn Rovers. Blackburn had won their first two games of the season so it came as a surprise to note how quickly Tottenham dominated their hosts. Spurs were 3-0 ahead after only 17 minutes. Allen set up the first goal for Smith to drive the ball home after only two minutes. Nine minutes later, Smith headed home a Mackay free-kick. In the 17th minute, Dyson slipped the ball to Allen, who pushed the ball behind Jones, the Blackburn goalkeeper.
Blackburn tried to fight back but Brown was alive to the threat of Macleod, who was later to ignominiously lead Scotland to their 1978 World Cup defeat. A Crowe shot looked goalbound with Brown stranded on the wrong side of his goal when the ball hit Dougan and flew wide. Crowe headed a corner over the bar and later forced Brown to concede another corner. Smith nearly added a fourth goal as Blackburn defended desperately just before half-time.
Two minutes after the break, Blanchflower pushed the ball to Allen, whose centre from the right wing was flicked into the net by Dyson. McGrath then cleared a Mackay goal-bound shot off the line to prevent a fifth Spurs goal. Late on, Baker cleared off the line from Macleod after Brown had parried a Dobing drive and then Crowe fired wildly over the bar. Allen should have had another goal after 73 minutes but with only the goalkeeper to beat he fired the ball straight to Jones.
Blackburn scored a late consolation goal. (Final score:- Blackburn 1 Spurs 4 - Attendance:- 26,819)
Elsewhere that afternoon, Sheffield Wednesday drew 1-1 at Birmingham City to slip into second place, one point behind Tottenham. Wolves also drew, 3-3 at Chelsea, whilst Newcastle United, the other undefeated team with a perfect start, lost at home to the defending champions, Burnley, 1-0.
The game that produced the most goals was Blackpool's 5-3 home win over promoted Aston Villa.
After the table had been made up, bearing in mind the big Manchester derby was postponed, Preston North End, West Bromwich Albion and Manchester United were the bottom three.
Spurs returned to White Hart Lane to play the return game against Blackpool on 31st August 1960. Spurs had little trouble in beating their visitors but were not at their best.
It was a night to remember for Bobby Smith, as he scored a hat-trick, which enabled him to overtake George Hunt's record of 138 League and FA Cup goals from 185 League appearances and 13 FA Cup games between August 1930 and October 1937.
Spurs went one up after only three minutes. Blanchflower took the ball to the bye line and pulled a centre back at the last second. Dyson couldn't reach the ball but Smith did, heading home a superb goal from 15 yards.
Blackpool restricted Spurs to that early goal, thanks to a superb display by Tony Walters, who had then just succeeded George Farm in goal. At the other end, Bill Brown had to be lively on his feet to keep his goal intact. Lea equalised for Blackpool after 34 minutes from a close range shot.
It was Smith who restored Tottenham's lead after 51 minutes. Armfield kicked the ball off the line from a Medwin shot. The ball was cleared but Dyson slipped the ball to Smith, who timed his shot perfectly to crash the second goal home.
There were eight minutes left when Spurs went 3-1 up. Medwin ran down the right wing and his centre found Smith. Smith had plenty of time to pick his spot and made no mistake. (Final score:- Spurs 3 Blackpool 1 - Attendance:- 45,684)
Elsewhere, Sheffield Wednesday's 2-0 home win against Cardiff City kept them snapping at Tottenham's heels. Wolves also remained in hot pursuit with a 3-1 win over Bolton at Molineux. Birmingham City and Manchester City both won. Birmingham condemned West Bromwich Albion to bottom spot after beating them 3-1 at St Andrews whilst Manchester City won 3-1 at Turf Moor.
A week after being slaughtered 7-2 by Newcastle, Fulham gained revenge at Craven Cottage to win a thriller, 4-3. The biggest shock of the midweek matches was Preston beating Arsenal, 2-0, at Deepdale. Manchester United finally won their first match of the season by beating Everton, 4-0, at Old Trafford.
The table showing the situation after the games of 31 August 1960 follows:-

 Pos              Pl  W   D   L   F  A  Pts
  1 Spurs    	  4   4   0   0  12  3   8
  2 Sheff Wed     4   3   1   0   5  1   7
  3 Wolves.       4   3   1   0  12  6   7
  4 Birmingham    4   2   2   0   8  5   6
  5 Man City      3   2   1   0   7  4   5
  6 Fulham        4   2   1   1  12 14   5
  7 Blackburn     4   2   1   1   9  7   5
  8 Newcastle     4   2   0   2  13  9   4
  9 West Ham      4   2   0   2  10  9   4
 10 Arsenal       4   2   0   2   6  5   4
 11 Everton       4   2   0   2   7  7   4
 12 Burnley       4   2   0   2   6  7   4
 13 Aston Villa   4   2   0   2  10 13   4
 14 Chelsea       4   1   1   2   9 10   3
 15 Cardiff       4   1   1   2   4  5   3
 16 Blackpool     4   1   1   2   8 10   3
 17 Leicester     4   1   1   2   6  8   3
 18 Man United    3   1   0   2   5  7   2
 19 Preston N.E   4   1   0   3   4  6   2
 20 Nottm Forest  4   0   2   2   4 10   2
 21 Bolton        4   0   1   3   4  9   1
 22 West Brom     4   0   0   4   4 10   0

NB Manchester City -v- Manchester United due to be played 27th August 1960 was postponed and was not played until 4th March 1961.