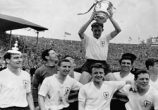 FIFTY YEARS AFTER

December 1960

The Double Series was written by the eminent Brian Judson

And so to December. The first home game played was against Burnley, the current League Champions. The match was played in pouring rain and a draw was the fairest result as neither side deserved to lose. The pitch, like so many pitches of that era at Tottenham looked more like the Western Front from World War One.

Burnley looked far superior to Spurs for the first fifteen minutes of the match and forced four corners in quick succession before Spurs even made their first attack of the match. Then Spurs scored three goals in three minutes. The score in the 18th minute was 0-0 : three minutes later it was 3-0! Spurs won a corner and Maurice Norman outjumped everyone else to nod Spurs ahead in the 18th minute. Cliff Jones then raced across the mud heap twice in successive minutes to extend Spurs lead to 3-0. Dave Mackay added a fourth after 36 minutes. Most teams would have caved in after that but not Burnley! On the brink of half-time, John Connelly reduced the arrears to 4-1 ploughing through the mud to score.

A succession of errors early in the second half allowed Burnley to pull two more goals back. First, Ron Henry failed to clear the ball and Jimmy Robson had whipped the ball in the net before Henry could retrieve the situation. Shortly after, Maurice Norman made the same error when confronted by Ray Pointer, who quickly took advantage of Norman being wrong-footed. With 13 minutes left, Burnley broke out of their own penalty area and Connelly raced downfield. As Spurs struggled to regain a defensive posture, Connelly swept the ball to Robson, who quickly played the ball back to Connelly, who scored.(Final score - Spurs 4 Burnley 4 - Attendance:- 58,737)

Elsewhere, Everton beat Sheffield Wednesday, 4-2, at Goodison Park. The Owls' challenge for the championship had faltered badly and they were well off Tottenham's pace after this match. Wolves moved up to third position beating Arsenal, 5-3, at Molineux. Both Everton and Wolves seemed determined to try to catch Spurs at this stage. Burnley were 5th in the table, just behind Sheffield Wednesday, following their draw with Tottenham. Aston Villa were 6th after thrashing Manchester City, 5-1.

At the bottom of the table were Blackpool, after losing 2-1 at home to Birmingham City. Above them, in 21st position, were Nottingham Forest, who had drawn 1-1 with Leicester City, at Filbert Street. West Bromwich Albion were 20th, having been soundly thrashed by Chelsea, at Stamford Bridge, 7-1. Bolton, who had beaten Newcastle, 2-1, and Preston, who had lost 0-1 at Old Trafford to a reviving Manchester United, were 17th and 18th in the table.

A week later, Spurs travelled north to Preston and were lucky to win 1-0. Part of their problem was they were beginning to become arrogant and contemptuous of the opposition. Smith missed the game as he was unwell and Saul was recalled. Spurs clearly missed Smith's height up front as their goal came from a corner which Norman headed down for White to score the only goal of the game. Towards the end, Preston desperately fought to level the score but could not found a way past 'keeper Bill Brown.(Final score - Preston 0 Spurs 1 - Attendance:- 21,657)

Whilst Spurs were struggling to beat Preston, Everton travelled to St Andrews and won 4-2 against Birmingham City. Wolves also won 4-2, at Manchester City. Burnley and Sheffield Wednesday also won, having odd goal victories, with Burnley beating Leicester City, 3-2, and Sheffield Wednesday beating Blackburn Rovers, 5-4.

At the bottom of the table, Blackpool lost to West Bromwich Albion, 3-1, which left Blackpool two points behind Preston. Above Preston were Bolton, who had lost 5-1 to Arsenal, at Highbury. In 19th position were Nottingham Forest, who had beaten Aston Villa, 2-0. WBA were 18th after this match.

For the second successive Saturday, Spurs travelled north to Lancashire a week later. In a foggy atmosphere, Tottenham comprehensively thrashed Everton off their own park. Everton had largely dominated proceedings for the first 35 minutes as Bobby Collins and Brian Harris pulled the strings for Everton. Twice Everton failed to score when it looked easier to do so. In the very first minute, Derek Temple rolled the ball wide of an empty goal. In the 24th minute, Frank Wignall again spurned a chance to score. But in the 36th minute, Spurs showed how to score goals. Blanchflower sent Cliff Jones away, who pushed it on to White. White steadied himself and fired the ball behind Dunlop. Four minutes later, Blanchflower sent Dyson away. Dyson played the ball back to Blanchflower, who took the ball down to the bye-line. White kept the ball in flight and Dyson was there to ram the ball home.

In the second half, as the fog grew worse, Everton pulled one goal back. Alex Parker pushed the ball to Billy Bingham, whose centre flew to Alex 'The Golden Vision' Young. Young saw Wignall was better placed and left Wignall to side-step Bill Brown and place the ball in the empty net. But within five minutes, Spurs had regained their two goal advantage. From 35 yards out, Mackay unleashed a shot that was unstoppable.(Final score - Everton 1 Spurs 3 - Attendance:- 61,052)

As a result of this win, Spurs were now 10 points out in front of the pack at the top of the table, with 40 points. Everton dropped to third place, Burnley climbing into second place as a result of thrashing Arsenal, 5-2, at Highbury. Wolves were in fourth place after being thrashed by West Ham United at Upton Park. They were playing some good football and they had a young player in their team called Bobby Moore. Whatever happened to him? Sheffield Wednesday's 2-2 draw against West Bromwich Albion saw them in 5th place, eleven points behind Spurs.

At the bottom of the table, Blackpool beat Leicester City, 5-1, at Bloomfield Road, to reduce the gap at the bottom of the table. In 21st place were Preston North End who had drawn at Newcastle 0-0. Newcastle had slid down the table and were now on the fringe of the relegation battle. It did not help their cause that George Eastham was in dispute with them as he wanted to move to Arsenal and Newcastle refused to consider an offer from the Londoners. This was due to end in court over the legality of the retain clause then operating in player's contracts. Bolton had drawn 2-2 at Birmingham to collect a precious point. And West Bromwich Albion had surprisingly drawn at home with Sheffield Wednesday, 2-2.

As Spurs made their way to the dressing rooms after their Christmas Eve game at home to West Ham, the tally was Cliff Jones 10, John White 10, Bobby Smith 18, Les Allen 12, and Terry Dyson 10. White (in the 25th minute) and Dyson (in the 89th minute) had scored the goals that enabled Spurs to boast each of their first choice forwards had scored double figures. Jones was injured a minute after the interval and limped on for a while in those distant pre-substitute days and finally limped off with half an hour left to play. West Ham looked lethargic for much of the match and scarcely troubled Tottenham. Dave Dunmore, playing against his old side, wasted chances that could have extended his scoring sequence in seven successive matches. White's goal was provided by a fierce Bobby Smith centre whilst White provided the chance for Dyson to head home with a minute left.(Final score - Spurs 2 West Ham 0 - Attendance:- 54,930)

Wolves were in second place, having won 2-0 at Villa Park against Aston Villa, climbing two places in the process. Burnley, and Everton had no game and dropped to third and fourth place respectively. Sheffield Wednesday remained in fifth place after drawing 1-1 at Hillsborough against Arsenal.

Preston's 2-0 defeat at Nottingham Forest saw them slip to bottom place in the Championship. West Bromwich Albion dropped two places to 21st because they had no game. Blackpool's 2-0 win at home to Blackburn lifted them off the bottom place to 20th. Bolton also edged up one place to 19th as a result of their 2-0 home win against Leicester City. Unlike the top of the table, where Spurs were striding away arrogantly, it was really tight at the bottom of the table where teams were constantly jockeying to avoid the bottom two places.

Two days later, Spurs played the return game against West Ham. It was generally one-way traffic - in Spurs' favour - apart from a ten minute spell just after half-time. Bill Brown and Cliff Jones both missed this match, Johnny Hollowbread coming in for Brown for his only appearance of the season, and Medwin replacing Jones. Spurs were two goals ahead before West Ham really settled. Spurs first goal came when Ken Brown, their centre half, tried to prevent a goalbound shot from Les Allen from crossing the line but only succeeded in turning it into his own net. Allen made it 2-0 just before the interval after catching a pass from Mackay that had been intended for Dyson and firing the ball behind Rhodes in the West Ham goal.

For the first 10 minutes of the second half, Spurs were all at sea as Woosnam and Musgrove pulled the strings for West Ham. Only one clear chance was created and Bobby Moore was foiled by Hollowbread. But slowly Spurs pushed the Hammers back on to the defensive and their final goal was a gem to savour. Starting from their own penalty area, Spurs strung thirteen passes together until White was able to pick his spot and roll the ball behind Rhodes. Thereafter, Spurs simply switched off and left West Ham to batter away at their defence without ever looking likely to score.(Final score - West Ham 0 Spurs 3 - Attendance:- 34,351)

Wolves remained in second place, having completed the double over Aston Villa, at Molineux. Everton climbed back to third place after beating Burnley, 3-1, at Turf Moor. Burnley dropped to 5th place as a result. The 1-1 draw that Sheffield Wednesday secured at Arsenal was enough to give them fourth place.

Preston remained bottom of the table after losing at home to Nottingham Forest, 1-0. West Bromwich Albion remained in 21st position after losing 3-1 at Cardiff City. Blackpool had no game on Boxing Day and remained in 20th position. Newcastle United lost at Birmingham City, 2-1, and Bolton Wanderers lost 2-0 at Leicester City. Newcastle dropped to 18th as a result of their defeat but Bolton remained in 19th position.

On December 27th, the remainder of the Christmas matches were played. Burnley won 3-0 at Goodison Park to climb back to 3rd place whilst Everton slipped further off the pace. Blackpool lost their return game against Blackburn Rovers 2-0 and West Bromwich Albion and Cardiff drew 1-1, neither result altering the situation at the bottom of the table.

Spurs ended the old year at home to Blackburn Rovers. On a most unseasonable December Saturday in which the sun shone brilliantly, Spurs crushed the Lancastrians, 5-2. Although the pugnacious Derek Dougan outjumped Norman for much of the match, Blackburn seldom made much impression on the Spurs defence as Marchi made a rare appearance in the Spurs defence in place of Mackay. But it was Blackburn who scored first when Douglas fired home in the 14th minute. It was not until the 37th minute that they equalised when Dyson provided the cross for Smith to breast home.

In the second half, it was not until the 57th minute that Spurs finally snatched the lead. Dyson provided the cross from which Allen volleyed the ball home. Two minutes later, Spurs were further ahead when Dyson centred the ball, Smith back-heeled the ball to Blanchflower, who clinically scored without emotion. Allen and Smith completed the rout for Spurs before Dobing scored a late consolation goal. Both of the Spurs goals were slightly fortunate goals, too.(Final score - Spurs 5 Blackburn 2 - Attendance:- 48,742)

Elsewhere, Wolves thrashed Chelsea, 6-1, to cement themselves in second place. Burnley thrashed Newcastle 5-3 to increase the Geordies' problems at the foot of the table. Sheffield Wednesday returned to winning ways at home to Birmingham, beating the Blues 2-0. Everton unexpectedly lost at Leicester, 4-1.

At the bottom of the table, Preston picked up a much needed point, drawing 1-1 against Cardiff. Blackpool drew 2-2 at Aston Villa. Bolton's 3-1 win at home to West Ham enabled them to climb above Newcastle to 19th place. West Brom's surprise 2-1 win at Fulham enabled them to climb to 18th.

Thus Spurs reached the turn of the Year. It was time for them to turn their attention to their assault on the FA Cup ......


Pos             Pl   W  D   L   F  A  Pts
  1 Spurs       25  22  2   1  81 28  46
  2 Wolves      25  16  4   5  66 48  36
  3 Burnley     25  16  2   7  74 47  34
  4 Sheff Wed   24  13  7   4  43 28  33
  5 Everton     25  14  4   7  59 44  32
  6 A. Villa    25  13  3   9  54 50  29
  7 Arsenal     25  11  4  10  47 46  26
  8 Man United  24  10  4  10  50 45  24
  9 West Ham    25  10  4  11  57 54  24
 10 Leicester   25  10  4  11  47 47  24
 11 Blackburn   25  10  3  12  51 55  23
 12 Cardiff     24   8  7  10  34 43  23
 13 Fulham      25  10  3  12  49 62  23
 14 Chelsea     24   9  2  13  59 64  20
 15 Man City    23   8  4  11  44 55  20
 16 Nott'm For  25   8  4  13  38 52  20
 17 Birmingham  25   8  4  13  37 52  20
 18 West Brom   24   7  4  14  38 50  18
 19 Bolton      24   7  4  13  35 48  18
 20 Newcastle   25   7  4  14  55 70  18
 21 Blackpool   24   6  4  14  42 51  16
 22 Preston N.E 24   5  5  14  22 42  15


Cheers, Brian