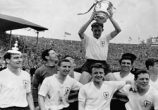 FIFTY YEARS AFTER
February 1961
The Double Series was written by the eminent Brian Judson
Leicester City came to White Hart Lane for the first match of February and became the first visitors to beat Tottenham in their own backyard. Leicester's Keyworth, Leek and Walsh were the main reason why Leicester won. They went ahead in the 29th minute when Leek received the ball on the edge of the penalty area and crashed it behind Brown. Spurs equalised five minutes later when Jones, who was having a fairly anonymous match, picked up a pass from Allen and hammered the ball behind Banks. But three minutes later, Leicester regained the lead. Riley skied a high ball into the area and Leek headed the ball against the crossbar and forced the rebound home.
Early in the second half, Spurs won a controversial penalty. Smith was allegedly fouled (there wasn't a clear view of the incident) and Blanchflower equalised from the spot. Mackay was then booked for a foul on Chalmers that nearly made the game boil over. White, Bobby Smith and Allen, as well as Jones, were all off form. Leicester grabbed the winner in the 67th minute when Norman failed to clear the ball and Walsh dispossessed him and toe-ended the ball behind Brown from close range.
Wolves, second in the table, travelled to Blackburn, who had slipped to the halfway mark after a bright start. Surprisingly, Wolves unexpectedly lost 2-1 at Ewood Park. Sheffield Wednesday however thrashed relegation haunted Preston North End, 5-1, and were now breathing down Wolves' neck again after having had a poor mid-season spell. Burnley's game at Birmingham was postponed so the Turf Moor side lost further ground. Everton also unexpectedly crashed at home to relegation haunted Bolton, 2-1.
At the bottom of the table, relegation haunted Blackpool beat mid-table West Ham 3-0, which allowed them to put a breathing space between them and Blackpool in bottom place and to catch Newcastle, who were immediately above them. The Magpies were held to a 3-3 draw by Arsenal. West Bromwich Albion lost at home to Nottingham Forest to increase their own relegation fears but Manchester City drew 3-3 at Ninian Park to earn a valuable point. Final score - Spurs 2 Leicester 3 - Attendance:- 53,627
The following Saturday, Spurs travelled to Villa Park for a League match, keenly aware they would be making the same journey the following Saturday for a Cup tie against the same opposition. Unsurprisingly, the atmosphere was electric as the match against Aston Villa began. Spurs looked quite nervy and edgy at times. Blanchflower and Mackay were the key players in this match as they soothed Spurs' ragged nerves. Despite Thomson shadowing Blanchflower everywhere, Blanchflower still wreaked damage on Villa. Because Thomson was performing a man-marking job, it disrupted the flow of Villa's game and Spurs took advantage of that. Villa should have gone ahead in the first half when Ron Henry blatantly handled the ball on the goal-line but the referee missed the incident to Villa's fury.
Spurs went ahead shortly after the break. Smith finally wriggled free of Dugdale to head Spurs ahead 20 seconds into the second half. It was the only time he got away from Dugdale. Dyson added a second that Sims could not prevent flying into his goal. But Villa were awarded a penalty and Lynn reduced the arrears. In winning this match, Spurs became the fastest side to reach 50 points under the old 2 points for a win system.
Wolves won 2-1 against Manchester United to get their championship challenge back on the rails. Sheffield Wednesday travelled to Turf Moor and won a thriller 4-3 against the champions, Burnley. Everton travelled to mid-table West Ham and surprisingly crashed 4-0.
Preston beat Fulham, 2-0, at Deepdale, to revive hopes of escaping from bottom position. Blackpool snatched a valuable point in a 2-2 draw against Chelsea at Stamford Bridge. Leicester City entertained Newcastle, who desperately needed points, and beat them 5-3. In a relegation battle, Manchester City beat West Bromwich 3-0 at Maine Road. It was still far from clear who would be going down even if the title race seemed to be over. Final score Villa 1 Spurs 2 - Attendance:- 50,786
A week later, Spurs returned to Villa Park for the 5th Round of the FA Cup. Over 69,000 spectators crammed into the ground but the Villa fans had little to cheer about. In the thirty minutes before half-time, Spurs attained standards so high no one could have lived with them that day. Spurs passed the ball around so fast and so quickly the Villa players must have become dizzy. In the 18th minute, White began the move down the left wing that, five passes later, ended with Jones smashing a vicious shot towards Sidebottom's goal but the ball struck Neal and flew high into the roof of the net. Shortly after the half-hour, the ball ran from Dyson to White, on to Smith and then to Allen. Allen provided the pass that enabled Jones to fire in a shot that was absolutely unstoppable. Thereafter, Spurs simply toyed with Villa, knowing there was no way back for the hosts, who had been bludgeoned into defeat by Spurs' rapier like skills.
Elsewhere, Leicester City required a replay before they disposed of Birmingham City. They drew the first match at St Andrews 0-0 but won the replay at Filbert Street, 2-1. Third Division Barnsley beat Second Division Luton Town 1-0 at Oakwell. Newcastle United took a break from their relegation worries to beat Second Division Stoke City 3-1 at St James' Park. Sheffield United beat Blackburn Rovers 2-1 at Bramall Lane. As Sheffield United finished runners-up to Ipswich Town in the Second Division, this was not a shock. Sheffield Wednesday disposed of Leyton Orient at Brisbane Road, 2-0. Burnley beat Second Division Swansea Town at Turf Moor 4-0. Second Division Sunderland beat fellow Second Division Norwich City at Carrow Road 1-0.
There were only four League matches played in Division One that afternoon because of the cup ties. Blackpool lost at home to Preston North End, 0-1, in a relegation battle. Everton and Chelsea drew 1-1 at Goodison Park, which cost Everton further ground in the race for the title. Manchester United beat Bolton Wanderers 3-1 to increase the fears of the Trotter's supporters whilst West Bromwich Albion lost to Arsenal, at the Hawthorns, 2-3.Final Score - Villa 0 Spurs 2 - Attendance:- 69,672
Four nights later, Spurs drew 1-1 with second in the table Wolves. For much of the match, Wolves had only ten fit men on the field as Bill Slater was injured in a collision with Bobby Smith and, with his ribs strapped, he limped around on the wing. Spurs were never happy when playing a diminished side and they were uncomfortable in this match.
Spurs had gone ahead after 10 minutes (before Slater was injured). Blanchflower, Mackay, Norman and Dyson had swapped passes before White laid on the pass that Smith smashed home. Twelve minutes later, Wolves took advantage of a mistake by Blanchflower. Murray sent Farmer away for a totally unexpected equaliser.
There were two other midweek matches played that week. Sheffield Wednesday played Nottingham Forest at Hillsborough on the night before the Spurs match and beat them 1-0 to enhance their own hopes of catching Spurs. Whilst Spurs were playing Wolves, Cardiff City played Newcastle United, who were desperate for points and beat them 3-2.Final score - Spurs 1 Wolves 1 - Attendance:- 62,261
On the last Saturday of February, Spurs made the long journey north to Manchester City. Unhappily for Spurs, it teemed with rain as the game got under way and soon reduced the Maine Road pitch to a bog. Fortunately for Spurs the rain soon ceased. It was hardly surprising when the game was spoiled when Hayes was injured, forcing a reshuffle which saw Denis Law playing in defence. The only goal of the game was scored in the 60th minute. Blanchflower laid on a peach of a pass and Medwin, making a rare appearance in the team, headed the ball home.
Elsewhere, Sheffield Wednesday continued their fine run of form by beating Chelsea, 1-0, at Hillsborough. Wolves lost further ground when they crashed 3-2 at Cardiff. Burnley's form continued to stutter as they drew 1-1 with Blackburn Rovers. The biggest shock of the day was Everton's failure to beat Preston, bottom of the table. Their 1-0 defeat left them with too much to make up and were regarded as slipping out of the race for the title.
Blackpool's 4-3 defeat at Fulham dumped them on the bottom rung of the table again. Newcastle United won 2-1 against Aston Villa to stay in 20th place. West Bromwich Albion won their relegation battle at the Hawthorns against Bolton, 3-2.Final score - Man City 0 Spurs 1 - Attendance:- 40,278
Spurs were now free to think about their Cup tie at Sunderland. They would very nearly come off the rails in their quest for the Double. But that is next month's story.


Pos            Pl   W   D   L      F   A   Pts
  1 Spurs      31   25  3   3     91  37    53
  2 Sheff Wed  30   18  8   4     61  34    44
  3 Wolves     31   19  5   7     80  58    43
  4 Burnley    29   16  3  10     79  55    35
  5 Everton    30   14  5  11     62  54    33
  6 Leicester  30   14  5  11     65  54    33
  7 Cardiff    30   12  8  11     49  55    32
  8 A. Villa   29   13  5  11     59  57    31
  9 Arsenal    31   13  5  13     63  65    31
 10 West Ham   30   12  5  13     67  63    29
 11 Man United 30   12  5  13     59  58    29
 12 Blackburn  30   11  7  12     57  60    29
 13 Nott'm Fst 31   12  5  14     48  59    29
 14 Birmingham 29   11  4  14     45  57    27
 15 Chelsea    30   10  5  15     66  73    25
 16 Fulham     30   11  3  16     55  76    25
 17 Man City   28    9  6  13     57  67    24
 18 Bolton     30    9  6  15     44  57    24
 19 West Brom  31   10  4  18     50  65    24
 20 Newcastle  31    8  7  16     70  87    23
 21 Preston    30    8  5  17     30  53    21
 22 Blackpool  29    7  5  17     51  61    19