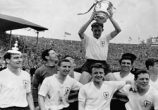 FIFTY YEARS AFTER
January 1961
The Double Series was written by the eminent Brian Judson
The first Saturday of January 1961 was the date of that season's FA Cup 3rd Round. Tottenham had been drawn at home to Second Division Charlton Athletic, who had been relegated four seasons earlier, after a continuous run of membership of the First Division stretching back to the 1930s.
Spurs took the lead after six minutes when Blanchflower provided the pass from which Allen scored. Spurs extended their lead after 28 minutes when another pass by Blanchflower provided the opening from which Allen again scored. But within five minutes, Charlton had reduced the arrears when Leary struck. Charlton's joy was short-lived as Spurs struck again three minutes later when another pass from Blanchflower allowed Dyson to score. The final goal of the afternoon came when Lawrie scored for Charlton thirty seconds after half-time. But fight as Charlton did, they could not bridge the gap.
There were few shocks. The sprinkling of Third and Fourth Division clubs who had were quickly removed. One of the few Fourth Division sides to survive were Crewe Alexandra, who travelled south to Stamford Bridge, and beat Jimmy Greaves and Chelsea, 2-1. The all-Second Division tie between Ipswich Town, who were fighting for promotion to Division One, and Southampton, who were back in the Second Division after a long absence in the Third Division, saw Southampton crush Ipswich 7-1 at the Dell. Burnley had to work hard before beating Bournemouth, from the Third Division, 1-0 at Turf Moor. Sunderland, from the Second Division, beat Arsenal, 2-1, at Roker Park. Aston Villa needed a replay to overcome the challenge of lowly Second Division Bristol Rovers, drawing 1-1 at Eastville and winning the replay at Villa Park 4-0. Leicester City beat Oxford United, who would be Southern League champions that season. Third Division Bristol City beat Second Division Plymouth Argyle, 1-0, at Plymouth. Birmingham City beat Nottingham Forest 2-0 in an all First Division clash at the City Ground. Barnsley survived a 1-1 draw at Elm Park and beat Reading 3-1 in the replay at Oakwell. Second Division Sheffield United surprisingly beat Everton 1-0 at Goodison Park. Manchester City required three matches to dispose of Cardiff City, drawing 1-1 and 0-0 before winning 2-0 in the second replay.Final score - Spurs 3 Charlton 2 - Attendance:- 54,969
The League resumed with Spurs having to wait until the Monday to play their game against Manchester United. On the Saturday, the games between Blackpool and Wolves and Everton and Aston Villa fell victim to the weather. Burnley lost 2-1 at Cardiff. Sheffield Wednesday drew 1-1 at West Ham, which left the top of the table unchanged. At the bottom, Preston lost 3-1 to West Bromwich Albion to remain bottom of the table. Newcastle grabbed a point by drawing 2-2 with Nottingham Forest, at St James' Park. Bolton drew 1-1 at Stamford Bridge against Chelsea. And in a remarkable nine goal thriller, Arsenal beat Manchester City, 5-4.
On Monday January 16th, Spurs travelled to Old Trafford to resume their League campaign. Spurs lost 2-0 in front of 65,535 wildly enthusiastic spectators. During the match, Harry Gregg, Manchester United's goalkeeper, was injured and had to play at centre-forward for the rest of the match. Terry Medwin and Peter Baker were both injured and missed the match (Cliff Jones was also injured) and John Smith and the untried Ken Barton came in as their replacements. Bobby Smith was out of form and Bill Foulkes generally had the better of him. Both defences were on top during the early stages of the match. Manchester United took the lead in the 13th minute when Pearson and Quixall combined on the right wing. Pearson put a cross over and Stiles hit the ball first time behind Bill Brown. Shortly afterwards, there was a controversial incident. Gregg slipped over and hurt his shoulder at the height of a Tottenham raid but when he recovered after treatment, the referee surprisingly awarded a free-kick for reasons that were not immediately apparent. Tottenham cleared the free-kick but the referee ordered it to be re-taken. Tottenham cleared that as well. But seconds before the interval, Bobby Smith got the ball in the net only to see the goal disallowed. It was at this point Gregg aggravated his previous injury and had to play as an outfield player. Dawson took Gregg's place in goal. In the 74th minute, Manchester United scored again. Stiles, Quixall and Pearson swapped passes before Gregg back-heeled the ball into the centre of the goal area and Pearson forced the ball home.Final score - Man Utd 2 Spurs 0 - Attendance:- 65,535
On the following Saturday, Tottenham beat Arsenal, 4-2, at Tottenham. Arsenal had four players absent through injury and McClelland, Magill, Neill and Young came in. Docherty tried to bolster the Gunners defence but it was not strong enough to prevent Tottenham completing the double over their deadliest rivals. It was Docherty who provided the pass that enabled Henderson to put the Gunners ahead early on. But Tottenham were quick to strike back. White provided the centre from which Les Allen equalised. Then Terry Neill conceded a penalty by upending Dyson and Blanchflower scored from the penalty spot. The third goal was Tottenham at the height of arrogance. Mackay flipped the ball back to Baker without checking to see where he was and then dashed upfield, collecting Baker's pass without checking his stride. Jones, returning from injury, then raced deep into the Arsenal penalty area before Smith had only to tap the ball home to put Spurs 3-1 ahead. Early in the second half, White was allowed to race unchecked down the wing and shoot. The ball was blocked but Allen collected the rebound and put Spurs 4-1 ahead. Immediately after that, Haverty reduced the arrears and then the fire went out of the game as Arsenal tired and accepted defeat with more than 30 minutes left of the match. Final score - Spurs 4 Arsenal 2 - Attendance:- 65,251
Elsewhere, Wolves thrashed Everton, 4-1 at Molineux. Sheffield Wednesday thrashed Fulham 6-1 at Craven Cottage. Burnley surprisingly lost at home to lowly West Bromwich Albion 1-0. Preston North End remained bottom after losing 2-3 at Deepdale against Birmingham City. Bolton Wanderers beat Blackpool 3-1 in a relegation clash. Manchester City and Newcastle United drew 3-3 in another relegation clash. Chelsea slipped into the bottom six after losing 3-1 at West Ham.
A week later, Spurs thrashed Crewe Alexandra in the 4th Round of the FA Cup. The previous season they had thrashed Crewe 13-2 in a replay at the same stage of the Cup. This time, they contented themselves with a 5-1 victory. That was due more to Williamson, in the Crewe goal, somehow blocking most of Tottenham's shots, than anything else. White was out of touch and Tottenham looked out of sorts. In the first five minutes, Smith had missed an open goal, Blanchflower had been tackled before he could score but Dyson had headed Tottenham 1-0 ahead. Bobby Smith extended Spurs lead after Allen had backheeled the ball. Tighe had then scored for Crewe. Just before the break, Mackay headed in Allen's corner. In the second half, it was almost one way traffic but Spurs could only score twice. Jones turned in a pass from Dyson and Allen pushed the ball home from Baker's centre. Final scorer - Spurs 5 Crewe 1 - Attendance:- 53,721
Elsewhere, Aston Villa needed a replay to dispose of 4th Division Peterborough United, drawing 1-1 at London Road and winning 2-1 at Villa Park. Sunderland beat Liverpool 2-0 at Anfield in an all-Second Division tie. Burnley needed a replay to overcome Brighton, drawing 3-3 at Brighton before winning 2-0 at Turf Moor. Leicester City had thrashed Bristol City 5-1. Birmingham City had beaten Rotherham 4-0. Barnsley needed a replay before beating Huddersfield, winning 1-0 after a 1-1 draw at Leeds Road. Stoke City required three matches to dispose of Aldershot, the first two games ending goal-less before Stoke won the second replay 3-0. Sheffield Wednesday were surprisingly held to a 1-1 draw at Hillsborough by Manchester United and then went to Old Trafford and thrashed Manchester United 7-2 in the replay.
In the day's only Division One match, Wolverhampton Wanderers beat West Bromwich Albion 4-2 at Molineux.
Spurs were marching on : what would February bring?


Pos           Pl   W  D  L   F   A  Pts
  1 Spurs     27  23  2  2  85  32  48
  2 Wolves    27  18  4  5  74  51  40
  3 Sheff Wed 26  14  8  4  50  30  36
  4 Burnley   27  16  2  9  75  50  34
  5 Everton   26  14  4  8  60  48  32
  6 A. Villa  26  13  4  9  56  52  30
  7 Arsenal   27  12  4 11  54  54  28
  8 Leicester 27  11  5 11  54  48  27
  9 West Ham  27  11  5 11  61  56  27
 10 Man Utd   26  11  4 11  52  51  26
 11 Blackburn 27  10  5 12  54  58  25
 12 Cardiff   26   9  7 11  37  46  25
 13 B'mingham 27  10  4 13  41  54  25
 14 Nottm Fst 27   9  5 13  42  55  23
 15 Fulham    27  10  3 14  50  69  23
 16 West Brom 27   9  4 15  44  55  22
 17 Chelsea   26   9  3 14  61  68  21
 18 Man City  25   8  5 12  51  63  21
 19 Bolton    26   8  5 13  39  50  21
 20 Newcastle 27   7  6 14  60  75  20
 21 Blackpool 25   6  4 15  43  54  16
 22 Preston   26   5  5 16  25  48  15