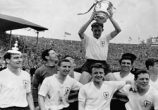 LEGEND NUMBER ONE IS INDUCTED TO THE SPURS HALL OF FAME - BILL NICHOLSON
Special thanks go to Bruce and Elaine Lewis for the photographs reproduced on this and other pages at Spurs Odyssey, that were taken at this event.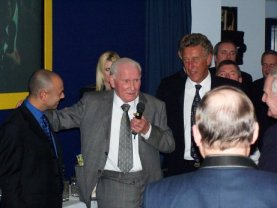 Truly, it was a memorable and affectionate tribute to the number one Spurs Legend, Bill Nicholson, when he was the first to be inducted into the newly established Spurs Hall of Fame on Thursday night 11th March, 2004.
Whites, in Paxton Road, Tottenham, was packed out with many contemporaries of the great man and his Double Team, but there were also plenty of younger faces, there to recognise the hero of generations at Tottenham, since Bill made his footballing debut in 1938. Mr. Nicholson, or Sir Bill, as we all hope to be able to address him soon, is, in the words of present-day Chairman Daniel Levy, the rock upon which Tottenham Hotspur Football Club is built.
Having assembled in the prestigious surroundings of the West Stand Boxholders' Lounge, we were guided down to Whites via the players' tunnel, and then walked pitchside to the venue, which adjoins the stadium and Paxton Road.
Master of Ceremonies John Motson introduced the line-up of great names that had played for Billy Nick from 1958, through to 1974. John Ryden, Tommy Harmer, Tony Marchi, Mel Hopkins, Peter Baker, Ron Henry, Maurice Norman, Dave Mackay, Cliff Jones, Bobby Smith, Les Allen, Terry Dyson, Terry Medwin, Eddie Clayton, Pat Jennings, Steve Perryman, Phil Beal, John Pratt, Peter Collins, Terry Naylor and Jimmy Neighbour were all given great ovations, before those present stood as one to give a fantastic reception to the man they had all come to glorify. Bill was escorted in by Martin Chivers, and clearly loved every minute of his evening.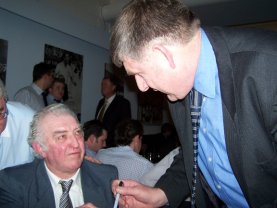 The only surviving member of the Double side not to make it was Bill Brown, who lives in Canada. Peter Baker travelled from his home in South Africa, as he had for the Double Reunion dinner that had been held in 2001.
Of all the heroes, I would say that Cliff Jones, Dave Mackay, Bobby Smith, Steve Perryman, and Pat Jennings got particularly loud receptions.
Apologies had been received from Jimmy Greaves, who no doubt will get his own induction in the next year or two, as the number of plaques in the main reception are set to increase by 4 a year to commemorate those inducted into the Hall of Fame.
During the lavish meal, video montages were shown on two big screens visible around the room, also used to show the action when people were interviewed, or when the presentations were made. Bill Nicholson could be seen loving every minute of the archive footage that rolled before our eyes, depicting Bill's playing days, then the teams that won the League Championship and FA Cup Double in 1960-61, the European Cup-Winners Cup in 1963, the FA Cup in 1962, and 1967, the UEFA Cup in 1972, and the League Cup in 1971 and 1973.
As John Motson pointed out, Spurs won the Double 10 years before Arsenal, 25 years before Liverpool, and 35 years before Manchester United. Motson discretely did not mention any repeats of this great achievement by one or two of the teams mentioned. David Pleat also pointed out that the Spurs Double was won on a "level-playing field" unlike the situation these days.
Dave Mackay, a very dapper Cliff Jones, Pat Jennings, Steve Perryman and Martin Chivers were all interviewed on stage to pay their glowing tributes to the great man. Dave Mackay described him as one of the top 6 managers of all time; Pat Jennings spoke about how Mr. Nicholson met him at Watford when he (Jennings) was just 18, insisting on being addressed as "Bill" and not "Mister". Steve Perryman spoke of the personal support and encouragement given by the manager, and also mentioned the number of foreign journalists and coaches that would visit the old Cheshunt training ground pre-season to get some tips. Martin Chivers alluded to his "difficulties" in getting on with Bill, mentioning getting a rollocking despite scoring two great goals in a match against Stoke City featuring Gordon Banks, but of course, to a man, they all had the greatest respect for their mentor.
Dave Mackay shared top table presence with Bill Nicholson, but the rest of the players were spread around the room, meeting the people at the various tables. Our table was graced with Terry Naylor, who, like anyone I have ever asked, had no idea of the whereabouts of the great Alan Gilzean.
Then came the moment when Bill Nicholson was formally presented with an inscribed crystal glass decanter, and despite his relevant frailty, insisted on giving thanks to his players and all of us present for maintaining the spirit of Tottenham. This standing ovation was accompanied by a rendition of "Glory, Glory, Alleluyah" and "For he's a jolly good fellow.
We then learnt that the late Danny Blanchflower and John White were to be inducted posthumously into the Hall of Fame, before those Double players present were also presented with their decanters.
Bobby Davro, an avid Spurs fan, introduced the auction and raffle, which raised some £8,000 for a local Tottenham in the Community Charity, providing a great line in gags as well.
Finally, came a chance to gain autographs from the stars around the room, although Mr. Nicholson was escorted out before this took place. The great thing about the players being spread around was that the queues were orderly, and everyone must have gone away happy with their plunder and the chance to have a conversation with a living legend.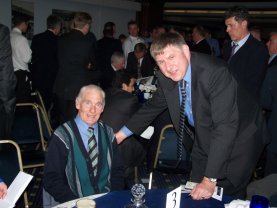 I personally especially enjoyed my chats with Dave Mackay, Ron Henry, Bobby Smith, Les Allen, Cliff Jones, Terry Medwin and Peter Baker, and brief words with "Big Chiv", "Big Pat", Phil Beal and "Stevie Perryman". The great thing about this generation of footballers is that they used to meet the punters in the pubs after a game, and still enjoy a friendly chat, whatever your status. It is hard to imagine many of the present-day stars doing the same in 40 years time. None of them were present on this occasion, and whilst they may not have been invited guests, if they really had Spurs in their hearts, wouldn't they want to be in such hallowed company?
It was a night that I did not want to end, and for that I thank the Star of the event and the honoured guests, but also the company on my table and others that I met on the night. I must also, of course, thank Tottenham Hotspur Football Club for all the memories and pleasure it has given me over the years, and for making me proud to be just a small part of the club we all adore.
Already, the club has announced during the Bill Nicholson event that the next inductee will be Keith Burkinshaw. This dinner will be held in May, and whilst I feel that such occasions should be spread more thinly to make them really special, it will be difficult to resist the urge to pay tribute to the second most successful Spurs manager of all time, along with the players of that time, which no doubt will include a certain Mr. Ardiles and Mr. Villa.