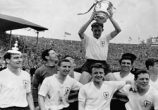 FIFTY YEARS AFTER
The Double Series was written by the eminent Brian Judson
March 1961
Spurs began their March 1961 programme by making the long trip north to Roker Park. Sunderland were then in the Second Division, a far cry from the days they had been nicknamed the Bank of England because they were able to make very expensive raids on the transfer market. Until their relegation at the end of the 1957-58 season, they were the only club who could claim unbroken membership of Division One since the 1890s.
Spurs were drawn away to Sunderland when the draw was made for the 6th Round of the FA Cup. They snatched the lead in the 10th minute when Cliff Jones headed a vital goal. Spurs wasted vital chances and arrogantly strutted about, much to Bill Nicholson's fury. Sunderland grabbed an equaliser four minutes after the break when a speculative shot from Willie McPheat went in off Stan Anderson's outstretched leg. The Sunderland fans went berserk and play was held up for several minutes. Spurs were then battered by the Roker Roar but Sunderland could not break through again and Spurs slinked back south, knowing they had enjoyed a monumental slice of luck.
With Tottenham, Sheffield Wednesday and Burnley all involved in Cup ties, only Wolves, who unexpectedly lost 5-2 at Blackpool, and Everton, who beat Fulham, 1-0, of the leading clubs had a League match that day. At the bottom of the table, Manchester City crashed at home in a re-arranged match against Manchester United, 3-1. and Preston lost 1-0 at Blackburn. Final score - Sunderland 1 Spurs 1. Attendance:- 61,236.
Four nights later, Spurs had their revenge. They slaughtered Sunderland 5-0 in the replay : it could have been even more! Les Allen put them ahead in the 27th minute after a centre from White took a deflection off Len Ashurst's boot. A minute later, Spurs were 2-0 ahead. White saw Jones unmarked on the left wing. The Welshman streaked away and Wakeham could only push his volleyed shot as far as the hovering Bobby Smith. Terry Dyson put Spurs 3-0 ahead seconds before half-time. Dyson headed the fourth of the evening after 65 minutes and Mackay rounded off the scoring with twenty minutes left.
There was one League match that night. Wolves beat Newcastle, 2-1, to get their challenge back on track and increasing Newcastle's problems at the bottom. Final score - Spurs 5 Sunderland 0. Attendance:- 64,797.
The following Saturday, Spurs travelled to Cardiff, where they crashed 3-2. They were twice in front but were rocked by a tremendous Cardiff effort in the second half. Dyson put Spurs ahead in the 3rd minute. Hogg equalised seven minutes later. Les Allen regained the lead before half-time but goals by Walsh and Tapscott put Cardiff ahead. Spurs laid siege to the Cardiff goal for the last twenty minutes but could not score. This was the first time Cardiff had ever beaten Spurs at Ninian Park. It was one of the biggest shocks of the whole season.
Sheffield Wednesday and Wolves failed to take advantage of Tottenham's defeat, by playing out a goal-less draw. Burnley also slipped further behind by drawing 4-4 with Chelsea at Turf Moor. Everton lost further ground by crashing 2-1 to Manchester City, at Maine Road. Preston sprung a surprise by thrashing West Ham 4-0 to climb off the bottom of the table. Blackpool slipped back to the bottom after drawing 0-0 with Nottingham Forest. Fulham and Bolton drew 2-2 and Manchester United and Newcastle drew 1-1 to increase the problems of Fulham, Bolton and Newcastle at the foot of the table.
In midweek, Sheffield Wednesday won 1-0 at Blackpool, to reduce Spurs' lead at the top of the table to a mere six points. Moreover, the Owls were now free to concentrate on the League as Burnley had eliminated them from the FA Cup. Final score - Cardiff 3 Spurs 2. Attendance:- 45,463.
On March 18th, Spurs took time off from the League again, this time to play Burnley at Villa Park, in the FA Cup Semi-Final. It was a disappointing match as there was far too much tension. Burnley were probably feeling the effects of their Quarter Final tie against Hamburg in the European Cup. They had been beaten 4-1 in the second leg of their tie three nights before. It came as no surprise when Bobby Smith hammered Spurs ahead after 30 minutes. Burnley were denied an equaliser when Jimmy Robson headed the ball into the Spurs net as the referee decided Robson had fouled Norman before heading the ball. Smith then added a second three minutes after the break when his shot deceived Blacklaw in goal. Cliff Jones scored the third late in the match. They had won through to the Cup Final for the first time since Jimmy Dimmock's goal had beaten Wolves at Stamford Bridge in April 1921! Final score - Spurs 3 Burnley 0. Attendance:- 69,968.
The other semi-final required three matches before Leicester City eliminated Sheffield United in a second replay at Birmingham. Leicester finally broke the deadlock to win 2-0 after two goal-less draws.
In the League, Sheffield Wednesday beat Bolton Wanderers, 1-0, to reduce Spurs' lead to 4 points. Wolves thrashed Birmingham City 5-1 to keep up their challenge. Everton remained in 5th place after beating Nottingham Forest, 1-0. A reduced League programme saw Blackburn beat Manchester City 4-1 and Chelsea draw with Preston 1-1 to increase City's, Chelsea's and Preston's worries at the bottom of the table. Fulham, however, reduced their concerns by beating West Ham, 2-1, at Upton Park.
Four nights later, Spurs unexpectedly lost at home to relegation haunted Newcastle United. They had so many chances they should have scored 20 against Newcastle. It was one way traffic! Amazingly, Dave Hollins, John's elder brother, was making his debut for Newcastle that night. Les Allen did manage to put Spurs ahead just before half-time. But despite the one way traffic, it was Newcastle who snatched an improbable victory by equalising in the 64th minute when Ivor Allchurch scored and then going ahead when Scanlon scored in the 77th minute.
The other midweek games that week had few implications at both ends of the table. Burnley's hopes had disappeared in a huge backlog of fixtures because of their involvement in Europe and the FA Cup and their hopes virtually died after a goal-less draw with Blackpool. Everton's chances were also extinguished following a 1-2 home defeat by Aston Villa. Final score - Spurs 1 Newcastle 2. Attendance:- 46,470.
Spurs then travelled to Craven Cottage for their away game with Fulham. Memories were being revived concerning the previous season when Spurs had dropped vital points over Easter and conceded the title to Burnley. Were Spurs going to make the same mistakes all over again? It certainly looked like that as Spurs fumbled their way to a goal-less draw. Bill Nicholson conceded after the match that Spurs were not playing very well at all. Johnny Haynes missed two chances to win the match for Fulham.
Whilst Spurs were dropping a point at Fulham, Sheffield Wednesday thrashed Manchester United 5-1 to reduce Spurs' lead to three points. Bill Nicholson was incandescent with fury as Spurs threw away chance after chance and did not mince his words when he spoke to the media. "We've become lazy!" he said. Wolves, the only other realistic challengers for the title, drew 1-1 at Nottingham Forest. The situation at the bottom of the table was tense with only six points covering the bottom twelve clubs, the bottom three being Newcastle, Blackpool and Preston after the day's matches. Final score - Fulham 0 Spurs 0. Attendance:- 38,536.
Chelsea came to Tottenham on Good Friday for the first of their Easter matches. Spurs won 4-2 but the score-line does not reflect their superiority. A large crowd of 65,000 spectators saw Cliff Jones hit two goals, and Allen and Saul, who replaced the injured Bobby Smith, score one apiece. Tony Marchi made a rare appearance for Spurs and completely shut Jimmy Greaves out of the game. Brabrook scored with eight minutes to go to reduce the arrears and Tindall notched a second in injury time.
Spurs had returned to form in the nick of time! A crucial month lay ahead of them as the season approached its climax.
Elsewhere, Sheffield Wednesday maintained the pressure on Spurs by winning 1-0 at Newcastle, thereby increasing the problems of the Magpies. Wolves had no game on Good Friday. The situation at the bottom of the table was quite tense as a glance at the table accompanying this review shows. Of the clubs at the bottom, Preston won 3-2 at Maine Road to beat Manchester City. It was going to be a tense Easter for most of the clubs at the bottom of the table. Final score - Spurs 4 Chelsea 2. Attendance:- 65,032.

Pos            Pl   W   D   L   F   A  Pts
  1 Spurs      35   26  4   5  98   44  56
  2 Sheff Wed  35   22  9   4  69   35  53    
  3 Wolves     36   21  7   8  90   66  49
  4 Burnley    34   18  6  10  89   61  42
  5 Everton    36   17  5  14  69   62  39
  6 Blackburn  36   14  9  13  68   66  37
  7 A. Villa   34   14  8  12  65   63  36
  8 Arsenal    36   13 10  13  68   70  36 
  9 Leicester  33   14  6  13  65   56  34
 10 Cardiff    35   13  8  14  52   64  34
 11 Man United 35   13  7  15  65   68  33
 12 Birmingham 35   13  6  16  55   69  33
 13 West Ham   36   13  6  17  71   75  32
 14 West Brom  36   14  4  18  57   66  32
 15 Chelsea    35   12  7  16  82   85  31
 16 Nottm F'st 35   12  7  16  50   65  31   
 17 Fulham     36   12  6  18  61   83  30
 18 Bolton     34   10  8  16  49   60  28
 19 Blackpool  35   10  7  18  60   64  27
 20 Man City   34   10  7  17  64   81  27
 21 Preston    35   10  7  18  38   57  27
 22 Newcastle  36    9  8  19  75   98  26

Cheers, Brian