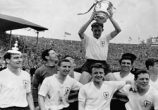 FIFTY YEARS AFTER
October 1960
The Double Series was written by the eminent Brian Judson
October began with a bang. Tottenham travelled to Molineux to play Wolves, who were probably the best team of the middle 1950s after the Busby Babes of Manchester United. But with the disaster of Munich in February 1958, Wolves were more or less unchallenged. They had been champions in 1957-58 and 1958-59 and foiled of the Double in 1959-60 because Burnley pipped them to the title. So the fact that Spurs crushed Wolves 4-0 at Molineux was a big shock even allowing for the solid start to the season that Spurs had made.
The first goal was scored by Cliff Jones in the 32nd minute. Les Allen crept up the bye-line and crossed the ball to Jones, who only had to turn the ball into an empty net.
The second goal was scored by Danny Blanchflower in the 44th minute. Blanchflower picked up a loose ball in midfield some 30 yards from goal but could find no one free to pass to. He veered to the right and unleashed a terrific shot that Geoff Sidebottom, the Wolves goalkeeper, could do nothing to stop flying into his goal.
The third goal was scored by Les Allen in the 52nd minute. White had drifted out to the wing and Allen was left with a simple chance to tap the ball home.
The fourth goal was scored by Terry Dyson in the 79th minute.
Spurs could have had more goals as a shot from Bobby Smith struck an upright and Terry Dyson could have scored three more goals.
By the end of the match, the Wolves fans had long since left the ground as they could not bear to see Wolves dominated so much by the visitors.
Stan Cullis was quoted after the game as saying, "Spurs are the finest club team I've ever seen in the Football League. The present lot are better than the great side of ten years ago." (Final score:- Wolves 0 Spurs 4 - Attendance:- 52,829)
Elsewhere, Sheffield Wednesday maintained the pressure by winning 2-1 at Nottingham Forest to remain in second place, three points behind Spurs. Everton were third following a 3-3 draw at Chelsea whilst Burnley were 4th, having crushed Fulham 5-0 at Turf Moor. Blackburn lost ground following a 3-2 defeat at West Ham.
Blackpool were bottom, having lost 1-0 at Preston. Above them were Nottingham Forest. Bolton were 20th and Manchester United 19th after drawing 1-1 at Burnden Park. WBA were 18th after losing 1-0 at Highbury.
The following weekend three games were postponed. These were Chelsea v Sheffield Wednesday, Manchester United v Nottingham Forest and Spurs v Manchester City.
With the leaders out of action, Burnley won 4-1 at Blackburn Rovers to climb to 3rd place, three points adrift of Sheffield Wednesday and seven of Tottenham. Everton slipped to 4th after Preston had held them to a goal-less draw at Goodison Park. Wolves drew 2-2 against Cardiff to climb into 5th place.
At the bottom, Blackpool lost at home to Fulham, 2-5, to remain 22nd. The other positions remained unchanged as Manchester United and Nottingham Forest did not play and Bolton lost at home to WBA.
On the Monday, Spurs played Manchester City. Spurs were on top form in the first half and threatened to run riot against the visitors. Smith had headed Spurs ahead in the 27th minute. But in the second half, City equalised against the run of play. Betts prodded a long pass down the centre, Hannah headed it back to Hayes. A quick pass saw Hayes put Colbridge clear and ram the ball home. But Spurs protested that Colbridge had handled the ball to bring it under control before scoring. The referee, Mr Pullin, was having none of that and pointed firmly to the centre circle.
Spurs worked hard in the remainder of the match to regain the lead. But Bert Trautmann, the former German PoW, pulled off so many brilliant saves that Spurs probably became a little frustrated. Colbridge nearly provided a winner for City with ten minutes to go by laying on a great chance for Barlow, who skied the ball over the bar.
To show how one-sided the match was Spurs had 39 shots compared to City's 9 and 14 corners against City's 2. Thus City ended Spurs record winning run of games. Final score:- Spurs 1 Man City 1 - Attendance:- 58,916)
The following weekend, Spurs trounced Nottingham Forest 4-0. The hosts didn't have a clue how to contain rampant Tottenham. White scored the first goal after 7 minutes when Allen and Dyson swapped passes to lay on the opportunity for White to score. Mackay scored the second twelve minutes later when a centre was deflected into his own goal by McKinlay. The third goal was scored after 24 minutes when Smith and goalkeeper Thomson both went up to challenge for a centre from White. The ball ran loose to Cliff Jones, who made no mistake.
The fourth goal came in the second half when Spurs were demonstrating their complete arrogance. Forest were running around like headless chickens by this time. Mackay prodded the ball forward and took a quick look round. He saw Jones well placed and chipped the ball in the direction of the Welshman. The Forest defence was so spread eagled that it looked as if Jones could have gone for a walk and still had time to score on his return. Forest were so poor that Brown only had one save to make in the whole of the match. (Final score Nottm Forest 0 Spurs 4 - Attendance:- 37,248)
Elsewhere, Sheffield Wednesday maintained the pressure on Spurs by thrashing Blackpool 4-0. Burnley remained in third place after beating Manchester United 5-3. Everton were fourth after winning 3-2 at Fulham. Manchester City climbed to 5th place after beating Leicester 3-1 at Maine Road.
Blackpool remained bottom with Nottingham Forest in 21st position. Manchester United dropped to 20th whilst Bolton moved up one place to 19th as a result of their 1-0 win over Cardiff, who dropped to 18th.
Because of international calls for the Wales -v- Scotland game, Spurs had no match the following Saturday. Sheffield Wednesday failed to take advantage of Tottenham's inactivity and lost their first game of the season at Molineux, where Wolves beat them 4-1, which enabled Wolves to climb to 5th. Burnley went to Chelsea and thrashed them 6-2 at Stamford Bridge to remain third. Everton's match against Manchester City was postponed from the Saturday and played on the Monday night. The Toffees won 4-2 to remain 4th.
At the other end of the table, Nottingham Forest played twice in three days. On the Saturday, they were thrashed 4-0 by Blackpool, at Bloomfield Road, which enabled the Seasiders to climb off the bottom and dump Forest there. On the Monday night, Manchester United beat Nottingham Forest, 2-1, in a match postponed from October 8th. This was the Reds second victory as they had beaten Newcastle, 3-2, at Old Trafford two days earlier. Bolton dropped to 20th after losing 0-3 at home to Fulham and Cardiff dropped to 19th as they were due to play Tottenham but the game was postponed.
On October 29th, Spurs made the long journey to the north-east to play Newcastle. Newcastle led 2-1 at half-time but Spurs ran out 4-3 winners, only securing the win with four minutes to go.
Len White, the Newcastle centre-forward, put Newcastle ahead in the 33rd minute. He took a pass from Ivor Allchurch and beat three Spurs defenders to score. Two minutes later, Spurs were level when 'keeper Harvey failed to cut out a Dyson cross and Norman nodded the ball home. A minute later, Newcastle were back in front when Norman miskicked the ball and Len White pounced to force the ball home.
In the second half, Harvey could only push out a back pass to White for the Scot to slot home. Spurs took the lead in the 58th minute when Jones netted the ball from a suspiciously looking offside position. Four minutes later, Brown made a rare mistake when he totally misjudged a cross from Hughes and was stunned to see it drop into the goal behind him. Then came Smith's winner from a cross by Allen with just four minutes to go. (Final score Newcastle 3 Spurs 4 - Attendance:- 51,369)
On the following Wednesday (November 2nd), Spurs played the postponed match against Cardiff City. Spurs did not play at all well for much of the game and were considered to be very lucky they had won the match. They fell behind to a 20th minute goal by Donnelly, who came down the middle, unmarked, to beat the advancing Brown. Tottenham were over elaborate in attacking which played into the hands of the Cardiff defenders. Spurs equalised in the 35th minute when Medwin took a quick throw on the left, Mackay's centre was so precise that Dyson only had to twist his head to deflect the ball home. Just before half-time, Spurs went ahead. Allen ran past three defenders, moved down the right wing, and prodded the ball to Medwin, who time his run to perfection to score.
In the second half, Tottenham were so far ahead in terms of skill they were queueing up to take pot shots at the Cardiff goalkeeper but they wasted most of their chances. Then Spurs were awarded a controversial penalty that enraged the Cardiff players. Mr Tuck, the referee, awarded a penalty on the grounds that Gammon had handled the ball. Cardiff swarmed round the referee in protest but they were waved aside. Blanchflower calmly waited for the fuss to die down and then slammed the ball high into the net. But five minutes from time, Cardiff pulled the deficit back to 3-2 when Donnelly flung himself at Tapscott's centre to head the ball home. (Final score - Cardiff 2 Spurs 3 - Attendance:- 47,605)
Sheffield Wednesday regained winning ways by beating Bolton Wanderers, 2-0, at Hillsborough. They were now 4 points behind Tottenham. Everton beat bottom club Nottingham Forest, 2-1, at the City Ground, to climb to third place. Burnley had a shock home defeat against Blackpool, 1-2, which forced Burnley further off the pace, dropping to 4th. Wolves' 2-1 victory away to Birmingham enabled them to climb back to 5th.
The teams at the bottom of the table were beginning to fall behind. Nottingham Forest, 22nd, were two points behind Blackpool (21st) and Bolton (20th) and four points behind Manchester United (19th), who had lost 2-1 at Highbury against Arsenal.

Pos               Pl   W  D   L   For-Ag   Pts
  1 Spurs         14  13  1   0   45-15    27
  2 Sheff Wed     14  10  3   1   26-11    23
  3 Everton       15  10  2   3   37-24    22
  4 Burnley       15  10  0   5   41-23    20
  5 Wolves        15   8  4   3   32-26    20
  6 Man City      14   7  4   3   31-24    18
  7 Fulham        15   8  2   5   33-34    18
  8 Arsenal       15   8  1   6   25-17    17
  9 A. Villa      15   8  1   6   34-35    17
 10 West Ham      15   6  2   7   32-34    14
 11 Blackburn     15   6  2   7   30-34    14
 12 Leicester     15   5  3   7   26-28    13
 13 Chelsea       14   5  2   7   32-35    12
 14 B'mingham     15   5  2   8   24-29    12
 15 Preston       15   5  2   8   18-27    12
 16 West Brom     15   5  1   9   25-26    11
 17 Newcastle     15   5  1   9   34-41    11
 18 Cardiff       13   4  3   7   16-25    11
 19 Man United    14   4  2   8   26-32    10
 20 Bolton        15   3  2  10   17-29     8
 21 Blackpool     15   3  2  10   21-35     8
 22 Nott'm Forest 15   2  2  11   16-35     6

Cheers, Brian