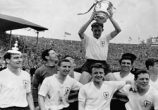 FIFTY YEARS AFTER
September 1960

The Double Series was written by the eminent Brian Judson
As August gave way to September, football wondered how long Spurs could continue their undefeated march to glory. Manchester United were the first visitors to White Hart Lane that month. They were still rebuilding after the tragic air crash at Munich in February 1958. Not surprisingly, they were struggling at the foot of the championship.
It took Spurs only five minutes to go ahead. Maurice Setters tried to play a square pass across his own goal mouth but White intercepted the ball to set up Smith, who easily scored. In the 19th minute, following a long spell of hammering at the Lancastrians' defence, Spurs were 2-0 ahead. White sent Allen away. He jinked past two United defenders before slotting the ball home.
Violett took advantage of a rare Spurs mistake to reduce the arrears but in the 69th minute, White again set up Allen for the latter to head home. Five minutes from the end, Smith crashed home the fourth from a Medwin pass. (Final score:- Spurs 4 Man Utd 1 - Attendance:- 55,442)
Elsewhere, Sheffield Wednesday kept up their pursuit with a 1-0 victory over West Ham. Wolves beat Blackpool 1-0 to also keep in contact. Blackburn were in fourth place after winning 4-2 at Leicester City.
At the bottom of the table, West Bromwich Albion lost their fifth game of the season, away to Preston North End, 2-1. Nottingham Forest, who lost at home to Newcastle United, 2-0, and Manchester United were the clubs immediately above them in the table.
In midweek, Spurs made the long journey north to Burnden Park to play Bolton Wanderers. The Trotters had got off to a poor start to the season. But they gave Spurs an almighty shock when the Trotters snatched the lead early on. They went ahead after only 3 minutes after Holden had set up McAdams to score. Freddy Hill, later to play for Manchester City, tore Spurs apart and Mackay never really subdued him.
Bolton could have added to their lead. Parry hit the bar. Hill shot wide. McAdams forced Brown to save and then blasted the rebound over the bar with Brown helpless.
But slowly Spurs rode the storm. With Frank Saul, only 17, making his debut in place of the injured Smith, Spurs slowly pushed Bolton back. Then at a crucial moment of the game, Banks, a vital defender for Bolton, tore his right thigh and had to be carried off. Ten-men Bolton were no match for Tottenham.
Five minutes after Banks had been carried off, White floated the ball over, Hopkinson, their small 'keeper, failed to cut it out, and Allen headed the ball home.
There, the score stayed until 10 minutes from time. Blanchflower chipped a centre in and White hooked the ball home, half-turning as he did so.(Final score:- Bolton 1 - Spurs 2 - Attendance:- 41,565)
Elsewhere, Sheffield Wednesday dropped a point at Maine Road, where they drew 1-1 with Manchester City. As a result, Wolves' 3-2 home win over Leicester City enabled them to reclaim second place. Arsenal's 2-0 home win over Birmingham City pushed them up to 4th place.
At the bottom, West Bromwich Albion recorded their first victory of the season, thrashing Newcastle United, 6-0. Nottingham Forest did not have a game that week and dropped into bottom position with Manchester United in 21st position, after losing 2-1 at West Ham.
Spurs then travelled to Highbury for the derby with Arsenal. 59,868 spectators crammed into Highbury with many locked out. It was a real humdinger of a game.
Arsenal had the first chance of the game and wasted it. Danny Clapton should have scored early on. Then a Peter Kane header was cleared off the line. But Spurs went ahead after 12 minutes. The ball bounced nicely for young Frank Saul, who crashed home his first ever League goal.
Eleven minutes later, Spurs were 2-0 ahead. Mackay took a long throw-in, Saul headed the ball on and Dyson outjumped everyone else to head the ball home.
Arsenal pulled a goal back in the 61st minute. Clapton took a corner, Herd punted the ball hopefully in the direction of the Spurs goal and was overjoyed when the ball clipped a post and slipped in behind Brown.
Four minutes later, Arsenal were level. Gerry Ward unleashed a long range shot from 35 yards that Brown probably did not see until the last moment.
But Spurs finally killed the game off seven minutes later. Blanchflower split the Arsenal defence and Allen had all the time in the world to slip the ball home.
After the match, the postmortem suggested that Arsenal should not have preferred Danny Clapton to Alan Skirton. It was felt that Skirton might have been more direct and might have given Tottenham more problems when they took their foot off the pedal to allow Arsenal back into the game.
This victory was the first occasion on which a team had recorded seven straight wins from the start of the season. It was the first of many records Spurs would be re-writing during the course of the season.(Final score:- Arsenal 2 - Spurs 3 - Attendance:- 59,868)
Spurs now had a two point lead at the top of the table as Wolves crashed 3-1 at Everton, dropping to 3rd place. Sheffield Wednesday won 2-0 against Fulham to reclaim second place. Manchester City moved up to fourth place, winning 3-1 at Newcastle. Blackburn Rovers remained in touch by beating Aston Villa, 4-1, and Burnley, the defending champions, won 2-0 at West Bromwich Albion, who slumped back to the bottom of the table. Manchester United, who drew 1-1 at home to Leicester, were in 21st position and Blackpool, who lost 1-0 at home to Bolton Wanderers in an match shown on TV live as an experiment.
The following Wednesday saw Spurs beat Bolton Wanderers in the return game at Tottenham. Bolton took the lead after only seven minutes when McAdams gave the visitors the lead. But Spurs did not panic and equalised in the 24th minute. Cliff Jones, Blanchflower and Smith took Bolton apart to leave Smith with the simplest of chances to clip the ball home.
Bolton often threatened to regain the lead but the turning point of a match that sometimes threatened to boil over came in the 65th minute. A penalty was awarded to Tottenham on the dubious grounds that Dyson was pushed in the back at the height of a raid that saw Allen fire wide. Blanchflower made no mistake from the spot.
After that, Bolton played as if they had an enormous chip on their shoulder as they were entitled to feel. Birch, their right winger, was twice booked in 10 hectic bad-tempered minutes and Hopkinson, their England international goalkeeper, twice refused to take goal-kicks.
Bolton eventually conceded a third goal five minutes from the end when Smith forced the ball home.(Final score:- Spurs 3 Bolton 1 - Attendance:- 43,559)
Elsewhere, Sheffield Wednesday beat Manchester City at Hillsborough, 3-1, to keep the pressure on Tottenham. But Wolves fell further behind by losing 2-0 at Leicester City, trailing the Owls by three points and five behind Tottenham. Burnley won 3-2 at Preston and Everton beat Blackpool at Goodison Park.
At the bottom of the table,West Bromwich Albion crashed again, 3-2, at Newcastle United. They were one point behind Blackpool, who were now 21st, and two behind Nottingham Forest, who had lost 1-0 at Fulham.
Three days later, Spurs travelled to Filbert Street to play Leicester City. Smith put them ahead in the 18th minute but Leicester equalised shortly afterwards when Riley's drive shot through a forest of legs past the unsighted Brown. Smith regained the lead for Tottenham in the 54th minute and thereafter Spurs were never troubled by Leicester.(Final score:- Leicester 1 - Spurs 2 - Attendance:- 30,129)
Sheffield Wednesday drew 2-2 at Deepdale with Preston to fall further behind Tottenham. Burnley made up some ground by beating Birmingham City at home, 2-1. Everton won a seven goal thriller at Burnden Park to increase Bolton's problems at the bottom of the table. Wolves and Blackburn both lost ground by drawing 0-0 at Molineux.
At the bottom of the table, Nottingham Forest crashed 2-1 at home to West Bromwich Albion. Blackpool drew 3-3 at Upton Park but Manchester United crashed 3-1 at Villa Park.
There were two midweek games. Blackburn Rovers beat Chelsea 3-1 at Ewood Park on the Monday night and Nottingham Forest beat Fulham 4-2 to climb off the bottom of the table.
The last Saturday of September 1960 saw Spurs thrash Aston Villa 6-2. A 61,356 crowded White Hart Lane saw Spurs have little trouble in disposing of the Midland side. Spurs went ahead as early as the 6th minute. Baker's pass found Blanchflower. The Irishman pushed the ball on to Cliff Jones. Jones roared past Winton and centred. Winton headed the ball out to White who volleyed the ball home.
Eight minutes later, White floated a curling ball over for Smith to distract 'keeper Sims and White's ball dropped behind Sims to make it 2-0. Smith scored the third goal in the 27th minute after Sims had failed to hold a stinging shot from Dave Mackay. After 30 minutes Spurs were 4-0 ahead. White's pass found an unmarked Dyson who had all the time in the world to score.
Soon after half-time, Spurs were 5-0 ahead. Dyson and White swapped passes to provide Allen with a simple chance to score. After that, Spurs eased up, which did not please manager Nicholson. MacEwan, the best of the Villa players, reduced the arrears and then Hitchens headed home a MacEwan cross to make the score 5-2.
Five minutes from the end saw the best goal of the afternoon. Ron Henry slipped down the wing, the ball went to Mackay, then to Allen. The ball went back to Dyson and as Dyson shaped to shoot, Mackay bellowed for the ball and without bothering to kill the ball, volleyed it into the net.(Final score:- Spurs 6 - Aston Villa 2 - Attendance:- 61,356)
The win left Spurs three points ahead of Sheffield Wednesday, who won 3-1 against the champions, Burnley. Everton were now in third place, having thrashed West Ham, 4-1, at Goodison Park. Wolves climbed back to 4th place on the back of a 3-1 win at Old Trafford.Blackburn's 3-1 win at Ewood Park against Bolton left them in 5th place.
At the bottom, Blackpool had been thrashed at home by Chelsea, 4-1. Bolton's defeat at Blackburn had pushed them down to 21st and Manchester United were 20th.
Arsenal lost 1-0 at Ninian Park and were in 11th place.
Spurs were nicely set up for a strenuous October when they would be playing Wolves, away, Manchester City, home, Nottingham Forest, away, and Newcastle United, away.

Pos                Pl    W   D    L   F    A  Pts
 1 Spurs	   10   10   0    0  32   11  20
 2 Sheff Wed	   10    7   3    0  17    6  17    
 3 Everton         10    7   0    3  25   16  14
 4 Wolves          10    6   2    2  20   14  14
 5 Blackburn       10    6   2    2  25   17  14
 6 Fulham          10    6   1    3  22   23  13
 7 Burnley         10    6   0    4  20   15  12
 8 Man City         9    4   3    2  19   17  11
 9 Aston Villa     10    5   1    4  22   28  11
10 Birmingham      10    4   2    4  16   15  10
11 Arsenal         10    4   1    5  15   11   9 
12 Chelsea         10    4   1    5  25   25   9
13 Leicester       10    3   2    5  17   19   8
14 Cardiff         10    3   2    5  12   16   8
15 Newcastle       10    4   0    6  20   28   8
16 West Ham        10    3   1    6  19   25   7
17 Preston N.E     10    3   1    6  13   20   7
18 West Brom       10    3   0    7  21   21   6
19 Nottm Forest    10    2   2    6  13   21   6   
20 Man United       9    2   1    6  16   21   5
21 Bolton          10    2   1    7  15   22   5
22 Blackpool       10    1   2    7  13   24   4