SATURDAY MARCH 11TH, 1995
FA CUP 6TH ROUND
LIVERPOOL 1 (1) TOTTENHAM HOTSPUR 2 (1)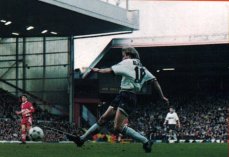 This article was written in 2001
On this day in 1995, Spurs enjoyed one of their most momentous FA Cup quarter-final victories, with a memorable win at Anfield. The away contingent was at least 5,000 strong, and despite my efforts, I had failed to get a ticket from Tottenham. I did however manage to obtain three tickets in the Centenary stand, direct from Liverpool. I also lived to tell the tale of how two excellent goals from revered forwards Teddy Sheringham and Jurgen Klinsmann made Robbie Fowler's opener just a memory.
I have two sons. One of them supports Liverpool, and the younger is, like me a Spurs stalwart. I suppose having one lad in a Liverpool scarf gave me safe passage throughout proceedings, but the rivalry up there IS different. We sat next to an Evertonian, whose mate was a scouser, and the two of them rose in unison when Walters burst into the area (past Barmby for one) and lifted a short cross to Robbie Fowler to head home. As I said to my neighbours, there is no way on earth you will ever see me cheer a goal by our dreaded enemy!
I had struggled to reach the ground on time, as many of us were held up through road works on the M6. Hence I missed the build up, and during the first part of the game, watched with some trepidation, as Walters regularly waltzed down the left flank, to trouble our defence.
The Spurs team was:- Walker; Austin, Mabbutt, Calderwood, Edinburgh; Anderton, Howells, Barmby, Rosenthal; Sheringham, Klinsmann, with Thorstvedt, Nethercott, and Darren Caskey being unused subs. Sol Campbell was absent due to a hamstring injury.
For Liverpool the focus was on Ian Rush, who had equalled Denis Law's FA Cup scoring record of 41 goals in the 5th Round replay at Selhurst Park against Wimbledon.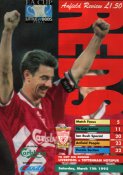 As we all know, Rush would have to wait another year to break that record. The Liverpool side was :- James; Jones, Babb, Ruddock, Scales; Walters (Bjornebye 72), Redknapp, Barnes (Thomas 72), McManaman; Rush, Fowler. Sub not used: Warner.

Roy Evans was the Liverpool manager, and of course Gerry Francis was in charge of the Spurs side. Glancing through the programme, Oyvind Leonhardsen and Chris Perry could be seen in Wimbledon colours. Leo would come to Spurs via Liverpool, whilst Perry would make the trip directly. Ronnie Rosenthal was fondly welcomed to Anfield, and the programme reported that Spurs had signed Nicky Barmby on a long term contract. Fat lot of good that did, eh? Terry McDermott remembered scoring the only goal in the previous quarter-final match between the two sides, when Ossie Ardiles gifted the ball to him, instead of making a safe clearance, in 1980, at White Hart Lane.

In weather conditions very similar to the present climate, and on a fairly heavy pitch, the two sides had competed well in the first half. Klinsmann brought an excellent save from James in the early stages, before Fowler had given the Kop the lead to chant about.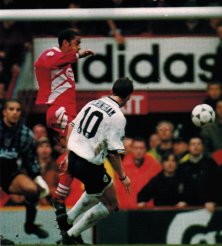 Spurs had the last laugh though, and they silenced the Kop, as Jurgen fed Teddy Sheringham for that magnificent right foot curling shot just before half-time, and then Teddy repaid the compliment with 90 seconds to go, as he flicked to Jurgen who danced into the 6 yard box and lifted the ball over James and into the net.

The celebrations were loud and prolonged! I had to be ushered out of the ground, as I swung my scarf around and tried to join in with the Spurs army. Remember, this was the year when we had been banned from the cup, and we were beginning to believe that our names were on the trophy. (I shall not dwell on the gloom of Elland Road to follow) Liverpool were consoled by the knowledge of a forthcoming Wembley appearance in the League Cup (then sponsored by Coca-Cola), so maybe that's why some of their fans were happy to applaud Klinsmann, and to congratulate me on the way out of the ground.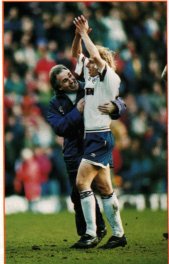 Truly, this was one of my fondest Spurs memories. I only hope to experience similar emotions this Sunday when we play at Upton Park in another enthralling quarter-final tie.
· Here is a nice account of the game, written in 2019.
Other results on this day over the last 40 years were:-

'66-'67  H v Bristol City  W 2-0  (FAC R5)
'69-'70  H v Everton       L 0-1  (Lge)
'71-'72  H v Derby         L 0-1  (Lge)
'77-'78  H v Charlton      W 2-1  (Lge)
'79-'80  A v Nottm For     L 0-4  (Lge)
'80-'81  H v Stoke         D 2-2  (Lge)
'88-'89  A v Derby         D 2-2  (Lge)
'91-'92  A v Luton         D 0-0  (Lge)
'99-'00  H v S'hampton     W 7-2  (Lge)