No way are Spurs a one-man team
After the game last Saturday, I bumped into a couple of Newcastle fans who, like me, were having a drink before jumping on a train to go back north. No doubt feeling somewhat bitter and twisted, one of them suggested that Spurs were a one-man team. No doubt this comment was inspired by some of the media, written, and broadcast on the radio or television. As I wrote in my match report, all the post match headlines would be about Gareth Bale, and indeed so was the punditry on Match of the Day and any other football news or highlights programme you cared to watch.
Of course Bale was man of the match, by a country mile, and with a fantastic score of 9.1 out of 10, as voted by some 250 readers this week. That makes his fourth consecutive MOTM vote, and consecutive high votes have carried him ahead of his contenders for Spurs Odyssey's Player of the Season vote.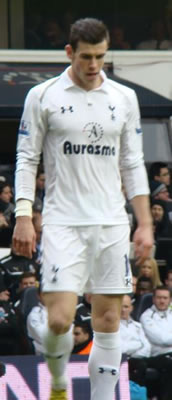 Bale is in great form, but not necessarily yet at the peak of his powers, or the form of his life. The way some people go on, you'd think his passage to one of the top teams in Europa is guaranteed this summer.
I'd contend that Spurs are no more a one-man team than were Newcastle when Alan Shearer was banging in all those goals week-in, week-out; Manchester United when Ronaldo was sparkling for them, or even Van Persie now for United, or when he was down the road. Similarly, Arsenal were not a one-man team when Thierry Henry was their man of the moment.
Even Barcelona are no one man team, despite the overpowering scoring record of Lionel Messi. They've got eleven great players every game. That Iniesta isn't bad, is he?
The term one-man team is at best a misnomer, and at worst an insult to the players that support whoever happens to play the starring role in any team's performance. Of course Bale is a great player; a joy to watch; a great goal-scorer, and simply a great player for Spurs, but he has had his off-days this season, and I remember him being subject to some expert punditry by Gary Neville early in the season, when he identified Bale's failure or weakness when it comes to tracking back, and supporting his defence. Did you notice that it was Clint Dempsey, who had tracked back to support the defence, that played the longish clearance from which Bale ultimately profited, when Adebayor challenged Taylor, and Bale nicked the ball off the feet of Coloccini?
Dempsey and Adebayor. There are two players hardly loved at the moment by the Spurs faithful, but they both played a part in Gareth's second goal. It was Dempsey who was fouled for the early free kick from which Bale scored too. Adebayor's contribution may have been indirect and circumstantial, but without the help of these "lesser" players, Bale would not have secured the win for Spurs.
In the context of the match, one could refer to Hugo Lloris's great save to prevent Ameobi levelling the scores late in the game; to Michael Dawson's inspiration and leadership; or to Parker's industry in the engine room of the Spurs team.
In the context of the season, virtually every other playing member of the Spurs squad can be credited with playing an important part in Spurs success so far, and their ongoing challenge for more Champions League football. Jermain Defoe, who Bale has just overtaken in the Spurs scoring records for the season, is one of those players. I could again nominate Lloris, or add Sandro, Lennon, Vertonghen and others to the list.
Every player has his price at which a club decides that the money is too good to turn down. Ronaldo did for United, and it's no use us saying that Bale does not have his price for Daniel Levy. Mind you, we should be re-assured that Levy will put a high price on the sale of a player, who is still on contract with Spurs until 30th June 2016.
David Ginola made a good point on Sky after Saturday's game, in which he said that the Spurs team plays to Gareth Bale, whereas if he went to one of the big teams on the Continent (and would he be at home there, I wonder), Bale would be just a single part of the whole framework of the team.
If Bale was sold, then at least we could afford a couple of decent strikers, eh?
Anyway, let's not concern ourselves with such a prospect. Let's carry on enjoying Bale, and the team around him, but don't let me hear any more rubbish remarks about Spurs being a one-man team.
· This week's spursometer in full

Results 09-11.02.13

Spurs      2-1   Newcastle
Chelsea    4-1   Wigan
Norwich    0-0   Fulham
Stoke      2-1   Reading
S'derland  0-1   Arsenal
Swansea    4-1   QPR
S'hampton  3-1   Man City
A. Villa   2-1   West Ham
Man Utd    2-0   Everton
Liverpool  0-2   West Brom

           Barclays Premier League

                P   W  D  L   F-A   GD   Pts
 1. Man Utd    26  21  2  3  62-31  31   65 
 2. Man City   26  15  8  3  48-24  24   53
 3. Chelsea    26  14  7  5  55-28  27   49
 4. Spurs      26  14  6  6  44-30  14   48 
 5. Arsenal    26  12  8  6  50-29  21   44
 6. Everton    26  10 12  4  40-32   8   42
 7. Swansea    26   9 10  7  38-29   9   37
 8. West Brom  26  11  4 11  36-35   1   37 
 9. Liverpool  26   9  9  8  44-34  10   36 
10. Stoke      26   7 12  7  26-31  -5   33
11. West Ham   26   8  6 12  29-38  -9   30
12. Fulham     26   7  8 11  36-42  -6   29
13. S'derland  26   7  8 11  28-34  -6   29 
14. Norwich    26   6 11  9  25-40 -15   29
15. S'hampton  26   6  9 11  36-45  -9   27
16. Newcastle  26   7  6 13  34-46 -12   27 
17. A. Villa   26   5  9 12  25-50 -25   24
18. Reading    26   5  8 13  33-48 -15   23
19. Wigan      26   5  6 15  30-51 -21   21
20. QPR        26   2 11 13  19-41 -22   17

· All the Spurs Stats you could hope for here! THFC6061 Sports Stats