Basking in the warm glow of ascendancy!
It has been another one of those weeks (there have been a lot over the last two seasons!) where very lucky Spurs fans saw a fantastic team performance live, before going home to watch their recording of the Sky TV coverage, before also watching BBC's Match of the Day. One of the great delights has been to watch the comments of the pundits, most notably those of Thierry Henry (Sky) and Ian Wright (BBC), both of whom had to confess to Spurs' superiority on Sunday. Wright was even put on the spot by Match of the Day 2 host Mark Chapman, who asked which of the two clubs he would sign for at this stage if wages and terms were identical. Of course Wrighty didn't like the question, but took it in good heart (with former Spur Danny Murphy grinning next to him) and had to confess that Spurs would have to be the team at this time.
Arsene Wenger showed a lot of patience by answering most of the Sky post-match interviewer's questions, also admitting the best team won, but he eventually walked out of the interview after one question too many. Perhaps he felt one coming regarding his personal future.
Of course, we are all still grinning from ear to ear, basking in the warm glow of ascendancy! Mauricio Pochettino hasn't lost a North London League Derby match yet in 6 games. Harry Kane has scored in the last five of those games, and has overtaken Gareth Bale as Spurs' top scorer against Arsenal in Premier League games. As I always like to point out, Harry has yet to pass the records in pre-Premier League NLD games of Bobby Smith (10), and Gilzean and Greaves (7 each), but he does have a good chance, doesn't he? Harry is the first player to score in five consecutive North London Derby league matches.
For the second consecutive year, Spurs are the final challengers to the league leaders. The manager, and his players are being very professional, and are committed to the cause of winning at West Ham on Friday; putting pressure on Chelsea to close the gap to one point until next Monday night's game (Chelsea v Middlesbrough), and holding onto the objective of a Premier League Title.
THFC 6061 Sports Stats webmaster Paul Yarden has updated his table of the Premier League since Mauricio Pochettino has been in charge at Spurs:-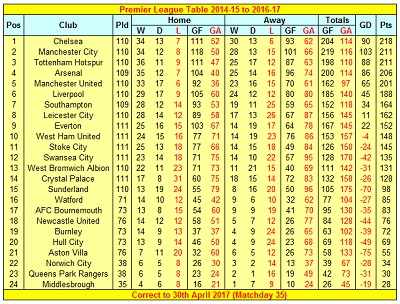 There has been another stat this week of Spurs topping the Premier League over the last two years, but you win nothing for that, except the full admiration of Spurs fans and press pundits collectively.
Jan Vertonghen was voted man of the match by Sky; by Spurs Official site voters, and now also by Spurs Odyssey voters. In our survey, Victor Wanyama was not far behind, but there were great performances all round. You can see the spursometer in full here.
Look out for the Spurs Odyssey review of an amazing April later this week!
After the other results this week-end, just one more point from our remaining games effectively guarantees us second place and another season of Champions League Group stage football. Keep basking Spurs fans!

Premier League results 29.04-01.05.17

S'hampton   0-0   Hull
Stoke       0-0   West Ham
S'derland   0-1   B'mouth
West Brom   0-1   Leicester
C. Palace   0-2   Burnley
Man Utd     1-1   Swansea
Everton     0-3   Chelsea
M'brough    2-2   Man City
Spurs       2-0   Arsenal
Watford     0-1   Liverpool

            Premier League Table

               P  W  D  L   F-A   GD   Pts

 1. Chelsea   34 26  3  5  72-29  43   81 
 2. Spurs     34 23  8  3  71-22  49   77
 3. Liverpool 35 20  9  6  71-42  29   69  
 4. Man City  34 19  9  6  65-37  28   66 
========================================= 
 5. Man Utd   34 17 14  3  51-25  26   65
=========================================
 6. Arsenal   33 18  6  9  64-42  22   60
 7. Everton   35 16 10  9  60-40  20   58
 8. West Brom 34 12  8 14  39-43  -4   44
 9. S'hampton 33 11  8 14  39-44  -5   41
10. B'mouth   35 11  8 16  50-63 -13   41
11. Leicester 34 11  7 16  42-54 -12   40
12. Stoke     35 10 10 15  37-51 -14   40
13. Watford   34 11  7 16  37-55 -18   40
14. Burnley   35 11  6 18  35-49 -14   39
15. West Ham  35 10  9 16  44-59 -15   39
16. C. Palace 35 11  5 19  46-56 -10   38
17. Hull      35  9  7 19  36-67 -31   34
=========================================
18. Swansea   35  9  5 21  40-69 -29   32
19. M'brough  35  5 13 17  26-45 -19   28
20. S'derland 34  5  6 23  26-60 -34   21 R

· All the Spurs Stats you could hope for here! THFC6061 Sports Stats