Premier League Review – Matchday 17
Saturday 14th December, 2019
Liverpool 2 Watford 0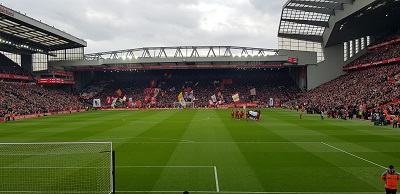 Watford, now managed by Nigel Pearson (their third coach this season) put up a brave fight in windy conditions, but ultimately paid the penalty for two bad misses before and after Mo Salah's first goal. Watford were defending well but also managing to get forward, but Liverpool's first goal was scored on the break.
The miss that preceded the opening goal was by Doucoure who virtually took an air kick at a golden chance in the centre of the area after Capoue's cut-back pass. Liverpool broke forward in devastating style from a subsequent Watford corner. Firmino found Mane inside his own half with an overhead pass; Mane carried the ball for a way before feeding it to Salah, who advanced down the left channel, before cutting in a curling a shot past Foster with his "weaker" right foot.
After the goal, Deulofeu forced a save from Alisson after which Sarr failed dismally in a similar position to Doucoure's howler. Mane thought he had scored with a powerful header from Shaqiri's cross, but VAR decreed he was offside. Deulofeu had another run and a shot well saved by Alisson. Salah missed a couple of opportunities to score and Firmino failed to finish after a Salah ball following referee Andre Marriner playing advantage Liverpool. Van Dijk nearly passed into his own net, before Deulofeu's corner hit the outside of the post.
Liverpool sealed the win in the 90th minute with a goal which had a scruffy element (the attempted shot by Origi which ran to Salah), but a clever nonchalant flicked finish by that man Salah.
Watford fans might have more fun if they play online slots mr.bet this Christmas. Liverpool now have the World Club Cup to contest. Jurgen Klopp has signed a new four-and-a-half-year contract.
Burnley 1 Newcastle 0
Steve Bruce was bemoaning the ability of rookie referee Tim Robinson after Burnley's decisive goal. The goal followed a corner where Bruce felt that Fernandez had been fouled by Wood, who headed home the corner from close range after 58 minutes. Andy Carroll started this game and had hit an early header wide. I noticed then that his elbow was looking dangerous, and in the second half he was lucky to only see a yellow card when he hit Mee with a heavy leading arm – specifically elbow.
Cork had a chance later in the game, but Dubravka saved well with his outstretched leg.
Chelsea 0 Bournemouth 1
Eddie Howe's injury-stricken side got a much-needed win after five consecutive defeats. Frank Lampard's Chelsea side will slip out of the top four next week if Spurs win their home game! Arrizabalaga was required to make a save near his right post from Ryan Fraser and Ramsdale smothered a shot by Mason Mount in the early stages. Abraham met a cross from the right at the near post but hooked his shot wide.
Ramsdale made an excellent close range save from an Emmerson header. Bournemouth put some late pressure on the Chelsea goal and following a corner on the right Gosling hit an overhead shot which was cleared from behind the Chelsea goal-line. An offside decision had initially disallowed the goal, but Gosling was not the offside player (who was not interfering) and VAR awarded the goal (84 mins).
Ramsdale saved from Kovacic and Bournemouth survived the added time pressure by Chelsea, who have lost three of their last four league games. Let's hope they lose another one next Sunday at the Tottenham Hotspur Stadium!
Leicester 1 Norwich 1
This was an excellent result for struggling Norwich. Pukki missed a first half chance at the back post after Aarons' cross from the right, but he gave the "Canaries" a 26th minute lead with a good finish from further out in the area after Buendia's well placed through ball. There was a melee after Iheanacho had failed to follow the convention of giving possession back to Norwich who had out a ball out of play for an injury and Cantwell was booked.
It looked as Jamie Vardy had continued his run of scoring in consecutive games, but when he headed goalward from a Leicester corner, it was Krul's touch that put the ball into his own net. Vardy did his best to score in the second half with three chances. One was blocked and two were saved by Krul, and the scores remained level. Leicester's run of 8 consecutive league wins when Vardy had scored in each game came to an end.
Sheffield United 2 Aston Villa 0
The "Blades" went into fifth place overnight with this win. It took them till the second half to break the deadlock though. The goal, when it came in the 50th minute, followed a good move. Basham back-heeled a pass to Lundstram who was in the inside-right slot. He crossed and Fleck scored with a shot from 8 yards. Fleck scored again in the 73rd minute, this time taking advantage of a nice overhead pass by McGoldrick before beating Heaton from an angle on the right.
Grealish had a chance to put his side back in the game when they were awarded a penalty for a handball not spotted by the referee. Grealish hit the bar with his spot-kick.
Southampton 0 West Ham 1
This match was billed by SKY as a relegation battle, and it was won by West Ham who have been getting the better of the "Saints" in recent meetings between the two sides. Judging by the number of empty seats, home fans are losing confidence in Ralf Hasenhuttl's ability to keep them in the Premier League.
West Ham had the better of the game from the start, having an early header from a free kick correctly chalked off for offside. Antonio was livid when he thought he was taken down when trying to reach Cresswell's cross, but VAR supported referee Martin Atkinson's "no penalty" decision. Haller ended an eight-game goal drought in the 37th minute with a left foot finish inside the keeper's left post after Antonio had just kept the ball in play on the right and after several more passes in and around the box.
That turned out to be the only goal of the game, although Fornals had an early second half shot pushed over the bar by McCarthy. Antonio thought he had made it 2-0 with a crashing shot, but VAR adjudged he had handled the ball. Ings hit the bar with a shot, but one of his team-mates had been offside anyway. Ings hit the post with another shot, but he was offside when he received the ball. Ings hit the net with yet another effort, but Djenepo had committed a foul before the ball had run to Ings. McCarthy made a good one-handed save from a Haller header.
Sunday 15th December, 2019
Manchester United 1 Everton 1
Duncan Ferguson is still looking after Everton (although the "Toffees" are now being linked with Carlo Ancelotti), who got another good result today, despite several injuries. This situation was not improved by a required substitution of left back Digne with the now veteran Leighton Baines midway through the first half.
De Gea had been bothered by what had surely been an intended cross by Holgate and Pickford had to make a strong left-handed save from a powerful Rashford free kick. De Gea jarred his leg in that incident. Whether it had a longer lasting effect, I don't know, but the United goalkeeper failed to reach a 36th minute corner and the helpless Lindelof put the ball into his own met. Macho Duncan Ferguson had removed his suit jacket despite the rain and celebrated towards the travelling fans.
In the second half Pickford saved a shot by Shaw and James' follow-up was blocked. Mason Greenwood saved the day for United with a well-placed left foot shot inside Pickford's left post in the 77th minute. De Gea had to dive to his left to save from Iwobi.
Everton's £30 million summer signing Moise Kean only had 18 minutes on the pitch. He had replaced Bernard, only to be replaced himself in the 89th minute by Niasse. Ferguson said that Kean had not got up to the pace of the game. Needless to say, Kean was not impressed!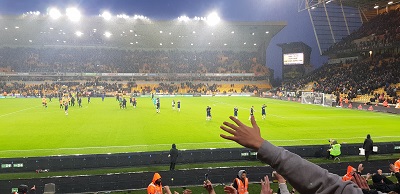 We have only played Wolves 6 times since 18th September, 2010, but it is an interesting fact that in those 6 meeting the home side has failed to win. In our total of 11 Premier League meetings Spurs have a better away record than at home with 4 away wins in 6 games.
The Spurs Odyssey man of the match vote was shared by goalscorer Lucas Moura and goalkeeper Paulo Gazzaniga. Jan Vertonghen was a hero of course with his late winner, but he had a hard game dealing with Traore.
Arsenal 0 Manchester City 3
Manchester City must have been favourites to win this game, but Arsenal's performance has been described as woeful in reports. They have won only one of their last 9 Premier League games, and that was last Monday at the London Stadium. Kevin de Bruyne was the star of this show.
Martinelli did force an early save and a corner from Ederson, but after the corner City worked their way forward in methodical style with De Bruyne whacking in a rising right foot shot after Jesus had cut the ball back to the edge of the area. Only two minutes were on the clock. Goal number two was after a similar build-up with Foden and De Bruyne involved. De Bruyne hit the ball across the area and Sterling had an easy finish. (15 mins)
Arsenal lost left back Kolasinac to injury after a challenge by Rodri, who was shown a yellow card. Martinelli dropped to left back with 18-year-old substitute Bakary Saka further forward. De Bruyne had made it 3-0 however before Saka got on, as Arsenal took so long to make their substitution. De Bruyne's finish this time was left footed inside Leno's right post. (40 mins) De Bruyne nearly had a first half hat-trick, but Leno managed to fingertip his shot onto the post.
Mesut Ozil was replaced after 59 minutes by 19-year-old debutant Emile Smith-Rowe. Ozil took his time going off and kicked his gloves in the air in his disappointment. His poor weekend was capped by the fact that due to his political remarks about the treatment of Uighur Muslims, the Chinese authorities removed this match from their TV schedules. The planned broadcast was replaced by a recording of the Spurs game!
The score remained 3-0 and the Arsenal attendance was of course over 60,000 despite empty seats in evidence throughout the game. I've seen a comment stating that Aubameyang had 8 touches including kick-offs!
Monday 16th December, 2019
Crystal Palace 1 Brighton 1
Roy Hodgson had to cope with the "M23 Derby" game missing the suspended Sakho, and the injured Gary Cahill, Patrick van Aanholt, Jeffrey Schlupp, and Andros Townsend to name but 5 players. That included two left backs, and when Riedewald was injured and replaced at half-time Palace needed to play midfielder James McArthur in an unfamiliar position. Substitute McCarthy had replaced Riedewald.
As for the game, it did not excite my pulses in the first half, and I gave up watching. Reports indicate that Brighton controlled the game, taking a 54th minute lead when Maupay hit a fine finish after a cross from the right by Trossard and a touch by Gross.
Palace were grateful to Wilfried Zaha's 76th minute equaliser, and that was a powerful finish too, as Zaha cut into the penalty area from the left before driving a shot into the net inside the goalkeeper's right post. The point lifted Palace above tenth-placed Arsenal. Happy days!

Fixtures & Results 14-16.12.19

Saturday

Liverpool   2-0   Watford
Burnley     1-0   Newcastle
Chelsea     0-1   B'mouth
Leicester   1-1   Norwich
Sheff Utd   2-0   A. Villa
S'hampton   0-1   West Ham

Sunday 

Man Utd     1-1   Everton
Wolves      1-2   Spurs
Arsenal     0-3   Man City

Monday

C. Palace   1-1   Brighton

           Premier League Table

               P  W  D  L   F-A   GD   Pts

 1. Liverpool 17 16  1  0  42-14  28   49
 2. Leicester 17 12  3  2  40-11  29   39
 3. Man City  17 11  2  4  47-19  28   35  
 4. Chelsea   17  9  2  6  31-25   6   29 
=========================================
 5. Spurs     17  7  5  5  32-24   8   26 
=========================================
 6. Man Utd   17  6  7  4  26-20   6   25
 7. Sheff Utd 17  6  7  4  21-16   5   25
 8. Wolves    17  5  9  3  24-21   3   24
 9. C. Palace 17  6  5  6  15-19  -4   23
10. Arsenal   17  5  7  5  24-27  -3   22
11. Newcastle 17  6  4  7  17-24  -7   22
12. Burnley   17  6  3  8  22-29  -7   21
13. Brighton  17  5  5  7  21-25  -4   20
14. B'mouth   17  5  4  8  19-24  -5   19
15. West Ham  17  5  4  8  19-28  -9   19
16. Everton   17  5  3  9  20-29  -9   18
17. A. Villa  17  4  3 10  23-30  -7   15 
=========================================
18. S'hampton 17  4  3 10  18-36 -18   15
19. Norwich   17  3  3 11  18-35 -17   12
20. Watford   17  1  6 10   9-32 -23    9

· All the Spurs Stats you could hope for here! THFC6061 Sports Stats