Premier League Review – Matchday 15
Saturday 12th November, 2022
Manchester City 1-2 Brentford (12.30 BT SPORT)
Ivan Toney, who did not make Gareth Southgate's World Cup squad after all, scored both Brentford's goals (the winner came in the 98th minute) to inflict City's first home defeat since losing to Spurs in February.
Phil Foden, who is of course going to Qatar, scored City's equaliser at the end of the first half, after Toney had opened the scoring in the 16th minute. This was a most welcome first away win of the season for Brentford. The result left City five points behind Arsenal by the end of the day.
On November 17th, news was announced that Toney had been charged by the FA with no less than 232 breaches of its betting rules, which apparently took place between February 2017 and January 2021. Toney has until November 24th to respond and could face a lengthy ban.
Bournemouth 3-0 Everton (15.00)
Any Everton fans who travelled twice to Bournemouth this week, surely had the right to feel distressed about their team's two performances. The "Cherries" beat the "Toffees" 4-1 in the midweek League Cup fixture and 3-0 today. When Everton's players went to their fans, Iwobi had a shirt thrown back at him in disgust.
Tavernier, Moore and Anthony scored Bournemouth's goals (past England's World Cup goalkeeper). Everton have lost 6 of their last 8 games in all competitions and are fourth from bottom over Christmas.
Liverpool 3-1 Southampton (15.00)
Southampton have a new manager (Nathan Jones, previously with Luton), but the result was similar as Liverpool ran out comfortable winners. Che Adams equalised an early goal by Firmino, but Nunez scored two more first half goals to enable Liverpool's climb up the table to sixth place.
Nottingham Forest 1-0 Crystal Palace (15.00)
Forest are off the bottom of the table thanks to a Morgan Gibbs-White 54th minute goal and a penalty miss by Wilfried Zaha in the first half.
Spurs 4-3 Leeds (15.00)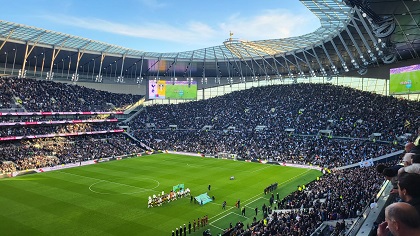 This was Spurs' first 4-3 game since the memorable 4-3 Champions League quarter-final defeat at The Etihad in April, 2019 when we reached the semi-final thanks to away goals(and VAR!). The last time we won a game 4-3 was in the FA Cup against Wycombe in 2017 when Son was our added time hero.
We have twice before experienced 4-3 results against Leeds, both of which were away defeats. The last of these was in the Premier League in September 2000.
Harry Kane has now scored 195 Premier League goals and 261 goals for Spurs. The Greaves record of 266 will fall in 2023!
Ben Davies has scored a second Premier League goal for the first time since 2017 (against Newcastle and Huddersfield). Rodrigo Bentancur has scored his fourth Premier League goal of the season. This was the first time he scored twice in a game in his professional career.
Bentancur was, of course, my man of the match. Kulusevski made his fifth assist of the season, one behind Ivan Perisic.
West Ham 0-2 Leicester (15.00)
James Maddision celebrated his England World Cup call-up with an eighth minute opener for Leicester. He left the field midway through the first half with a leg injury, but Brendan Rodgers confirmed this was precautionary. Maddison will travel to Qatar.
Fabianski saved a Tielemans penalty.
Harvey Barnes scored Leicester's second goal in the 78th minute sealing his club's fourth league win in five games. Barnes has scored in each of those wins.
West Ham fell to a ninth defeat (nobody has lost more this season) and are only one point clear of the bottom three.
Newcastle 1-0 Chelsea (17.30 SKY)
Newcastle regained third place after Spurs' earlier win, thanks to a Willock goal. That's seven wins in eight games now for Eddie Howe's men. On the other hand, Chelsea fans are asking questions about the credentials of Graham Potter after four defeats in their last five games in all competitions.
Wolves 0-2 Arsenal (19.45 SKY)
Arsenal will be top of the table at Christmas for the first time since 2007 (that came with a win over Spurs). Skipper Odegaard scored both their goals. Wolves have since formally announced former Spain, Real Madrid and Sevilla manager Julen Lopetegui as their new manager, but with Wolves at the bottom of the table, he has a big task ahead.
Sunday 13th November, 2022
Brighton 1-2 Aston Villa (14.00 SKY)
Unai Emery is another man most recently employed in Spain, with Villarreal and he oversaw Villa's first away league win of the season. Villa are five points away from the bottom three.
Mac Allister had scored Brighton's fastest ever Premier League goal in 49 seconds, but two goals by Danny Ings (the first from the penalty spot) saw the points go back to Birmingham.
Fulham 1-2 Manchester United (16.30 SKY)
18-year-old Alejandro Garnacho has had quite an impact for United recently. He scored their winning goal in their Matchday 6 Europa League game away to Real Sociedad, came off the bench to help his team to a 4-2 League Cup win against Aston Villa on Thursday, and today scored the added time winner. Fulham had given a good account of themselves and De Gea had to make a number of good saves.
Christian Eriksen scored his first United goal in the 14th minute, and also had the assist for Garnacho's winner with a superb incisive ball. Daniel James had scored a deserved 61st minute equaliser for the home side. Fulham are in a comfortable ninth position in the table.
The Premier League now takes a break until Boxing Day, due to the Qatar World Cup.
  
Fixtures & results - 12-13.11.22

Saturday 12th November, 2022

Man City    1-2  Brentford  (12.30 BT SPORT)
B'mouth     3-0  Everton    (15.00)
Liverpool   3-1  S'hampton  (15.00)
Nott'm F'st 1-0  C.Palace   (15.00)
Spurs       4-3  Leeds      (15.00)
West Ham    0-2  Leicester  (15.00)
Newcastle   1-0  Chelsea    (17.30 SKY) 
Wolves      0-2  Arsenal    (19.45 SKY)

Sunday 13th November, 2022

Brighton    1-2  A. Villa   (14.00 SKY)
Fulham      1-2  Man Utd    (16.30 SKY)

            Premier League Table

               P  W  D  L   F-A   GD   Pts

 1. Arsenal   14 12  1  1  33-11  22   37
 2. Man City  14 10  2  2  40-14  26   32
 3. Newcastle 15  8  6  1  29-11  18   30 
 4. Spurs     15  9  2  4  31-21  10   29  
==========================================
 5. Man Utd   14  8  2  4  20-20   0   26 
==========================================
 6. Liverpool 14  6  4  4  28-17  11   22
 7. Brighton  14  6  3  5  23-19   4   21
 8. Chelsea   14  6  3  5  17-17   0   21
 9. Fulham    15  5  4  6  24-26  -2   19
10. Brentford 15  4  7  4  23-25  -2   19
11. C. Palace 14  5  4  5  15-18  -3   19
12. A. Villa  15  5  3  7  16-22  -6   18
13. Leicester 15  5  2  8  25-25   0   17
14. B'mouth   15  4  4  7  18-32 -14   16 
15. Leeds     14  4  3  7  22-26  -4   15
16. West Ham  15  4  2  9  12-17  -5   14 
17. Everton   15  3  5  7  11-17  -6   14
=========================================
18. Nottm F   15  3  4  8  11-30 -19   13
19. S'hampton 15  3  3  9  13-27 -14   12
20. Wolves    15  2  4  9   8-24 -14   10

· All the Spurs Stats you could hope for here! THFC6061 Sports Stats