BARCLAYS PREMIER LEAGUE
SUNDAY 11TH MAY, 2008
TOTTENHAM HOTSPUR 0 (0) LIVERPOOL 2 (0)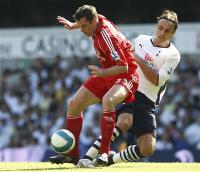 Scorers:-
Voronin, 69
Torres, 74
Attendance: - 36,063
Referee: - Uriah Rennie
Teams:-
Spurs (4-4-2):- Cerny; Hutton, Dawson (sub Bent, 74), Woodgate, Gilberto; Malbranque, Jenas (sub Huddlestone, 46), Zokora, O'Hara (sub Tainio, 46); Berbatov, Keane (Capt.)
Subs not used: - Robinson; Chimbonda
Booked: - Hutton
Liverpool (4-4-2):- Reina; Arbeloa, Skrtel, Carragher, Insua; Kuyt (sub Lucas, 80), Gerrard (Capt.), Mascherano, Babel (sub Benayoun, 58); Voronin (sub Finnan, 74), Torres
Subs not used: - Itandje; Hyypia
Booked: - Insua
Spurs lose insignificant sideshow
In a game which proved to be an insignificant sideshow to the excitement at most other Premier League venues on this last day, Spurs just about matched Liverpool in the first half, opened up the game at the start off the second, and had chances to score. Spurs failed, but when Voronin opened the scoring by slipping past Michael Dawson, the floodgates might have opened. It wasn't long before Fernando Torres also passed Dawson to score his 24th Premier League goal of the season, from which point there would be only one winner. Even the post-match parade atmosphere was a little subdued in my opinion. It was a sweltering day, and everyone is ready for summer.
Of course, all eyes were on the regular score updates on the Jumbotron, and many ears were tuned to radios. The atmosphere was lifted after 62 minutes, when the West Ham score was shown, at which point, the Hammers were losing to Villa. Spurs fans roared and tried to lift the players, knowing that a win would put us into the top ten. Much as second half substitutes Huddlestone and Tainio tried (and they did have an impact), Spurs could not provide a goal.
There was also a bizarre moment, when Liverpool fans must have been convinced that Wigan had equalised against Manchester United, as they roared their delight and started chanting Emile Heskey's name. As it happened, no such event had taken place, and the title was destined for Old Trafford.
Rafa Benitez adopted a very attacking stance with Torres partnered by Voronin, and Kuyt and Babel on the wings. With Gerrard and Mascherano in charge in the middle, Benitez was able to field Skrtel beside Carragher and to continue 19 year old Argentinean Insua's introduction to the Premier League.
Lennon was reported injured, which left Spurs with little natural width, not truly provided until Hutton's bursts in the second half. Jamie O'Hara had a bit of a mare on the left side of midfield and was replaced at the interval. O'Hara owned up to a poor performance when presented with the Young Player of the Year and Spurs Trust breakthrough awards after the game. Spurs best performances came from Radek Cerny who made plenty of good saves, one of the best being from Hutton's second half back header! Steed Malbranque was the best outfield player with a battling and skilful performance. Zokora too lived up to his recent form.
There was little incident in the first half, played in a friendly/testimonial type fashion. Cerny made a good save, diving to his left to deny Voronin's scissor kick from a Gerrard ball. O'Hara appeared to be hampered as he was robbed of the ball after 13 minutes by Gerrard, who fed Babel on the left side. Babel hit a right foot shot across Cerny, who made another decent save. A minute later Dimitar Berbatov drew applause with a classy back-heeled flick into the 6 yard zone after Malbranque's ball, but the ball was too close to Reina in goal.
Berbatov had Spurs best chance from a corner, which he headed on target, thwarted by Reina's diving save to concede another corner.
Ramos geed up the Spurs team with two half-time changes. Huddlestone played the deeper midfield role, and Tainio was given a more attacking role. Hutton was sent forward more, and Malbranque switched to a free left side position.
Liverpool had the first chance though, as Gerrard went down on the edge of the box. Mr Rennie allowed play on and the ball ran to Torres on the right. He drilled a low shot, which Cerny saved with his leg without necessarily knowing too much about it! Huddlestone hit a great long ball which was picked up by Keane who was goalside of the defender, but could not get any power on his shot. Voronin then had a chance at the other end with a shot held by Cerny.
After 59 minutes, good pressure by Hutton at the corner flag led to a ball by Mascherano to Gerrard, who made an uncharacteristic error, which gave Malbranque a chance to pass in side the defence to Keane. Keane hit a weak shot across goal which was just too far ahead of Berbatov. In the heat of the suddenly lifted atmosphere, Spurs were playing some decent football, with Hutton and Tainio involved in the build up to a move which ended with Hutton's cross and a header by Berbatov which Reina held.
Cerny then held a Gerrard shot, and again after Hutton and Tainio's combination, the ball was crossed deep and Malbranque's shot was deflected into the side netting. Sadly, for all the good work by Spurs, Liverpool took the lead when Voronin latched onto a long ball from the right, getting the better of Dawson and beating Cerny from close range.
The best moment of the game for Spurs came with another touch of class from Berbatov, when he received a long ball over the top and hit a great rising shot that was well saved by Reina. Then it was two down, as Dawson got the "run-ragged" treatment from the other side of the area, this time by Torres, who scored from a tight angle on the left with a low shot. Torres nearly scored again five minutes later, but his shot bounced out of play off the top of the bar. There was more work for Cerny before the end when he made another great diving save from Benayoun.
A fair number of home fans left before the end of match festivities, and when the announcer said "Let's have a look at the highlights of the season", I heard a voice saying "Not that there were that many". Well, apart from winning the Carling Cup, beating the gooners and Chelsea on the way, outplaying all of the top four at various stages of the season, unfortunately losing in the UEFA Cup against PSV, the 4-4 draw against Chelsea and loads of goals in other games too, there isn't much to shout about is there? Having said that, I can understand home fans being cheesed off with the lack of results since the Carling Cup Final, as many of them don't travel and see the complete picture when it comes to players' performances.
Having said the above, it is not right that Spurs have conceded 61 league goals this season. That's one more than Fulham and only one less than Birmingham. Of the sides not relegated, only Newcastle have conceded more.
Robbie Keane was deservedly presented with the Player of the Year award. There was no "end of term" speech from Ramos. Ledley led the team around with the Carling Cup held aloft, and the fans chanted Berbatov's name amongst others. We now have to see who stays and who goes in what promises to be a busy summer for Spurs transfers.
Have a great summer. I'll be back in august, despite the price hike that will be foisted upon us this week.
· Squad numbers,appearances,bookings & goalscorers
· Read the preview for this game.