BARCLAYS PREMIER LEAGUE
SATURDAY 12TH APRIL, 2008
TOTTENHAM HOTSPUR 1 (1) MIDDLESBROUGH 1 (0)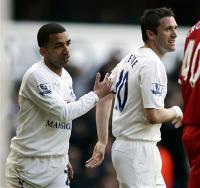 Spurs scorer:-
Grounds (o.g.), 26
Middlesbrough scorer:-
Downing, 69
Referee: - Mark Halsey
Attendance: - 36,092
Teams:-
Spurs (4-4-2):- Cerny; Hutton, Dawson, Woodgate, Chimbonda (sub Gilberto, 69); Lennon (sub Bent, 75), Jenas, Zokora, Malbranque (sub Huddlestone, 59); Berbatov, Keane (Capt.)
Subs not used: - Forecast; Tainio
No Bookings
Middlesbrough (4-4-2):- Schwarzer; Young, Wheater, Pogatetz 9Capt.), Grounds (sub Johnson, 63); O'Neil (sub Tuncay, 73), Boateng, Arca (sub Rochemback, 65), Downing; Aliadiere, Alves
Subs not used: - Turnbull (GK); McMahon
Booked: - Pogatetz, Arca, Young
Boro worth their point
Nobody can argue that Boro were not worth their point at White Hart Lane yesterday. Spurs had once again started a game brightly and took a deserved lead, albeit through an own goal, but Boro (for whom Premier League points are still precious) came out with an attacking spirit and dominated most of the second half. After former Spurs target Stewart Downing had somewhat fortuitously equalised through a Jenas deflection, the visitors could so easily have left The Lane with all three points especially when Afonso Alves left Dawson in his wake and fired just wide across Cerny. With next season's ticket prices no doubt on the horizon, Spurs might like to fire up their players to re-assure the paying public that their investment will be worthwhile.
The post Carling Cup apathy has been inevitable, but the more that Spurs play at less than full pace, it diminishes confidence in improvement in league performance next term.
Juande Ramos fielded an unchanged side, and the bench was also unchanged. No doubt he is giving as many of his players the chance to prove their worth in this end of season period, but the substitutions today were ineffective, in fact allowing deterioration against a Boro side sniffing victory.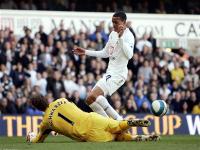 Spurs had a scare after one minute, when O'Neil's cross from the right reached former gooner Aliadiere, who rifled a low shot that Cerny did well to save. The ball ran out to Alves, who tapped home from close range, only to be denied by the (correct) offside flag. Spurs responded with good skill on the left from Keane and Malbranque, feeding the ball inside to Berbatov, who slipped the ball to Jenas, who fired well over. Lennon was quite inspired today and he made a good pass to Keane on the left channel. Keane crossed and Berbatov headed goalward, where Schwarzer held the ball in front of his line with outstretched hands. Jenas had a great run after 18 minutes, aided by a touch and back heel by Keane, carrying the ball into the box, where Schwarzer did well to meet and smother the ball.
Thus the Spurs lead was deserved mid-way through the half. Jenas made a run from an onside position, whilst a team-mate retreated, and then the ball was passed to Berbatov who crossed from the left with great skill, back to goal, to Lennon just beyond the far post. Lennon fired in towards Keane, and the ball was diverted past Schwarzer by the unfortunate Grounds, who had Keane waiting to swoop behind him.
That was almost all the meaningful action in the first half. Boro got a couple of bookings late in the half, and Spurs had a failed handball appeal.
Early in the second half, it was Lennon, of all people, who headed Wheater's header away from his line, after a Boro corner. Lennon then became provider for Robbie Keane at the other end, but Keane's half-hit shot was too easy for the visiting keeper. After 59 minutes, Spurs had another valid appeal for handball. Lennon had fed the ball to Hutton on the right flank. His cross was met by a Berbatov shot that Pogatetz definitely handled. The ball was deflected onto Schwarzer's left post and ran clear. Again the referee gave the visitors the benefit of the doubt, deeming the handball accidental. Pogatetz was a few yards off Berbatov, and I have seen such decisions given in favour of the attacking side before.
Spurs had almost their last chance of the game on the hour, when a Berbatov free kick was blocked. Lennon crossed from the left; Woodgate flicked a header and Berbatov's deft touch passed outside the post.
Middlesbrough were defending in numbers, but also getting forward to good effect, whereas the Spurs midfield lacked guile and penetration. Whilst Zokora had another good game defensively, I felt that after a good first period, Jenas failed to express himself adequately. However, as a team, Spurs started to look the more desperate when defending. Dawson had been the most dominant of the centre backs and no doubt Jonathan Woodgate's former team mates were looking to show him what they could do.
Whilst I could see an equaliser coming, the nature of it was unlucky for Spurs. The opportunity arose for Downing from at least 30 yards out. His shot was distinctly deflected by the head of Jenas, leaving Cerny flat-footed in the middle of his goal, as the ball sailed into his left corner. The away support (which occupied just the upper tier) was delirious and became the more dominant set of fans as the game closed. Dawson's one blemish came when he was left trailing by Alves after 79 minutes. Cerny was out and in good position, but the ball still beat him and went just outside the post. Cerny was soon busy smothering an attack at his left post too.
Spurs nearly went behind after Cerny had kicked the ball out of play to allow an injured player to be treated. Then when Boro threw the ball back, Gilberto gave the ball away in his own half and Boro had another shot (Aliadiere) across Cerny's bows, that thankfully went wide. As added time approached Spurs did have a free kick just outside the box, taken by Huddlestone, touched back to him by Jenas, before big Tom fired a shot that Schwarzer held at the second touch. Gilberto partially redeemed himself with a storming run down the left wing, only brought to a halt by Luke Young who earnt a late booking. Spurs won a corner in the follow-up, but mysteriously Mr Halsey decided there was not enough time on the clock for the corner to be taken. The late burst of adrenalin for Spurs and their fans was thus left suspended.
Of course, one of Spurs problems is that every opponent they meet in their last four games has something to play for. In three cases (Wigan, Bolton, Reading) it will be survival, and on the last day Liverpool may still be fighting for a Champions League place. Hopefully we can still see some good performances by Spurs in these last weeks of the season.
· Squad numbers,appearances,bookings & goalscorers
· Read the preview for this game.