BARCLAYS PREMIER LEAGUE
SATURDAY 2ND FEBRUARY, 2008
TOTTENHAM HOTSPUR 1 (1) MANCHESTER UNITED 1 (1)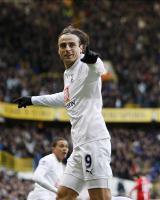 Spurs scorer:-
Berbatov, 21
United scorer:-
Tevez, 90
Referee: - Mark Clattenburg
Attendance: - 36, 075
Teams:-
Spurs (4-4-2):- Cerny; Hutton (no. 28), Dawson, Woodgate, Chimbonda; Lennon (sub Boateng, 78), Jenas, Huddlestone, Malbranque; Keane (Capt.) (sub O'Hara, 90), Berbatov
(Armband to Jenas)
Subs not used: - Robinson; Lee; Taarabt
Booked: - Woodgate, Huddlestone, Cerny
Man Utd (4-4-2):- Van Der Sar; Brown, Ferdinand, Vidic, Evra; Ronaldo, Scholes (sub Anderson, 59), Hargreaves (sub Carrick, 46), Giggs (Capt.) (sub Nani, 59); Tevez, Rooney
Armband to Ferdinand
Subs not used: - Kuszczak; O'Shea
Booked: - Van Der Sar, Ronaldo, Brown, Nani, Vidic, Rooney, Tevez
I suppose it is progress to record that we were gutted to be deprived of a league victory over Manchester United (and a top four side at that) in the dying seconds of the game. There was literally only time for the re-start after Tevez's goal in the 94th minute. However, I was also gutted and angry to say the least about what I considered to be one of the worst refereeing performances of this season and several before by Mr. Clattenburg. This man you will recall, officiated in the game when we were denied the "Mendes goal", and he seems to have had this fixture quite often since. You might say that a Spurs fan would be glad to report that seven of the opposition were booked, but I can assure you that Mr Clattenburg missed or overlooked other incidents that should have led to bookings for the Champions, and which might have led to a further Spurs advantage. In the end though, Spurs have failed to defend out the dying minutes (8th time this season), and they also paid the penalty for a glaring miss by Robbie Keane after 55 minutes.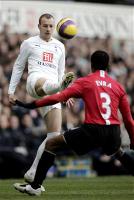 There was plenty of evidence again today of Spurs' continuing progress under Juande Ramos. Of his latest signings, only Alan Hutton got a debut, and his was as impressive a start as was that of Jonathan Woodgate on Wednesday night. Hutton had a couple of dicey passes in the first half, but otherwise was part of a resilient and disciplined defence which included Woodgate on the left of Dawson, and Chimbonda, switching to left back. Hutton is a tall lad, and did well when confronted with Ronaldo. He also got forward to good effect, and has enough pace to support the attack, and recover his defensive position. Hutton looks yet another excellent acquisition.
Tom Huddlestone reverted to a midfield role today, next to Jenas. Today, Jenas had to play the more withdrawn role of the two, and Huddlestone had an excellent game on the creative front, if not always so good when defending against a run. Steed Malbranque worked as hard as he ever does, but as the game wore on, his application suffered, no doubt through fatigue. Lennon tracked back conscientiously, and had everything to do with Berbatov's goal on exactly 20 minutes. However, whilst Robbie Keane worked so hard throughout, Berbatov looked a little on the lazy side more than once. As a team, Spurs played with great discipline and defended extremely well until the latter stages. The down-side though was the tendency to boot the ball anywhere, rather than build an attack. Ironically, this strategy would have been appropriate in the last few minutes, when the penalty was paid in full.
Sir Alex Ferguson played a full strength side, with Vidic returning at centre back, and Wes Brown moving to right back. Paul Scholes played the first half next to Hargreaves, but did not last the 90 minutes. Hargreaves was replaced at half-time by former Spur Michael Carrick, who got a mixed reception.
Partly because of Spurs resilience, the game was not as free moving as others have been, and there were not as many chances as in the past. It was the visitors who nearly broke the deadlock first though, when Tevez got into the box on the left, receiving from Giggs, and cutting the ball back from the bye-line, before a shot was fired over after Chimbonda struggled to clear fully. After 14 minutes, Spurs had a good move, when Keane sent Berbatov away down the left. Berbatov got the better of Rio Ferdinand and struck a powerful cross into the danger zone which was put behind for a corner. Three minutes later and Berbatov fed Huddlestone who threaded a great ball for Keane, but again United conceded a corner. The Spurs goal, when it came was therefore no surprise, and was the result of a good move started by Jonathan Woodgate with a sharp pass to Keane, who sent Jenas away on a run into the box. Jenas went down, but no penalty was awarded. The ball ran anyway to Aaron Lennon, who got in a low cross which was parried by Van Der Sar, and flicked in by the waiting Berbatov. Van Der Sar then got booked for protesting too strongly – apparently alleging a handball by Spurs in the build-up. Van Der Sar's protest was to typify the sort of reaction by two or three of his team-mates every time things were going against them. Mr. Clattenburg often bore the look of a frightened rabbit and though he booked players, he did not act with authority when it was demanded. The clearest example of this was when Hargreaves did not even get booked for a cynical handball (35 yards out) to prevent what would have been a potent Spurs break. If we had Mr Clattenburg last week, at Old Trafford, maybe he would not have awarded the penalty against Dawson, nor sent him off!
Spurs won several corners in that first half, and Michael Dawson nearly scored from one after 27 minutes, putting his boot out and seeing his shot deflected wide for another corner. Ronaldo got booked for dissent when a decision did not go his way, and then might have scored when Michael Dawson did not quite reach a Rooney cross, and Ronaldo headed wide. At the other end, Huddlestone sent away Lennon with another clever ball inside Evra. Lennon's cross reached Berbatov who hit an early shot over, when he might have done better. Brown, Woodgate and Huddlestone all made it into the referee's notebook before the interval, meaning that the man in black scored five in each half. United will surely face a fine for exceeding the requisite number of yellow cards.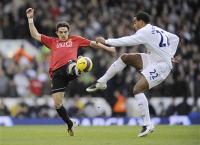 Early in the second half, Tom Huddlestone got into the area for Lennon's cross, and seemed to be impeded, but of course any appeal was to no avail. Huddlestone then had a goal-bound shot deflected for a corner. United put the Spurs defence under pressure from a corner, which was ultimately headed over by Vidic. Then came the glorious chance for Spurs to go 2-0 up. Berbatov had done the hard work to the left of Robbie and gave him the pass. Robbie was un-marked and had time and space to pick his spot, hit the ball with power and put us 2-0 up. Sadly Robbie only half-hit the shot and it went straight to the hands of Van Der Sar. This was another incident of Keane not doing so well when afforded the luxury of time and space, and yet he scores so many goals from snap-shot moments. I said then that United would score, and whilst it happened very late, so it proved.
Malbranque hit a good first time shot from another Huddlestone pass after 65 minutes, which did not test the keeper. After 72 minutes, Malbranque hit a deep cross over the United defence, and Evra most definitely handled the ball as it came over his shoulder. The crowd and the players appealed but to no avail. United responded with Anderson getting the better of Huddlestone to sweep into a shooting position, and he hit a strong drive from 25 yards, which Cerny dived well to his right to save. Now Spurs started to struggle to clear their lines, and Ronaldo sent a ball deep across the box, and Nani hit a shot straight at Cerny. Chimbonda then had to make a great saving tackle from Tevez, as Rooney had led a break.
Mr Clattenburg now saw fit to book Cerny for alleged time-wasting, but then he and his assistant ignored a blatant handball just inside the United half by Vidic. The crowd was becoming more and more incensed and the "Can we have a referee" chants rang around the ground. Rooney got booked for diving, but then had a chance when Ronaldo slipped the ball to him from a free kick, when Rooney was allowed the freedom of too much space. The shot was well blocked. The equaliser that felt like a killer blow came from a corner on the right, and Tevez challenged for the ball at the near post with Dawson, getting the touch that sparked off red celebrations, and the final booking of the game for over-celebration.
Thus United's title challenge faltered to the extent that they fell two points behind Arsenal, who beat Man City 3-1 today. Elsewhere, Jermain Defoe scored on his debut for Portsmouth. Spurs remain in eleventh place, but could be overtaken tomorrow, if Newcastle actually manage to score and win under "King Kevin's" most recent leadership!
On current form, Spurs should beat Derby well next week, but that will be another story.
· Squad numbers,appearances,bookings & goalscorers
· Read the preview for this game.