BARCLAYS PREMIER LEAGUE
SATURDAY 15TH DECEMBER, 2007
PORTSMOUTH 0 (0) TOTTENHAM HOTSPUR 1 (0)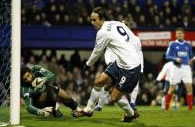 Scorer:-
Berbatov, 81
Referee: - Mr. M. Atkinson (not as per programme)
Attendance: - 20,520
Teams:-
Portsmouth (4-4-2):- James; Johnson, Campbell (Capt.), Distin, Pamarot (sub Hreidarsson, 73); Papa Diop, Mendes (sub Davis, 46), Muntari (sub Nugent, 64), Kranjcar; Utaka, Benjani
Subs not used: - Ashdown; Taylor
Booked: - Mendes, Kranjcar, Distin
Spurs (4-4-2):- Robinson; Chimbonda, Kaboul, Zokora, Lee; Lennon (sub Tainio, 85), Jenas, Boateng (sub O'Hara, 77), Malbranque; Bent (sub Defoe, 73), Berbatov
Subs not used: - Cerny; Stalteri
Booked: - Malbranque, Berbatov
Spurs on the up!
It was a great day, a great team performance and a great result for Spurs! This was our first away win in the Premier League this season; our first away clean sheet in the league since May, and the first time we have won two consecutive league games this term as well! The achievement was all the greater because it came against a side on top form, who had won their last 6 away games, was on an 11 match unbeaten run, and had not conceded a home goal since 29th September in a momentous 7-4 victory over Reading. It should be noted that home Pompey fans have also not seen their team score since that day either.
The absence of Michael Dawson from the Spurs 16 was a concern before the game, bearing in mind Portsmouth's current form. The presence of Kaboul beside makeshift centre back Didier Zokora was also a matter for trepidation, but the pairing worked very hard (as did all the team) and proved superior against top scorer Benjani, who was aided by forays from the likes of Papa Boupa Diop and Niko Kranjcar. Hard work and application throughout the game was certainly one of the secrets behind Spurs success, but Juande Ramos pulled a trick or two with his substitutions too.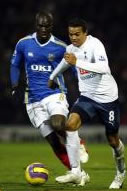 Both Kevin Prince Boateng and Jermaine Jenas had great games in the middle. There was a spell in the first half, when the Portsmouth midfield runners were getting into space, but overall, Boateng and Jenas tackled hard and successfully, whilst Jenas was a genuine man of the match contender with several driving runs. I spoke to Steve Claridge on Setanta Sports News this evening and he couldn't pick out a Spurs man of the match, describing it as a great team performance. Certainly, I would put forward Jenas, Malbranque and goal-scorer Berbatov as contenders. Oh, and I haven't yet mentioned the superb 15 minute debut of substitute Jamie O'Hara, who did not put a foot wrong, and can claim a key part in the build-up to Berbatov's goal. 21 year old O'Hara was recently impressive on loan at Millwall, and late last season at Chesterfield. Jamie has usually played as a creative midfielder, but was today asked to play down the left side, when replacing Boateng, allowing Malbranque inside. O'Hara did everything that could be asked of him, and against England International Glenn Johnson too! We can expect to see more of Jamie this season, and I should tell you he has quite a lethal left foot at dead ball situations too!
Portsmouth featured four former Spurs players. Campbell was Captain, and received every bit of the reception you would expect from the travelling support. Noe Pamarot was at left back, and Pedro Mendes played in central midfield, but was replaced at half time by another ex-Spur, Sean Davis.
The stats show that Spurs enjoyed 60% of the possession in this game, and I would certainly claim that we were in control for most of the game. For all that, we did not make David James work hard enough, although he did keep out a Boateng shot, which was followed up by Malbranque, but ruled offside. Paul Robinson's only save of the first half was a comfortable hold of a weakly hit shot by Utaka. That came after a half clearance by Zokora, and a chip by Mendes over the defence. Spurs first chance came from a Lennon corner that Berbatov headed across the goalmouth, but which was cleared. Four minutes later, Spurs worked the ball from right to left, but Bent hit his shot over the bar. Two minutes later Spurs had the ball in the net from that shot by Boateng, saved by James and parried to the offside Malbranque. The build up had come from a good clearance by Kaboul, and Berbatov's ball to Lennon who crossed from the right, where he has been playing consistently for Juande Ramos, with occasional switched during a match to the left side for short spells.
Boateng fed the ball to Jenas after 18 minutes, and Jenas's long range effort from distance was not far above the target. Portsmouth got a response through Glenn Johnson after Malbranque lost out under pressure from three blue shirts. Johnson was allowed a run without challenge, and his cross went all the way to Robinson with Kranjcar closing in. Portsmouth were tending to hit their corners and free kicks to the near post, and after one of these by Kranjcar, Spurs broke forward, with Berbatov involved making a pass to an offside player.
After 27 minutes, Muntari hit a free kick from a central position, which was deflected through the wall, and held by Robbo. Bent received a good long ball from Kaboul, but his on-target shot was comfortable for James. The number of chances dissipated as half time approached. Soon after the break, Berbatov passed to Malbranque deep on the left, but the cross passed over the area, although it was close to the goal. Lennon made a good break after 50 minutes, and fed the ball to Bent who was too hesitant and should have had a pop on goal. However, as too often happens with Spurs, responsibility was shirked, the ball was passed to the wing and the chance did not come back.
Jenas made one of his great runs after 53 minutes, and passed to Lennon on the right. Lennon crossed but Bent could not meet the ball, with James struggling a little. Three Pompey defenders cleared. Jenas floated a free kick on the hour to Chimbonda beyond the far post, but Chimbonda's effort was fodder for James, as it looped down into his arms. James cleared and Kranjcar had some success against the retreating Spurs defence, at least hitting a shot on target, if not a threat. Malbranque was unlucky to get a yellow card for what seemed a reasonable challenge, but generally the referee was only getting stick from the home fans, who felt they were getting really hard done by, with ironic cheers for a decision their way. In truth though, Spurs had dominated so much that they had truly muffled the Pompey Chimes. "Where's your famous atmosphere" sang the away support, housed under cover for the entire length of the stand behind the goal.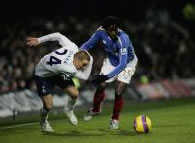 James did well to snatch the ball off Berbatov's feet after 68 minutes, when Dimitar raced onto Malbranque's pass. At the other end Portsmouth won a corner, which substitute Nugent headed over. Ramos's significant substitutions of Bent and Boateng followed, and soon after entering the field, O'Hara hit a decent ball from the left and Defoe tried an audacious lob shot, which went just over the net. In no time though, O'Hara was successful again, as this time he sent a good long ball across to Lennon, who crossed deep where Berbatov left Campbell behind and stroked the ball into the net in front of his own fans. Berbatov got a yellow card for his exuberant celebration.
Still Spurs came at the home side, not settling on the one goal lead. O'Hara again was involved, fed Berbatov, who gave the final pass to Defoe, hitting a shot into the side netting. Tainio replaced Lennon for the last five minutes, the clear intention being to shore up the midfield, but still Spurs came forward, with an O'Hara shot taking a deflection for a corner, and Defoe getting the better of Campbell, before hitting a rising shot that went out of play off the top corner of the post.
To gain three points from a game where one would have been seen as a very good return, with the gooners to follow next Saturday was a great boost to team morale. The win was nothing less than we deserved and Tuesday night's Carling Cup visit to The City of Manchester Stadium (where City scored 4 today) should be a great battle. Spurs are up to 12th, and drawing away from that bottom zone. Sadly there is a gap between the top and bottom halves of the table, and despite losing only one of his first 10 games in charge (6 in the League), Juande Ramos knows that Spurs have a long way to go yet.
· Squad numbers,appearances,bookings & goalscorers
· Read the preview for this game.
· Jamie O'Hara Profile.