BARCLAYS PREMIER LEAGUE
SATURDAY 19TH JANUARY, 2008
TOTTENHAM HOTSPUR 2 (1) SUNDERLAND 0 (0)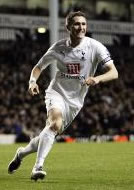 Scorers:-
Lennon, 2
Keane, 90
Referee: - Mr. Lee Mason
Attendance: - 36,070
Teams:-
Spurs (4-4-2):- Cerny; Stalteri (sub Chimbonda, 78), Dawson, Huddlestone, Lee; Lennon, Jenas, Boateng, O'Hara (sub Tainio, 54); Defoe (Capt.) (sub Keane, 73), Berbatov
(Armband to Keane)
Subs not used: - Robinson; Rose
Booked: - Lee, Chimbonda
Sunderland (4-4-2):- Gordon; McShane (sub Cole, 74), Nosworthy, Evans, Collins; Whitehead (Capt.), Yorke, Miller, Murphy; Stokes (sub Chopra, 38), Jones
Subs not used: - Fulop; Harte; O'Donovan
Booked: - McShane, Chopra
Robbie Keane stole the plaudits and took a cart-wheeling curtain call in added time, as he scored his 100th club goal for Spurs, which acted as a book-end for Aaron Lennon's second minute opener. In between, Spurs failed to provide the meat that the home fans so desired, leading to an afternoon of frustration and moans at White Hart Lane. Spurs could have had a hatful of first half goals, but were on the back foot for most of the second as a spirited Sunderland gave us some desperate moments. Sunderland keeper Craig Gordon was the first half hero, but became villain for Keane's goal, which he allowed under his body. Radek Cerny was required to make some sharp saves in the second half, as Roy Keane's Black Cats gave Spurs as much to worry about as many a team this season. Somehow the makeshift Spurs defence held out for a second consecutive clean sheet.
In preparation for Tuesday's Carling Cup semi-final against Arsenal, Juande Ramos made maximum use of his squad. We must hope that Ledley King remains rested, rather than injured, and will take part in both next week's important cup games. Younes Kaboul was also absent, and Tom Huddlestone took up centre half duties beside Michael Dawson for the first time since the early part of his Spurs career. Pascal Chimbonda was also rested and Paul Stalteri had a bit of a nightmare to be honest, replaced by the regular right back on 78 minutes. With Steed Malbranque suspended for this one game, the midfield was inexperienced, with Boateng next to Jenas, and Jamie O'Hara on the left wing, where he made his debut appearances before Christmas.
Jermain Defoe started and in addition was given the fillip of the Captain's armband, but he had to hand that to Robbie Keane when he took Defoe's place after 73 minutes. Danny Rose made his first appearance in the 16, and we hoped for a good lead to give him the chance of some top flight exposure, but it was not to be.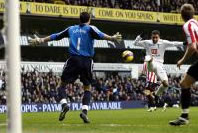 Spurs got the best start possible in the second minute. O'Hara and Lee battled for the ball against Sunderland's Paul McShane, who had been shifted to right back to accommodate loan signing Jonny Evans. Lee came out with the ball, and O'Hara hit a strong cross that Berbatov might have just flicked on. The ball reached Lennon at the back post, and whilst not getting the best of touches on the ball, Aaron did enough to push the ball past Gordon's outstretched arms.
I thought that O'Hara had a great first half, and that Defoe and Lennon were combining well at times. Spurs were playing at speed, and after 6 minutes, Defoe tried to reach O'Hara's lofted ball, but just failed to make contact. Five minutes later, Jermain had a typical shot out of nothing, from the right channel, receiving a high ball to his feet. After 19 minutes, Huddlestone sent a great ball over the defence, and Jenas had the pace to get goal-side of the red and whites. Jenas surely had a chance to shoot and score for himself, but chose a pass to his left, where the ball ran just too past Dimitar Berbatov.
The second half moaners should remember that Spurs did play some quality football in that first period. The problem was that they failed to extend their lead beyond the reach of the visitors. Berbatov was the most culpable at the end of the best move. O'Hara's ball was spread to the right by Berbatov, and then Defoe fed Lennon. Lennon's cross was weakly cleared and fell to Berbatov who fired over the bar from a scoring position.
It was half an hour before Sunderland threatened, and their first chance came after Stalteri's failure to clear from Daryl Murphy, who had scored a late equaliser against Spurs in February 2006. Murphy was allowed a run inside and hit a curling shot beyond Cerny's left post.
Soon after this, Jenas made a great break from his own half, and passed to Defoe on his right. Defoe hit a cracking shot to Gordon's top left corner, and the keeper made a great save to concede a corner. Another good long ball by Huddlestone reached Berbatov, who had anticipated well. Gordon also anticipated accurately, taking a good position to make another valuable save.
McShane took an early booking for a foul on Jenas, and Roy Keane made an early change, replacing former gooner Anthony Stokes with Michael Chopra. Stokes had tended to fall back to the right flank, leaving Jones as a sole front runner, but once Chopra arrived, Sunderland became more committed to attack. They nearly reaped a reward too before the break, as Michael Dawson had to make a great tackle to deprive Jones of the ball as he turned ready to pull the trigger, after receiving a pass from veteran Dwight Yorke, who first played and scored against Spurs in the early 1990s. McShane had a header cleared after a Sunderland corner. There was no power in the attempt, but it was on target.
Two minutes after the break, Stalteri and Dawson had an almighty mix up. Fair enough, the weather was pretty wet and grim, with a very slippery surface, but between them they managed to present the ball to Murphy, who hit a good chance high and wide. Berbatov had a header on target and held by Gordon, before Sunderland got the ball in the net following a free kick on the right. Jones prodded the ball home, but the flag was up in advance of the "goal" The packed visitors section was in full voice, and quite rightfully sensed some return from their team. Ramos was clearly rattled, as he sought to strengthen the Spurs midfield, with Tainio replacing O'Hara. Tainio took up the more defensive role, with Lennon now switching to the left hand side. This left Spurs playing very narrow football down the right, as Stalteri rarely got out of his half, and available space was not being used by Tottenham.
Daryl Murphy had the beating of Stalteri again, and hit a cross that beat Cerny but passed (safely for Spurs) across the goalmouth. Chopra saw yellow from the referee, who incidentally did Spurs very few favours today. He and his assistants made a number of mistakes, and hopefully will be thoroughly reviewed by an assessor. The mistakes did not just benefit one side either, as I recall Spurs being awarded a couple of throws, which clearly should have gone the other way. Free kicks to the home side were at a premium though. Lee was booked when he slipped up and had to make a desperate recovery, when he should have cleared. From the free kick, McShane had another header – this time over the bar.
Lennon was the receiver of a great ball after 64 minutes, and passed inside to Defoe, who got no strength on his attempt on goal – held easily by the keeper. Gordon then made a decent save from an attempt on goal by Huddlestone from a free kick deep on the left. At the other end, Huddlestone struggled for pace on the edge of the box against Jones, whose cross was cleared as far as Dwight Yorke, who fired wide from a distance.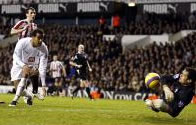 Once Chimbonda replaced Stalteri, Spurs had some desperate defending to do. Firstly Cerny saved Collins attempt from a corner, then Chimbonda got an early booking for a cynical foul on Murphy. Jones had a header cleared off the line by Dawson, and then with two minutes left, Cerny made a great double save after Chimbonda and Boateng had fouled up on the flank, allowing Murphy's low powerful shot, saved by Cerny, then Miller's follow-up that Cerny stretched to make a great reflex save.
Chimbonda made it into the opposition area as added time commenced, and went down under Evans' challenge. It looked a good penalty shout to me, but the referee was having none of it. There was no card for simulation though! Spurs got a two goal win that might have been anticipated, but was certainly not deserved, when Cerny's long clearance bounced once and allowed to reach Robbie Keane. Robbie hit the ball to the right of Gordon, who dived, but allowed the ball into the net from the underside of his body. The crowd roared and Robbie gave us his first cartwheel celebration of this season, as he acknowledged the crowd's acclaim for an achievement which puts him on a pedestal with some great Spurs names.
Sunderland can be proud of their second half efforts, with substitute Andrew Cole joining Chopra and Jones in a three man strike force. On this form, I fancy them to survive this season. Spurs have climbed above Newcastle on goal difference, as the Geordies only managed a draw at home to Bolton, thus failing to suitably mark the second coming of Kevin Keegan.
Now for Tuesday, and victory against Arsenal!
· Squad numbers,appearances,bookings & goalscorers
· Read the preview for this game.