BARCLAYS PREMIER LEAGUE
SATURDAY 19TH APRIL, 2008
WIGAN ATHLETIC 1 (1) TOTTENHAM HOTSPUR 1 (1)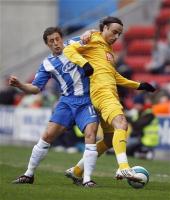 Wigan scorer:-
Heskey, 12
Spurs scorer:-
Berbatov, 6
Referee: - Mr. Lee Probert
Attendance: - 18,673
Teams:-
Wigan (4-4-2):- Kirkland; Melchiot (Capt.), Boyce, Scharner, Kilbane; Valencia, Palacios, Brown, Taylor (sub Koumas, 80); Bent (sub King, 83), Heskey (sub Sibierski, 75)
Subs not used: - Pollitt; Skoko
Booked: - Valencia (foul on O'Hara), Palacios
Spurs (4-4-2):- Cerny; Hutton, Dawson, Zokora, O'Hara; Lennon, Jenas, Huddlestone, Malbranque; Berbatov, Keane (sub Bent, 72)
(Armband to Jenas)
Subs not used: - Forecast; Rocha, Gilberto; Tainio
Booked: - O'Hara
Spurs need to change the template.
Since that glorious day on February 24th (and I fear that many Spurs fans have forgotten how good they felt that day), many Spurs games have confirmed to a template. In the last three games, even the scoreline has been the same – 1-1. Each time, Spurs with their feet securely in Europe and next year's Premier League, start brightly and take the lead, but then succumb to their opposition who have all had something to play for. Blackburn were still hoping for Europe, whilst Middlesbrough and now Wigan were (and remain) in need of points to ensure safety. In their next two games, Spurs face two more relegation candidates – Bolton and Reading – both of whom are bound to play with more endeavour and physical extension than Spurs.
There is still time this season for the Spurs template to change, as far as their attitude over 90 minutes is concerned, but we must wait till the close season now for Juande Ramos and his managerial team to wave their transfer wand over the current squad. One major area in need of improvement in my opinion is for a dominating, controlling midfielder to play behind whoever will be the magical creator for next season's Spurs team. I don't believe that Spurs have that man in the current squad, and Wigan on Saturday were the latest to take advantage of Spurs generosity in the middle, where space was available for players who should not have had the luxury of such opportunity. With Zokora drafted in to cover for the absent Jonathan Woodgate, neither Jenas nor Huddlestone was up to the task of limiting Wigan's advances through the middle. Huddlestone is a great passer, but he's more of a pussycat when it comes to the hard stuff in the middle. Jenas is a good tackler of course, but sometimes (because he was allowed forward so much) was not the last man in the midfield.
It was a mystery to me that Jamie O'Hara was preferred to Gilberto at left back. Now, I like Jamie, and have been ever so pleased about his emergence this season. However, I never knew him to play at left back for the Reserves or the Academy, and I feel he gets too exposed at this level in that position. All Spurs fans look forward to the return to fitness and form of Gareth Bale next season, along with Ekotto as an able deputy of course.
Much as they like a moan (and I did hear a resounding boo by one fan at the end of the game), Spurs fans do proudly turn out in force for a meaningless game in a Northern outpost of England on a bitterly cold and windy day in April. The Wigan crowd was thus boosted to respectable numbers to watch a game on a difficult and bumpy pitch, shared of course with the Rugby League team. "We pay your benefits" was one cheeky chant from the visiting crowd.
Spurs fans were so nearly rewarded in the opening seconds, as Keane latched onto a long ball forward and got a shot on target from an angle on the right. This one was too easy for Chris Kirkland, lauded as "England's Number One" by the home support, who had noticed that Spurs were once again playing without Paul Robinson. Those fans would also have loved the chance to greet their former right back, Pascal Chimbonda – allegedly absent injured, but perhaps not part of Ramos's future plans.
Spurs took their early lead in the 6th minute, thanks to a delightful long pass on a left to right diagonal by Huddlestone, picked up by Lennon, whose cross passed Keane and the remaining defence, allowing Berbatov to finish off with his right foot from 8 yards. Lennon then had a good mazy run through the middle and teed up Malbranque whose shot was deflected and smothered.
Wigan were already taking advantage of Spurs charity in the middle, with Marcus Bent trying a long shot that Cerny held after an initial parry. It was no surprise though that Heskey levelled the scores in the 12th minute. O'Hara had successfully cleared a ball to Keane at the half-way line, but Keane's pass aimed at Hutton was short, and picked up by Wigan, fed in to Heskey who shot early and low to the left of Cerny. It was his second goal in 6 days, which amounted to half his league tally for the season!
Even the usually reliable Hutton was not infallible in this game, as he was robbed by Marcus Bent, who made a long run from his own half and tested Cerny with his shot. Hutton did respond at the other end with a left footed effort that was held by Kirkland.
Berbatov had been denied what turned out to be a legitimate claim for a penalty when Wigan skipper Mario Melchiot hauled the Spurs striker down in the box, but Berbatov made a bad pass inside from the left wing, inside his half that led to an effort by Palacios, saved by Cerny. Spurs finished the half well on top with a succession of corners, but nothing to show for them.
Wigan had the best chances to win the game in the second half, but Spurs had once again started brightly. First Huddlestone managed a good ball to Lennon on the stretch, Lennon managed to carry the ball into the box, and found space for a shot, but it was sadly at the right height for Kirkland to retrieve. Berbatov gave Keane a chance with a great ball to start a counter attack by Spurs, but again Kirkland was Keane's equal.
Marcus Bent might have won the game when he made a powerful break down the right channel, and with just Cerny to beat, hit his shot that rebounded off the underside of the bar. Lennon got the ball to the bye line and when he cut it back, it was O'Hara whose shot was blocked. Keane put Lennon in but Aaron failed at the last hurdle, in a situation when you really want your pacy wing man to be able to round the last man. Then Jenas had a great chance, but an equally poor shot, miles wide of the target, and enough to make me – a Jenas fan – curse his poor attempt.
Jenas took the armband for the closing stages, but it was Wigan who had the most possession in this spell, with Cerny having to make a double save from a cross on the right and then a close range attempt. Both Heskey and Marcus Bent hobbled off, and Spurs sole substitute, Darren Bent made little impact. He did have one chance after a rare excursion by O'Hara down the left flank, when Bent met the cross but prodded the ball wide.
The bottom line is – Spurs need to change the template for the remainder of this season and beyond.
· Squad numbers,appearances,bookings & goalscorers
· Read the preview for this game.