Courtesy of:- Ray Lo, and the Spurs List.

           NextGen Series, Group 4
            Spurs Lodge, Chigwell 
      Wednesday 23rd November 2011, 1.30pm

            SPURS    v    FC BASEL
        (All White)      (Red/Blue)
           4-3-1-2         4-5-1

             1(1)           0(0)

     Jonathan Miles  1 Mirko Salvi
      Jack Barthram  2 Robin Vecchi
      Kevin Stewart  3 Florian Muller
   Massimo Luongo(C) 4 Aleksandar Zarkovic
    Milos Velikovic  5 Kofi Nimeley(C)
     Jake Nicholson  6 Nico Zwimpfer
     Alex Pritchard  7 Michael Weber
      Laste Dombaxe  8 Artan Shillova
Souleymane Coulibaly 9 Stefan Colovic
         Harry Kane 10 Darko Jevtic
      Kudus Oyenuga 11 Stjepan Vuleta

       James Yeboah 12 Thibault Corbaz
                       (7)60Mins.
      Billy Granger 13 Shpetim Sulejmani
                       (11)46Mins.
     Ronnie Hawkins 14 Stefan Ott
         (8)60Mins.    (2)68Mins. 
  Cameron Lancaster 15 
                    18 Stefan Lapcevic

Scorer:-
       Veljkovic 24 

Coach:-
       T. Sherwood      R. Heri

Referee:- M. Bull
Asst. Refs:- A. Young, S. Pawley
Fourth Official:- M. Tweed

It was a chilly afternoon with hazy sunlight over the South end at Spurs Lodge for Spurs' final home fixture against third placed FC Basel. There was a large crowd which meant I had to park along Luxborourgh Lane. When I left I saw that cars were parked on the High Street as well.

Spurs lined up with Miles in goal behind Veljkovic and Nicholson with Barthram at right back and Stewart on the left. Dombaxe, Luongo and Pritchard were across the midfield with Kane behind Oyenuga and Coulibaly up front.

Spurs defended the North goal in the first half as the two sides started quickly. Spurs played quick passes through the middle looking to release the strikers, while the visitors closed down quickly with strong challenges to win the ball and set up a quick counter attack.

Luongo made a strong run through the middle and was tackled as he let fly in the opening minute. Jevtic got down the right channel to set up a chance for Vuleta on the far side that Miles saved. Coulibaly had a header blocked at the far post from a free kick by Pritchard out on the right. Miles then had to save from Jevtic before Pritchard drew a save from Salvi.

When Pritchard took another free kick on the right, the Swiss left two white shirts free at the far post. Veljkovic accepted the gift to head powerfully into the net.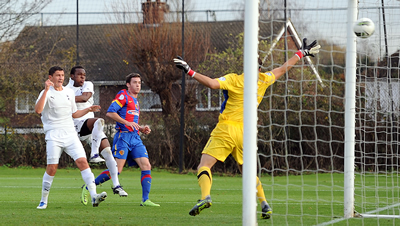 Salvi saved another free kick from Pritchard before a quick counter by Nimeley down the right gave Zwimpfer a clear chance right in front of goal but Miles saved his effort. Shillova drove wide before Colovic played in Zwimpfer to go round Miles to score, only to see Stewart clear off the line. Luongo fired over and Dombaxe drew a save from Salvi before Pritchard was high and wide with the last chance of the half.
Basel made one change for the second half bringing on Sulejmani to strengthen their attack while Spurs took up from where they left off. Coulibaly fired wide and Kane volleyed over. Kane again drove his effort over before Basel got down the left and fired in a low cross that was just missed at the far post. Miles saved from Sulejmani at the expense of a corner that Zarkovic headed over.
Sherwood replaced Dombaxe with Hawkins as he sought to keep the pressure on. Stewart got forward to fire wide and Kane fired in a low cross from the left that the keeper diverted out of the path of Coulibaly and onto Luongo attacking the far post. Unfortunately the Spurs skipper could not get the ball on target.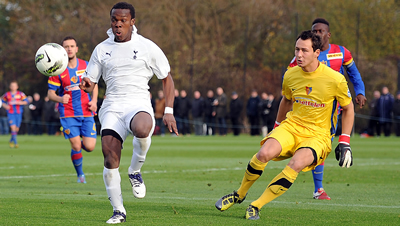 Pritchard drove wide and Corbaz headed against the post from a corner. Corbaz also fired over before playing in Nimeley to force a save from Miles. Pritchard played in Barthram on the right who came inside before firing wide. Shillova drove wide from a free kick and Coulibaly was wide from distance. Sulejmani broke through the middle but was unable to beat Miles. Salvi saved a free kick from Kane and then got down to smother Oyenuga's effort when he was through one on one. That was the last chance of the match.
This was a good all-round performance from Spurs who found it hard to break down the visitors defence until they opened up in the second half when it became more end to end play. This allowed Kane to find more room in the second half which helped as well.
Spurs' last group game is away to Inter Milan on the 8th December where a draw will ensure they finish top of the group. If they slip up then the Italians have a chance to overtake them in their final two games. The group winners will have home advantage in the next round against Liverpool while the second place team will have to travel to Lisbon to play Sporting in the New Year.
Ray