Courtesy of:- Ray Lo, and the Spurs List.

        NextGen Series Group 4
          Matchroom Stadium
            Brisbane Road
      Wednesday 31st August 2011
               2pm k.o.

           SPURS  v INTER MILAN 
       (All White)  (Blue/Black)
           4-4-2       4-4-2

            7(6)        1(1) 


   Jonathan Miles 1 Matteo Cincilla
    Jack Barthram 2 Eugenio Giannetti
       Daniel Day 3 Gianmarco Falasca
   Massimo Luongo 4 Lukas Spendlhofer
   Milos Vejkovic 5 Matteo Bianchetti
 Jake Nicholson(C)6 Simone Percorini
   Alex Pritchard 7 Roberto Candido
    Kevin Stewart 8 Andrea Romano(C)
    Souleymane
        Coulibaly 9 Giovanni Terrani
   Laste Dombaxe 10 Daniel Bessa
 Tomislav Gomelt 11 Joseph Duncan

Cristian Ceballos12 Riccardo Melgrati
        (6)46Mins
    Billy Granger13 Marek Kisla
                    (7)29Mins.
   Ronnie Hawkins14 Marco Benassi
        (4)73Mins
 Horacio Cristian 
           Olaya 15 Rodrigo Alborno
        (8)71Mins
      Jack Munns 16 Diego Mella
                    (4)61Mins.
                 17 Jacopo Galimberti
                 18 Jakub Vojtus
                    (9)46Mins.

Scorers:-
  Pritchard 8, 66   Bessa 38 pen
 Coulibaly 12, 29
Gomelt 14, 23, 37

Booked:-
     Day 25(Late)   Percorini 31(Holding)
                    Falasca 68(Holding)

Sent off:-
Gomelt 38(Foul in area) 

Coach:-
      T. Sherwood   A. Stramaccioni

Referee:- W. Atkin
Assistants:- K. Howick, L. Wood
4th Official:- T. Goddard

Attendance:- Approx 200

It was a cool afternoon for our first home game in the tournament which was being played at Brisbane Road where our reserves used to play. I was in the press box which had a good view but I could not hear the announcer during the match. Our visitors from Italy looked to be a lot bigger than most of our lads. Sherwood did not have a full squad of players and included a couple of new faces. (Ed:- One of these was a 16 year old Croatian striker Tomislav Gomelt, who had a trial with Spurs in the Spring)

Spurs lined up with Stewart and Vejkovic at the back with Barthram at right back and Day on the left. Luongo and Nicholson started in the centre of midfield with Pritchard on the right flank and Gomelt on the left. Dombaxe was behind Coulibaly up front. The visitors started with a diamond formation in midfield.

Spurs defended the south end in the first half and settled quickly having given away a free kick just outside the area. Inter tried a set play where Candido took it short to Romano who played it diagonally into the area for Duncan running round the back. It almost came off but Miles was quickly off his line to block.

Spurs worked the ball through the visitors' defence for a shot wide by Luongo. The ease that Spurs were able to go through the Italians was demonstrated throughout the game. Percorini had an effort saved before Luongo was tackled as he run onto a through ball in the area. Barthram got down the right and passed inside to Pritchard who went forward a few paces before firing across Cincilla into the net for the opening goal.

Pritchard switched wings to turn provider by lifting the ball over the Inter defence for Coulibaly to out-pace his marker and slot home for number two. Dombaxe found Pritchard as he came in from the left wing and the nippy winger crossed instantly to the far post for the incoming Gomelt to score the third.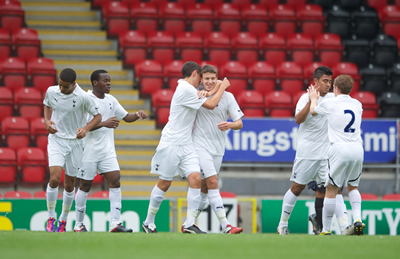 Pritchard fired wide from a free kick before Candido took one at the other end which was played into the path of Bessa, whose effort was blocked. Nicholson got forward and played in Gomelt at the second attempt as the young Croatian got free for the fourth goal. Candido got to the line but was caught late by Day who went into the referee's book. Coulibaly tried an overhead kick which went over the bar before getting his second goal. This came by way of a quick counter attack down the right by Dombaxe who put the ball into the area for Coulibaly to run onto.
Percorini was booked as he held onto Luongo's shirt. Inter responded with Duncan winning a corner and firing a free kick over before Bessa drew a save from Miles. Coulibaly closed down Cincilla quickly to block his kick and when the ball was not cleared Pritchard crossed for Gomelt to score at the far post for his hat-trick. The lad did not have much time to enjoy it as Milan got down the left and crossed to the un-marked Spendlhofer in the area. Gomelt run into him to give away a penalty and get a red card for denying a goal scoring opportunity. Bessa took the kick and scored low to Miles' right. With a man advantage the visitors went in search of a second. Giannetti fired over as did Duncan before Bessa saw his effort saved.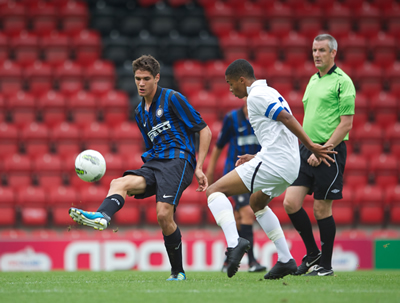 Both sides made one change for the second half with Ceballos replacing Nicholson on the right flank with Pritchard dropping into the middle. Luongo took the Captain's armband. Spurs did not sit back and defend as Barthram sent Coulibaly away to fire wide. Coulibaly went wide again before Giannetti fired wide for Milan. Giannetti looked to have fouled Coulibaly in the area but the referee allowed play to continue. Coulibaly drove over before he was tripped by Bianchetti just outside the area. Pritchard took the free kick, just to the left of the D, and drove it over the wall into the far side of the goal for Spurs' seventh.
Still Spurs kept driving forward and Falasca was booked for grabbing Pritchard around the neck. Sherwood made two more changes replacing Stewart with Olaya at the back and Hawkins taking over from Luongo in the middle with the armband moving to Pritchard. Miles saved from Vojtus at the expense of a corner from which Mella set up Duncan for a chance that he fired over. Bessa forced a save from Miles before Duncan also saw his effort saved. As time was running out Coulibaly saw Cincilla off his line and tried to beat him from 25 yards, but the ball cleared the bar. The last chance fell to Coulibaly when Pritchard played a through ball that Cincilla just got to first.
This was a fantastic result for the home side who never looked in trouble even after being reduced to ten men. The visitors could not stop them as they moved and passed quickly in all areas of the pitch. I expected them to be strong defensively but only Giannetti showed the kind of iron you expect of an Italian side. It was a pity that Gomelt got himself sent off having scored a hat-trick as along with the Peruvian Olaya, he looked to be useful for the team. The defence looked to have handled the strikers well and the midfield overwhelmed theirs opponents. Coulibaly showed great pace for his two goals. Ceballos showed plenty of skill on the ball but could not produce an end product.
Spurs are top of their group with four points ahead of FC Basel on goal difference. The Swiss side beat beat PSV 1-0 today. Our next game is away to PSV on the 28th September.

	      P   W  D  L   F-A   GD   PTS
1. Spurs      2   1  1  0   9-3    6    4
2. Basel      2   1  1  0   3-2    1    4
3. PSV        1   0  0  1   0-1   -1    0
4. Inter      1   0  0  1   1-7   -6    0

Results:-
17.08.11   Basel   2-2    Spurs
31.08.11   Basel   1-0    PSV
31.08.11   Spurs   7-1    Inter

Fixtures:-
14.09.11   Inter    v     PSV
28.09.11   Inter    v     Basel
           PSV      V     Spurs
18.10.11   Basel    v     Inter
19.10.11   Spurs    v     PSV
02.11.11   Inter    v     Spurs
           PSV      v     Basel
23.11.11   Spurs    v     Basel
           PSV      v     Inter

Ray