Courtesy of:- Ray Lo, and the Spurs List.

             NextGen Series – Quarter final
             White Hart Lane, Tottenham N17 
            Wednesday 1st February 2012, 7pm

               SPURS      v     LIVERPOOL
           (White/Blue)         (All Red)
                4-4-2             4-4-2

                 1(0)              0(0) 

          Jonathan Miles  1  Tyrell Belford
           Jack Barthram  2  Ryan McLaughlin
           Kevin Stewart  3  John Flanagan
        Massimo Luongo(C) 4  Stephen Sama
         Milos Velijovic  5  Andre Wisdom
          Jake Nicholson  6  Connor Coady(C)
         Tomislav Gomelt  7  Toni Silva
          Alex Pritchard  8  Craig Roddan
    Souleymane Coulibaly  9  Michael Ngoo
              Jack Munns 10  Jesus Fernandez
     Shaquile Coulthirst 11  Raheem Sterling

          Nabil Bentaleb 12  Matty McGiveron
              (7)64Mins.
           Billy Granger 13  Danny Ward
       Cristian Ceballos 14  Krisztjan Adorjan
                             (9)76Mins. 
           William Ekong 15  Marc Pelosi.
              (2)79Mins.
          Kenneth McEvoy 16  Kristian Emilsson
               Lee Angol 17  Adam Morgan
                             (10)76Mins.

Scorers:-
       Coulthirst 71 

Bookings:-
       Nicholson 12(Pull)    Wisdom 22(Late)
       Benteleb 90(k.b.a.)   Sterling 28(Foul)
                             Adorjan 80(Pull)
                             Coady 88(u.g.c.)

Coach:-
       T. Sherwood           R. Borrell

Referee:- A. Davies
Assistants:- T. Ramsey, R. Hodges
4th Official:- K. Kirkbride

Attendance:- About 3,000

It was a freezing cold evening for this all-English quarter-final in this new competition for U-19's. As group 4 winners Spurs had home advantage for this match which had to be decided on the night. There was a good crowd to provide support for both teams.
Spurs lined up with Nicholson and Velijkovic at the back with Barthram on the right and Stewart on the left side. Luongo and Pritchard started in the centre of midfield with Gomelt on the right and Coulthirst on the left. Munns supported Coulibaly up front.
Spurs defended the Park Lane End in the first half and showed their intentions in the first minute when Stewart sent Coulthirst away to put in a cross that Wisdom cut out for a corner as Munns arrived. The reds showed their intent of not letting players get past them with the ball as Luongo found when he pushed the ball past Wisdom to win a free kick. The free kick went for a corner, from which Nicholson got a header in, but without power.
A deflected cross dropped at the feet of Ngoo in front of goal but the tall striker dallied over the ball and it was cleared. Spurs were caught upfield when an attack broke down and Silva looked to break clear until Nicholson blocked him on the halfway line to receive the first booking of the evening.
Both sides were looking to attack in an open game which meant that both defences had to be sharp. Wisdom caught Luongo late to go into the referee's book. He was followed into the book by Sterling who dived into Barthram on the touchline. After Coulthirst was caught offside Sterling played in Ngoo on the left but he pulled his effort wide.
Fernandez tried his luck from distance but Velijkovic blocked. Sterling came in from the left along the edge of the area before firing wide. Sterling poped up on the right to drive into the area but was denied by Miles at his feet. Fernandez saw his effort saved as the half ended.
There were no changes for the second half as both sides continued to look for a goal. Coulibaly was well wide with an effort from the right and Gomelt headed wide from a free kick. The ever dangerous Sterling drew Miles before cutting the ball back for the advancing Ngoo. His effort was blocked and also the follow up by Silva. Coady headed wide following a corner and another run by Sterling won a corner.
Sherwood replaced Gomelt with Bentaleb who stayed more on the right side but was caught in possession by Coady who advanced and drove wide. Bentaleb ran onto a half clearance to fire a low drive that Belford could not hold and Coulthirst reacted quickest to net the rebound.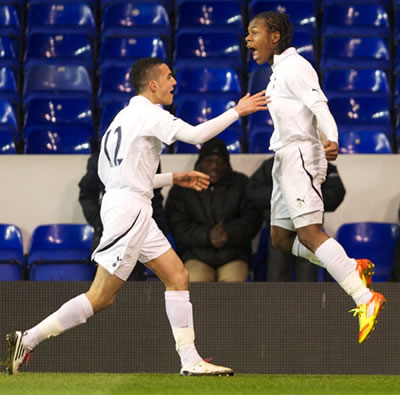 Belford did hold a free kick at the far post under pressure. Sterling broke through again but Miles got a hand to his effort to turn the ball away for a corner. When the corner came in Silva headed the ball towards the far post but Miles saved diving full length.
Liverpool replaced their two strikers as they looked to put pressure on the home side. Spurs also made a change replacing Barthram with Ekong who went into the middle of the defence with Nicholson moving to right back. Adorjan's first contribution was to pull back Benteleb to earn a booking. His strike partner Morgan made room for himself in the area to fire wide of the far post before getting on the end of Sterling's cross only for Miles to save his header.
When Munns was tripped on the edge of the area Coady kicked the ball at him in frustration and was rightly booked by the referee. The free kick by Pritchard was deflected wide for a corner. Going into added time Benteleb was booked for kicking the ball away after Nicholson conceded a free kick on the left. From the free kick Sterling saw his effort deflected over for a corner. Morgan fired across the goal-mouth from the corner with the last chance of the game.
This was a tough game with both sides battling it out in the middle of the park with neither getting on top. The game was end to end with some good approach play but not many final balls to trouble the keepers. Saying that the lanky Ngoo had a couple of good chances in front of goal, and Liverpool had the best player in Sterling. Liverpool prevented Spurs from playing their fluent passing game mainly by giving away free kicks. With chances at a premium it was Spurs that took the one that counted.
Spurs now have to wait for the winner of the last quarter-final between Barcelona and Ajax next week. The semi-final is expected to be played at a neutral venue, but that could change.
Ray
Ed:- I was able to get to this game, and agree with Ray about left winger Sterling, who was a handful all night, and at times was given too much space by the Spurs defence. I thought that Liverpool dominated in terms of threatening chances, but Spurs defended those efforts well with many crucial blocks and some great saves by Jonathan Miles, one of which was with an out-stretched left foot.
Ray took full advantage of our accreditation for this game, by sitting in the press box, while I sat in the "cheap seats" with my son Brad. It was a really, really cold night! Well done to all our lads!
MEDIA STATEMENT
News, 3rd February 2012
Cycad Enterprises, the organisers of the NextGen Series Tournament, has today announced the withdrawal of Tottenham Hotspur Football Club from the competition, following the Club making them aware of an inadvertent breach of a competition regulation.
Tottenham Hotspur's Director of Football Administration, Darren Eales said:
'It is with regret that we have decided to withdraw from the semi finals of the NextGen Tournament due to an accidental breach of a competition regulation. We have done so fully respecting the Tournament regulations.
As a club, we stand for the highest levels of integrity and respect and there was no unfair advantage sought or gained.
Whilst hugely disappointing for players, staff and supporters, we would like to take this opportunity to thank everyone for their support. We would also like to send Liverpool Football Club our very best wishes for the next round of the competition.'
Technical Co-Ordinator and Manager of the Club's NextGen side Tim Sherwood said:
"It was obviously disappointing when this was brought to my attention. It is, however, all about the development of players and individual talent so the most disappointing aspect for us is that we will not be able to play another game at such a competitive level this season. The tournament has given us a great opportunity to see the best of other footballing cultures and many of our squad have proved that they are as good as any in Europe."
A NextGen spokesperson said;
'Following conversations with senior Tottenham Hotspur officials we have agreed to accept their withdrawal from the semi final stages of the event. This is hugely unfortunate and we are sorry to see that such a hard fought encounter as witnessed at White Hart Lane on Wednesday night should have this conclusion. However, we can only applaud the Club for demonstrating such impeccable levels of sportsmanship and for acting in a manner which recognises the good spirit of both the Tournament and the game itself. We thank both clubs for their help and support in making this first year of the event such a success and we look forward to welcoming Liverpool to the semi-finals.'
Liverpool Football Club will now progress to the semi final stage where they will face the winners of the FC Barcelona versus Ajax encounter which takes place next week, February 8th.
ENDS