Spurs U-19s go top of Group Four!
Spurs won their away game v PSV 2-1 today (27.09.11) with goals by Coulibaly & Munns. Coulibaly had given Spurs that first half lead, but PSV equalised after 62 minutes. Substitute Jack Munns gave Spurs a late, late winner to start the Spurs celebrations. Alex Pritchard had hit the post twice in the early stages of the game.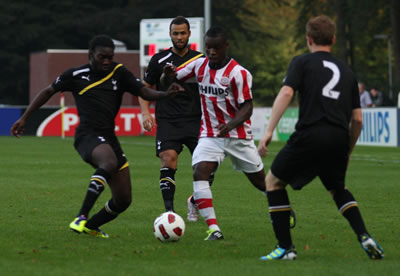 Ray Lo's full report is below. The Spurs team was - Miles, Bartram, Day, Luongo, Stewart (pictured below), Veljkovic (Trialist), Pritchard, Dombaxe (pictured above), Coulibaly, Oyenuga, Bostock. Subs were William Ekong, Jake Nicholson, Jack Munns and Lee Angol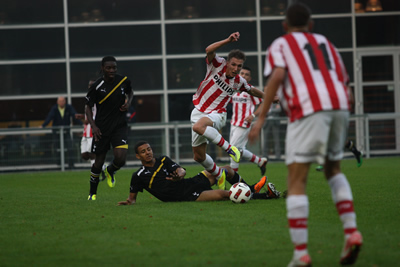 Spurs' youngsters have now won 2 and drawn 1 of their three games and lead the Group 4 table with 3 games to play. Inter play Basel tomorrow (28.09.11), but only Basel can match Spurs' points tally. Spurs have a +7 goal difference to surely ensure they go into Game Four in top place. Two teams from each group will qualify for a knock-out phase involving 8 teams in the New Year.
Courtesy of:- Ray Lo, and the Spurs List.

            NextGen Series – Group 4
       De Herdgang, Eindhoven, Netherlands
       Tuesday 27th September 2011, 6.30pm

         PSV EINDHOVEN    v      SPURS
          (Red/White)         (All Black)
             4-5-1               4-4-2

              1(0)                2(1)

         Eric Verstappen  1 Jonathan Miles
            Burak Kardes  2 Daniel Day
           Menno Koch(C)  3 Jack Barthram
          Jorrit Hendrix  4 Massimo Luongo(C)
       Marco Ospitalleri  5 Kevin Stewart
          Thomas Norsten  6 Milos Veijkovic
      Elvio Van Overbeek  7 Alex Pritchard
         Tufan Ozbozkurt  8 Laste Dombaxe
 Geraldo Alberto Antonio  9 Souleymane Coulibaly
        Peter Van Ooijen 10 Kudus Oyenuga
          Mohammed Rayhi 11 John Bostock

           Joshua Brenet 12 William Ekong 
              (2)62Mins. 
           Wouter Soomer 14 Jake Nicholson
             (11)74Mins.    (11)69Mins.
            Farshad Noor 15 Jack Munns
              (7)85Mins.    (10)74Mins.
          Jesse Bertrams 16 Lee Angol 
      Alexander Jakobsen 17
           Jordy De Wijs 18
               Rai Vloet 19 

Scorers:-
                Rayhi 62    Coulibaly 43
                            Munns 89
Booked:-
                            Pritchard

Coach:-
             R. Libregts    T. Sherwood

Referee:- S. Berben
Assistants:- E. Matthijsen, J. Balder
Fourth Official:- J. Van Vijfeijken

It was a warm sunny evening for the third match for both clubs in this new tournament for U-19 players. On a very difficult day for me to get to this game I finally arrived at the PSV training complex after the kick-off. It looked like the Europa League has affected Tim Sherwood's preparation as he did not have a full bench.
Spurs lined up with Miles in goal behind Stewart and Veljkovic with Barthram at right back and Day on the left. Luongo and Dombaxe started in the centre of midfield with Pritchard on the right and Bostock on the left. Up front Oyenuga and Coulibaly were the twin strikers.
Spurs defended the north end in the first half but spent most of the time in the opponents' half. Having missed the opening five minutes the first chance I saw fell to Bostock whose long range effort was saved by Verstappen. Similarly Pritchard saw his effort saved before Miles saved from Antonio at the expense of a corner.
Coulibaly hit the crossbar from a Bostock corner. Norsten fired over and Bostock drove wide before Pritchard skimmed the bar from another corner. Coulibaly had an effort saved before firing wide from another Bostock corner. Not to be left out, Oyenuga saw his shot saved before latching onto Day's cross but firing over and then putting Barthram's cross wide of the target, all in the space of three minutes.
Bostock fired wide as did Pritchard before Spurs finally scored. The ball was played out to the left for Dombaxe to make ground and cross to Coulibaly to volley in at the far post. As the half was ending Coulibaly had another effort saved by the busy Verstappen.
There were no changes for the second half with the home side coming out late with a more determined attitude as the tackling showed. Rayhi fired wide as did Coulibaly before Overbeek won a corner when his drive was saved. Koch made his presence felt on a corner by heading over. Eindhoven won a free kick on the left taken by Rayhi. Koch made a run across Miles' view which distracted the keeper allowing Rayhi's kick to fly all the way into the net.
The goal spurred on the home side and they began to use the long ball over the top for Antonio and Overbeek to chase. Dombaxe fired over and Rayhi won a corner before Sherwood made his first change bringing on Nicholson to play in front of the back four with Dombaxe moving out to the right. He then took off the tiring Oyenuga for Munns to play just behind Coulibaly.
Coulibaly was still causing Eindhoven problems, forcing a save from Verstappen and after Pritchard hit his free kick over, Coulibaly drove another effort low into the side netting. Luongo tried his luck from the edge of the area only for the keeper to save.
Van Ooijen was foiled by Miles who also saved from Koch. Nicholson then joined the attack drilling a low drive from just outside the area that Verstappen could not hold. Munns quickly followed up to put away the loose ball to put Spurs back in front.
PSV pushed forward in search of another equalizer and left gaps at the back with Coulibaly firing over. Ozbozkurt had a good chance which he fired over and Miles saved a header by Koch from a free kick as the home side ran out of time.
Spurs should have had the game sewn up before half time with a hatful of goals only to scrape home by a single goal margin. They move ahead of Basel by three points with the Swiss playing Inter Milan tomorrow.
The most notable players for PSV were the striker Antonio and Overbeek on the right, while the midfielders and strikers for Spurs always looked dangerous with the full backs attacking down the flanks and the centre-backs keeping most of what was thrown at them at bay. Spurs' next game will be the return fixture against PSV on the 19th October which is listed as being played at Spurs Lodge, but do not be surprised if it is switched to Brisbane Road.
Ray
Spurs' remaining NextGen Group 4 fixtures are:-

Wed Oct 19 H v PSV   (2 p.m. - Spurs Lodge)
Wed Nov 02 A v Inter (3 p.m. - Milan)
Wed Nov 23 H v Basel (2 p.m. - Spurs Lodge)
(all times local)

· See the Official NextGenSeries pages here